Therapy dogs have helped patient care in several Semmelweis University departments for years. It's well known that the presence of animals and interaction with them relieves tension, reduces stress, and positively affects mental health. However, the science has been less known – and Hungarian researchers have just launched a major project to find out precisely that.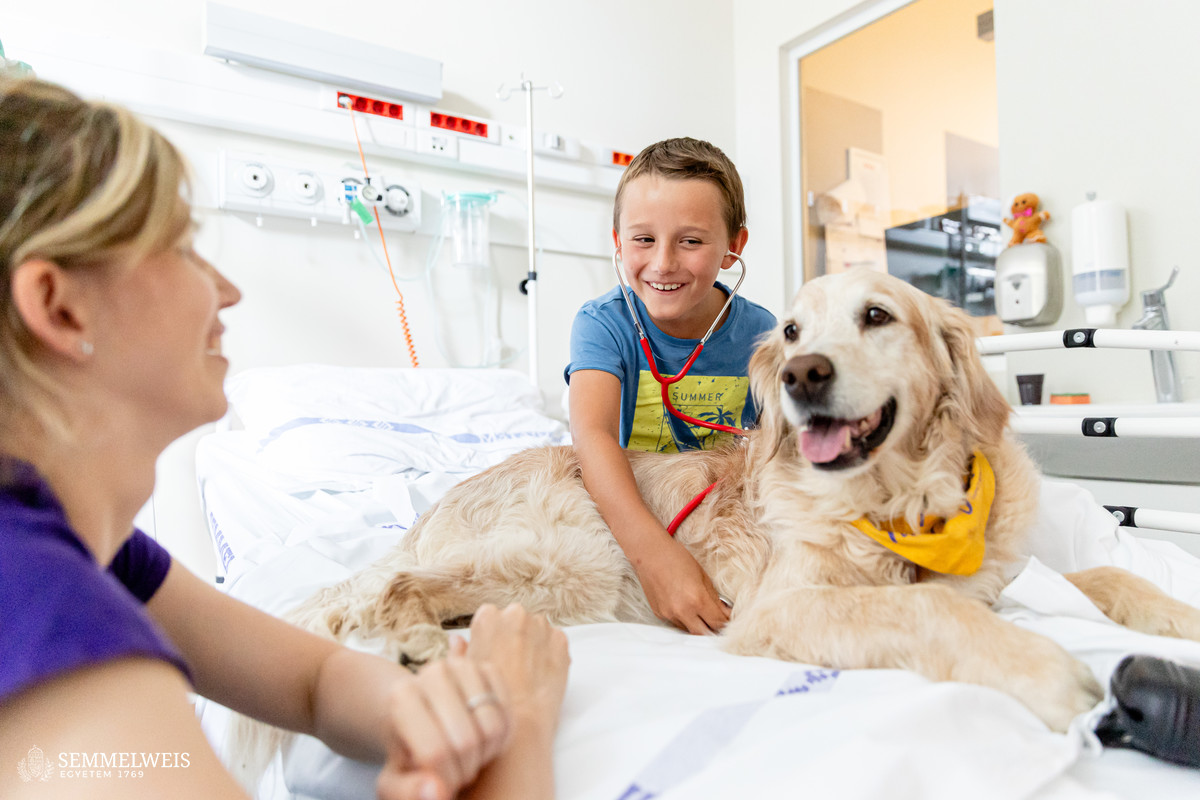 No week goes by without a visit from Barack, the golden retriever, and Kokusz, the labradoodle at the emergency department of Semmelweis University's Pediatric Center. Twice a week, the Támugatók Foundation's therapy dogs and their trainers spend half a day at the clinic to help care for the sick children, primarily by alleviating their anxiety.
The children come to us with different problems, but fear is a common emotion they share. They know the tests waiting for them, and they might get pricked by needles, so they see us as a kind of "violation unit". The presence of the dogs and the playful interaction with them helps relieve their tensions and deal with the mental and physical burden of being hospitalised,
says head of the department Dr. Péter Krivácsy.
While waiting, with the guidance of the owners, the children can listen to the animals' heartbeats or playfully "give" them medicine. In this role play, they become relaxed and gradually open, which has proved especially important in the case of children with special needs, e.g., autism.
Animal-assisted intervention has long been used in medicine. For example, "puppy therapy" is becoming an increasingly popular activity in workplaces when puppies are brought to the office for a day, and the employees are encouraged to hang out with them. Stroking and playing help employees relax and handle work-related stress better.
"Beyond such animal-assisted activities, animal-assisted therapy (AAT) is a more scientific method led by a therapist and backed by a guided programme. The most popular ones are dog or horse therapy, but sometimes cats, rabbits or even farm animals are used in the process," explains Dr. György Purebl, director of the Institute of Behavioural Sciences at Semmelweis University.
Many healthcare settings use AAT. It is perhaps most prevalent in treating psychological illnesses like depression, anxiety, and post-traumatic stress disorder (PTSD). Its main benefit is that animals can act as "icebreakers" – dogs can help patients relax, and their presence creates an opportunity to start and ease into conversations and encourages social interaction. On the other hand, the patient's interaction with the animal highlights their relationship problems and personal struggles but in a protected environment.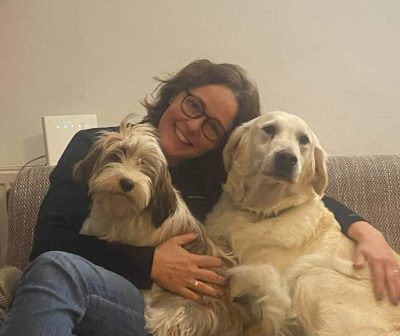 For three years, psychological skills training groups for students have been successfully run at Semmelweis University with the involvement of Molly and Shining, therapy dogs of the Dogs without Borders Foundation. Semmelweis students attend the eight-week-long guided training with problems from performance anxiety or communication difficulties to social isolation.
One of the signature tasks in dog-assisted therapy is the "food refusal test", when the participants must prevent the dogs from eating the sausages placed around them.
The person's communication is often unclear – they say one thing, but their body language suggests another. The attendees' non-verbal signals don't always support their verbal instructions, so the dog will ignore them and eat the treat. Animals hold us a mirror reflecting on why we cannot succeed in conveying our intentions and drawing our boundaries in some situations,
explains Edina Kardos, a clinical psychologist at the Institute of Behavioural Sciences at Semmelweis University.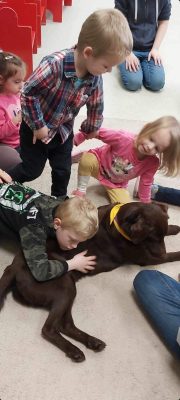 Therapy animals can also help in musculoskeletal rehabilitation, so canine sessions are often implemented in caring for stroke patients or people with Parkinson's disease.
At Semmelweis University's András Pető Faculty, Támugatók Foundation's labrador Bodza and mixed breed dog Rió are regular guests. The institute's preschool aids children with motor disabilities originating from damage to the central nervous system. 45-minute-long dog-therapy sessions have been incorporated into their conductive education every two weeks.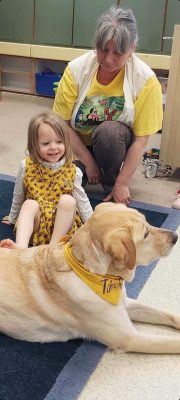 Bodza, Rió and their trainers are a source of joy and an exceptional motivating force, says preschool manager Mrs. Erika Antoni. She adds that the preschoolers, who are often restricted physically, perform movements for the dogs' sake, which they wouldn't do in a traditional class setting.
"For example, they might be asked to create an obstacle for the dogs by lifting a hula-hoop, or they extend their hand to give a reward snack to them. Some children hold their heads up for 15 seconds because they are interested in Bodza and Rió, and it's a significant improvement for them," explains Mrs. Antoni.
Previous research has shown that the presence of animals positively impacts our mental health. But much less data is available on the physiological background of AATs – explains Dr. György Purebl. The Hungarian researchers, therefore, will attempt to prove that animal therapy generates measurable changes in the animal-trainer-patient triangle.
Starting this autumn, they base their groundbreaking new research on the phenomenon of "synchronization" in horse-human interaction. The theory in the literature suggests that horses tune in to each other and mutually take over each other's immense state.
If one horse senses danger and becomes restless, so do the others. According to the Semmelweis researchers, this emotional transfer can extend to other animals and humans, including the therapist and the patient.
"The horses' lower pulse and breathing rate, their higher body temperature and the rhythm of their movement create a calming effect for humans. In our new research, we will establish if we can demonstrate this transfer with objective parameters in the horse-therapist-patient relationship by measurable physiological characteristics, such as the participants' changing heart rates during the therapy sessions. We hope to find out who initiates the emotional transfer and how and in what order these emotions travel from one to another, which can be the cornerstone of animal-assisted therapy," adds Dr. György Purebl.
Bodza, Rió, Barack, Kókusz, Molly and Shining are on summer holiday and will return to Semmelweis University in September.
Photo: Attila Kovacs – Semmelweis University; Eszter Balint, Edina Kardos and the archives of the András Pető Faculty