The nine-month postgraduate training program designed and delivered by Harvard Postgraduate Medical Education on medical clinical research methodology started with a four-day symposium in Budapest on July 17, in which 57 scholars are to take part from Hungary, Romania, Czechia, Serbia, Bulgaria, and Turkey. The kick-off event was opened by Rector Dr. Béla Merkely and by the main educators of the program, Dr. Ajay Singh, Dr. Krisztina Fischer, Dr. Gyöngyi Szabó, and Dr. Djøra Soeteman, all of Harvard Medical School. Professor Scott David Solomon, who received the prestigious Semmelweis Award on July 19, also held a workshop.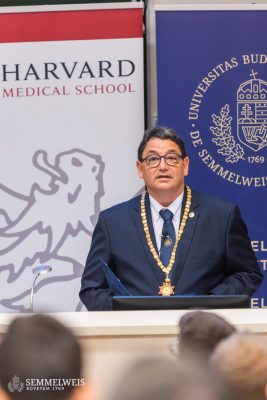 The first day of the symposium was the opener of the training called Clinical Science Scholars Program, where, in his speech, Dr. Béla Merkely, Rector of Semmelweis University expressed his wish that this post-graduate training focusing on clinical research, designed by Harvard Postgraduate Medical Education, will not only strengthen the partnership between the two institutions, but will also provide the participants with substantial knowledge, with which they can lay the foundation for their researcher profession, and which they can use during their entire clinical career. "Thanks to the Harvard Medical School Postgraduate Medical Education's Central Europe Clinical Scholars Research Training program, the scientific cooperation between the United States and our region can be further strengthened through the participants", stated in his welcome speech Rector Dr. Béla Merkely.
According to the rector, the program is primarily attended by postdoctoral fellows and those who had already gained experience in the field of research during their PhD course. The profile of the participants accepted for the program is extremely wide, ranging from recently graduated students, through PhD candidates to residents and clinical specialists. A quarter of the attendees come from the field of cardiology, however, students of oncology, pediatrics, gynecology, dentistry, radiology, pharmacology, psychology, neurology, pulmonology, anesthesiology, gastroenterology and urology are also represented.
"Harvard Medical School is the world's best and most renowned university, while Semmelweis University is the best medical and health sciences higher education institution in Hungary and the region, being among the world's best 250 universities. Although our mother tongue is different and we are separated by an ocean, we carry out our work based on the same values, and we also share the same goals: the development of science, the healing of patients, and the widest possible transfer of knowledge. By joining forces, we not only strengthen our relationship and institutions, but also invest in the future: through you, dear participants!"
– Rector Dr. Béla Merkely greeted the audience.
He also added that with the knowledge imparted during the program, the educators and the organizers would like to open the gates of science to the participants even wider, to present the world of clinical research with the help of the best experts and the most modern methods. "After all, we know for sure: clinical research is fundamental in order to provide our patients with the most innovative and effective therapies possible", the Rector went on to say.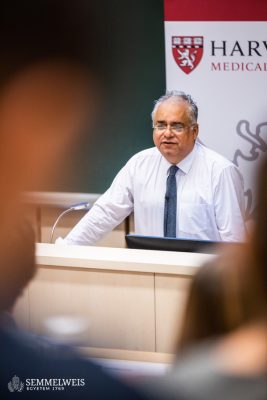 On behalf of Harvard Postgraduate Medical Education, Dr. Ajay Singh, Senior Associate Dean for Postgraduate Education welcomed the participants first. He thanked Rector Dr. Béla Merkely's efforts, "whose vision, without doubt, created this program", Dr. Singh said while also expressing his gratitude towards the other main contributors, Professor of Biostatistics David Wypij, Epidemiologist Dr. Jamie Robertson, Professor of Medicine and Faculty Dean at Harvard Medical School Gyöngyi Szabó, Harvard Radiologist Dr. Krisztina Fischer, Professor Julie Buring, who conducted significant research on the benefits of aspirin on the cardiovascular system, Dr. Caren Solomon, Harvard Professor and Deputy Editor at the New England Journal of Medicine, and, last but not least, Dr. Scott David Solomon, who, according to Dr. Singh, is probably the most accomplished researcher on heart failure.
Among the topics of the four-day workshop are epidemiology, research ethics, biostatistics, and practical issues related to publication. Almost half of the students of the course come from Semmelweis University, but the program also welcomes participants from several other excellent universities in Hungary as well as in the region. The Foundation for National Health Care and Medical Education, the maintainer of Semmelweis University, has granted scholarships covering half of the tuition costs for 50 young researchers, and 57 attendees have been selected altogether. This four-day workshop is the kick-off, then there will be a 2nd one that is to be held online, and the 3rd is about to take place in-person in Boston next March. According to Program Co-director Dr. Djøra Soeteman, the course is heavily team-based and intensive, during which the participants will give presentations and write a 6-page grant proposal by the end of the training program. The program will run through June 2026 with trainings starting each year. The first workshop, hosted by Semmelweis University, was launched on 17 July 2023.
"We want you to be great observes, observes of clinical data to create hypotheses, to test hypotheses", just as Ignác Semmelweis did, and which will lead to important studies, according to Dr. Ajay Singh who also pointed out this course will develop passion for research and observation and the participants will become leaders in the field of medical research while keeping science in the center.
In her video message, Adjunct Professor Gyöngyi Szabó of UMass Chan Medical School, who earned her medical degree from the University of Debrecen and her PhD from the Hungarian Academy of Sciences, said she thinks "this type of cooperation is really critical to learn from one another between these continents."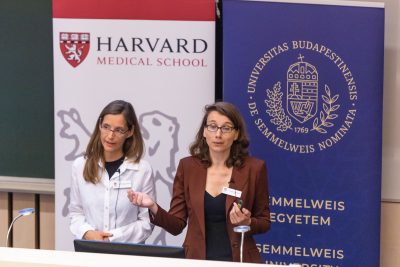 Following this, the two program directors, Semmelweis graduate and Instructor in Radiology at Brigham and Women's Hospital in Boston Dr. Krisztina Fischer and Affiliated Faculty at the Center for Health Decision Science Dr. Djøra Soeteman also welcomed the audience while providing a detailed account of the nine-month program, which will feature in-person workshops in Budapest and Boston as well as some online sessions. According to Dr. Soeteman, some of the participants are new to research while some of them have already published 20 studies in journals, therefore the attendee pool is greatly heterogeneous.
The first workshop was held by Rector Dr. Béla Merkely, who gave his presentation on how to develop a clinical researcher career. He emphasized the fact that under his leadership, Semmelweis University is proud to have 14,000 students, 35% of whom are from 109 foreign countries. The university hospitals treat approximately 2.5 million cases per year at over 40 departments, and the university is also proud of its 6 international campuses. Moreover, Semmelweis University is among the world's top 250 universities according to the Times Higher Education's ranking, while, in the US News Best Global University Rankins, the Városmajor Heart and Vascular Center – whose head is Dr. Béla Merkely – is ranked the 43rd best center in cardiovascular sciences in the whole world.
Rector Dr. Béla Merkely went on to emphasize the crucial role of his former mentors in helping shape his academic career, stating this international program will also provide mentorship to young researchers that they may be able to utilize in their future career.
Professor Scott David Solomon, this year's Semmelweis Award laureate, whose Award Ceremony took place in the framework of the Harvard Symposium on Wednesday, July 19, also pointed out to the importance of mentorship in clinical research. "I think there is no more important job we have as educators than to train the next generation to not just ask questions but to provide mentorship to the next generation beyond them".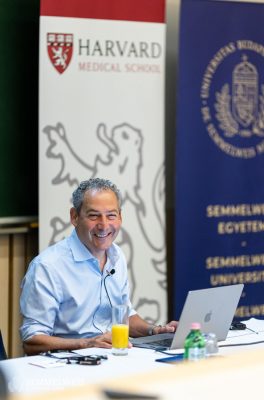 Dr. Solomon also discussed why he founds the Harvard workshops important: "This workshop is really dedicated to helping young people understand how to do clinical research, how to think about asking the right questions, and then answer those questions, how to solve problems, how to do data analyses", and he adding that "I will talk today about the legacy of Ignác Semmelweis, and the fact that the really first clinical investigation was actually of the namesake of this institution."
Furthermore, Dr. Ajay Singh emphasized the importance of the clinical research training program, according to whom the work of these young scientists will "ultimately lead to changes in how diseases are managed, treatments are developed, and they get publications that are usually very impactful and helps their career and brings them more visibility in the scientific community."
"Harvard likes to work with leaders, and Semmelweis is a leader in science and clinical care, and we would like to work with them. Furthermore, in my interactions with colleagues from Semmelweis has been wonderful"
– replied Cardiologist Professor Ajay Singh to the question why it is beneficial for the two university to run international trainings.
Mária Sánta
Photos: Bálint Barta, Attila Kovács — Semmelweis University