As part of the program series celebrating the 40th anniversary of international medical education, the Center for Educational Development, Methodology and Organization of Semmelweis hosted an international conference on educational development between 4-5 May in Budapest. Participants were greeted by Dr. Alán Alpár, Vice-Rector for International Education, who shared his thoughts on the future challenges of higher education in his welcoming address.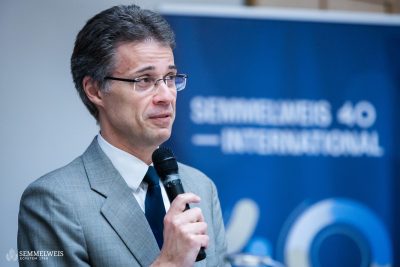 Dr. Alpár Alán, Vice-Rector for International Education at Semmelweis University reminded that one of the reasons this conference has been organized is that the institution is celebrating the jubilee of launching international medical training, where they experience such a versatility, with young talents coming from over a hundred countries all around the world. "However, times are changing, students are changing, and in general, the future is not quite what we thought of even two years ago. Higher education is a constantly evolving environment, so we have to grow up to new challenges, and need to apply a methodology to approach our students accordingly," he stressed.
In his presentation, the vice-rector referred to the three clues that helped Semmelweis University to improve, which is tradition, reliability and development. He went on to say that the medical knowledge of various disciplines in clinical studies nearly doubles every year, so current developement needs to be monitored closely. "Also, one needs to evaluate consciously what elements to keep as "core knowledge", which stands the test of time. We have to do all this consequently, and educate students in a reliable way, because that is of utmost importance, for them," he stressed. The vice-rector made reference to the fact that more educators are needed, who are experienced not only in teaching but also actively involved in research. He then gave a detailed overview of the development of international training at Semmelweis, highlighting that medical education does not only include doctoral training: the need for specialized field workers is increasing all around the world, and this need has to be addressed at the university as well.
Dr. Alán Alpár concluded that the biggest attraction of Semmelweis and most probably, all those who excel in medical education are the "hands-on courses" close to the bedside, along with small numbered groups witth an individual approach – according to student surveys, this is the most critical point, which Semmelweis is going to keep up as standard, he said.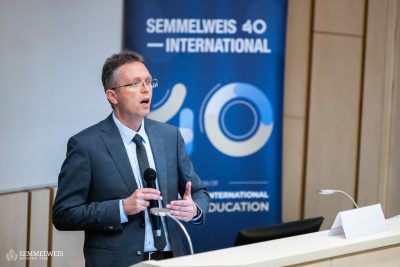 His speech was followed by a presentation of Dr. Balázs Hankó, Secretary of State for Higher Education, Ministry of Culture and Innovation, who outlined the stakeholder's view on the future of the field. "The model change is not a political program, but a competitiveness program, making universities more dynamic, performance-oriented, and open to the economy and society," he pointed out. According to him, the goal is to make at least one Hungarian university in the top 100 of the world, and three within the top 100 in the European Union.
As one of the key indicators, the Secretary of State noted that the number of international students, not to mention Hungarian mobility as such are scheduled to double, with a highlight on international mobility participation. Quality publication output is increasing by 35 percent, and by 2026, it is planned to reach an additional +20 percent. The proportion of people with STEM (Science, Technology, Engineering and Mathematics) PhD increased by more than 40 percent in 2021 compared to last year, which is a significant development, he pointed out.
On the whole, in order to make further progress, the system needs fine-tuning and to increase scientific performance. The key objective for universities is to play a central role in research, development and innovation, he said, adding that own revenues from business cooperation and RDI activities are also needed to improve.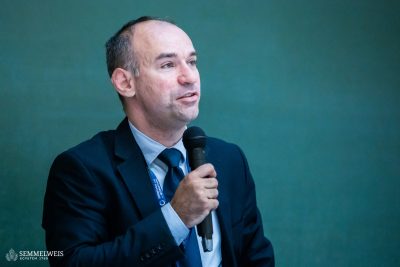 Dr. Levente Kiss, Director of the Center for Educational Development, Methodology and Organization at Semmelweis University spoke about the current trends of curriculum design in medical education. According to him, emphasizing team work, focusing more on general care and prevention, interprofessionalism, and a better use of technology like skill labs and simulations are becoming more and more important, just like refreshing educational methodologies, shifting towards active learning, and more formative assessments.
Amongst the biggest challenges to medical education he mentioned the general shortage of doctors worldwide, as well as dealing with scientific progress and technical developments. As for expected changes in the curriculum, he highlighted that student selection should be done with great care in the future, educators are supposed to be more prepared, and the overall learning pattern should not be a "one size fits all", but mainly adaptive.
"There are many good solutions for medical education, but there is no gold standard. We are supposed to build on our own strengths, keeping in mind that it is the learned curriculum that counts, not the planned one," he said. The director added that international trends like the growing importance of digitalization and inter-professional cooperation should be reflected, and while one must avoid the erosion of basic sciences, educational methodologies are bound to be refreshed.
Viktória Kiss
Photo: Bálint Barta – Semmelweis University