At the invitation of Semmelweis University, Dr. Xing Yun, Professor of Traditional Chinese Medicine at Hebei Medical University, has arrived to Hungary to give practice-oriented training courses for medical specialists and traditional Chinese doctors.
The professor will stay until 12 March to teach Hungarian specialists therapeutic techniques that can be used to expand their therapeutic toolbox and improve their effectiveness. These additional techniques, using the tools of traditional Chinese medicine, can provide a specific complement to the treatment of acute and chronic musculoskeletal and visceral pain, as well as gynaecological complaints.
Professor Xing Jun, a specialist in rehabilitation at Hebei Medical University is also a traditional Chinese doctor; he is working as Director of Traditional Chinese Medicine at the First Hospital of Hebei Medical University, and Head of the Department of Rehabilitation Medicine. In his therapeutic practice, he integrates traditional Chinese medicine and Western techniques.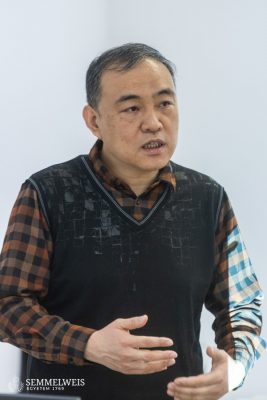 During the course at Semmelweis, basic needling techniques are taught alongside with the proper use of an equipment on acupoints which can be applied without penetrating the skin. This is suitable for even those who do not have experience with inserting acupuncture needles. "The essence of these techniques is that all of them are based on the system of Traditional Chinese Medicine. The participants will learn to successfully treat problems of the musculoskeletal system, including neck, shoulders or low back pain or even headache. We expect beneficial effects in gynecological or perinatal painful conditions as well," said Dr. Xing Jun.
The professor was invited to teach in Hungary by Dr. Ajándék Eőry from the Division of Integrative Medicine. "The aim of our government, university and hospital is to spread Traditional Chinese Medicine in Europe and this coincided with the purpose of the invitation. This is a relatively easily applicable method, and we would like it to help as many people as possible. Even if someone does not believe in its effects, after giving it a try will experience its effectiveness, and thus spread the method. We should find individual tender points and match them with the proper treatment," the professor highlighted.
Viktória Kiss
Photo: Bálint Barta – Semmelweis University