Dr. Miklós Réthelyi, former Rector and Professor Emeritus of Semmelweis University, received the Endre Hőgyes Award in recognition of his outstanding medical and professional lifetime achievement, his activity and achievements in the field of medical research. The medal was donated by Dr. Sándor Pintér, Interior Minister and presented by Dr. Péter Takács, State Secretary for Health of the Ministry of Interior.
The Endre Hőgyes Award was founded in 1961 by the President of the Health Science Council (HSC), Dr. József Sós, and its Secretary, Dr. Zoltán Alföldy. The medal is awarded every year by the Minister of Science on the recommendation of the HSC Board on the anniversary of the birth (30 November 1847) of Endre Hőgyes, a physician, university professor, member of the Hungarian Academy of Sciences and outstanding researcher in experimental medicine.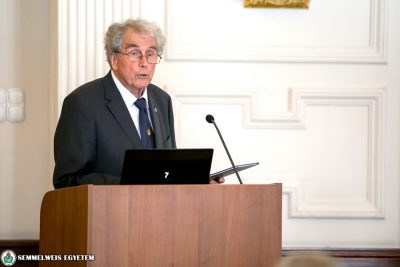 Dr. Miklós Réthelyi arrived at the Institute of Anatomy, Tissue and Developmental Sciences of Semmelweis University in 1963 as newly graduated doctor.
During his six-decade career, he has held numerous academic and public positions: from 1991 he was the first rector of Semmelweis University elected after the regime change, from 1994 he was the head of the department for ten years, led the education and research work at his institute, between 2010-2012 he was Minister of National Resources (he is the first and last Minister to the office with this name, as it was renamed to Ministry of Human Resources in 2012), and is currently Professor Emeritus and actively involved in professional public life.
The Endre Hőgyes Memorial Medal is considered one of the most important awards in the health sector.
Róbert Tasnádi
Translation: Rita Kónya
Photo: Bálint Barta – Semmelweis University