Dr. Csaba Dzsinich, vascular surgeon, received the Pro Universitate Lifetime Achievement Award at a ceremony held at the Városmajor Heart and Vascular Centre, where the professor was also honoured on the occasion of his 80th birthday. During his lifetime, he has performed around 11,000 operations, and has contributed greatly to the university both as a scientific organizer and as a teacher – all of which were recognized with the award.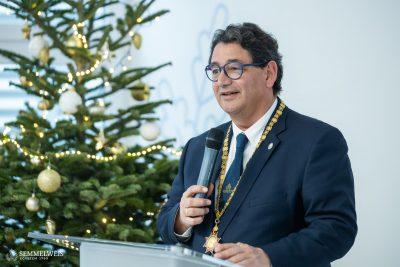 In his speech, Rector Dr. Béla Merkely noted: the path to knowledge and discovery has always attracted the most brilliant and persistent minds, those who are willing to make sacrifices to follow this path. "Such an outstanding personality is Dr. Csaba Dzsinich, whom we salute on the occasion of his 80th birthday, and at the same time we honour an extraordinary mind, whose achievements have earned him one of the most prestigious honours of our university, the Pro Universitate medal," he said. The Rector underlined that we are paying tribute to a scientist, teacher and healer whose professional activity, commitment and passion for education have spanned almost four decades at the Városmajor Heart and Vascular Centre. "In addition to being a pioneer in modern vascular surgery, his educational and organizational skills were a defining factor for the whole of Hungarian medicine," he concluded.
Dr. Béla Merkely recalled the most important milestones in the professional career of Dr. Csaba Dzsinich. He graduated from the Faculty of Medicine at the Budapest Medical University in 1967, was the first Hungarian vascular surgeon to receive the Humboldt Fellowship, then in 1975-76, he spent one and a half years at the Department of Surgery at the University of Munich, where he further developed his knowledge of vascular surgery. After his return home, he introduced a range of modern vascular surgery methods at his home institution, which in meanwhile become the Department of Vascular and Cardiac Surgery. "In 1978, he was appointed head of the vascular surgery department, in 1980 he was one of the first to pass the specialized exam in vascular surgery when the national examination was introduced, and for almost 30 years, he was responsible for postgraduate training, where he was dedicated to the promotion of young colleagues applying for specialist training, both in theory and practice," the rector said.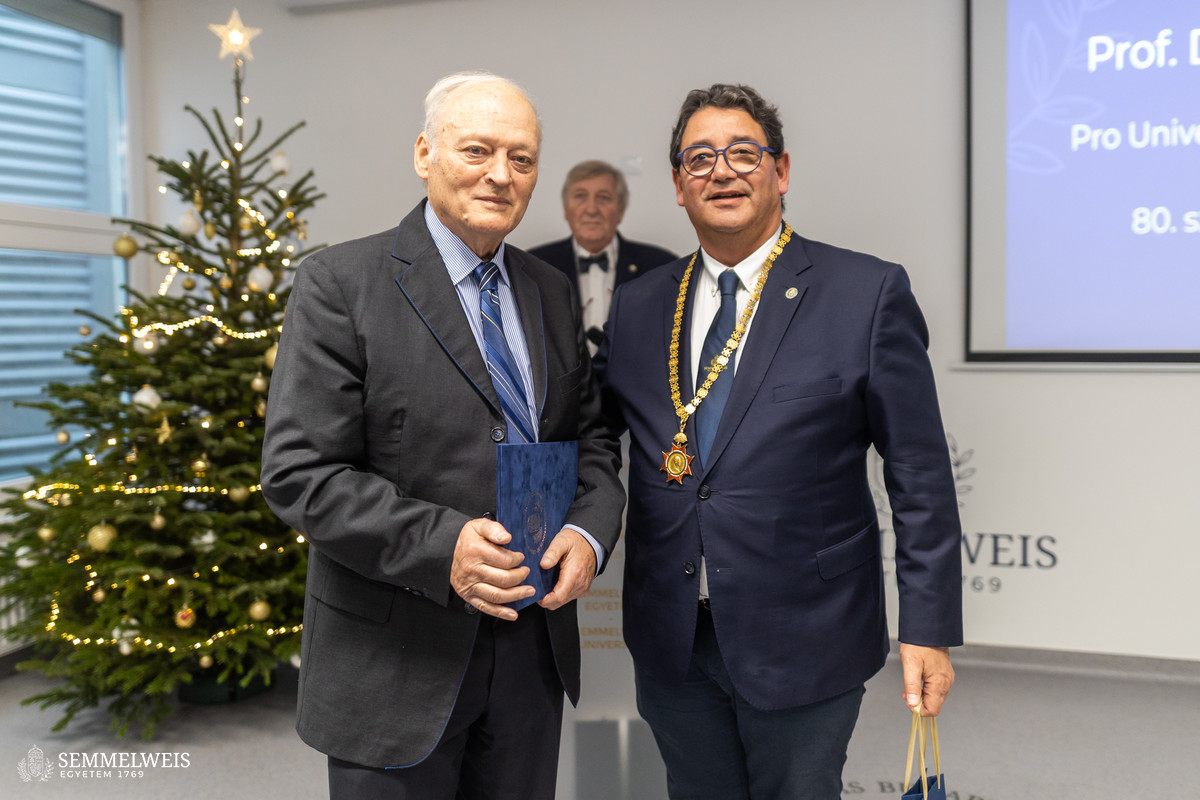 Dr. Béla Merkely pointed out that Dr. Csaba Dzsinich's activity covers a whole spectrum of vascular surgery, he has performed more than 11 thousand surgeries. "Besides this, his scientific organizer skills have been of almost incalculable benefit to Hungarian science," he added. He also stressed that his excellent manual dexterity and determination made him popular with his patients, and that the training of Hungarian vascular surgeons owed much to him, among other things, for the almost unimaginable Austrian and German contacts he made behind the Iron Curtain in the 1980s. Dr. Csaba Dzsinich was also outstanding as a lecturer: as the rector recalled, his lectures for final-year students, held between 6 and 7 in the morning, were well-known.
Dr. Csaba Dzsinich is one of the role models who laid the foundations for the current success of Semmelweis University and the Városmajor Clinic decades ago, sacrificingly, always putting the interests of patients, students and the profession first"
– said the rector.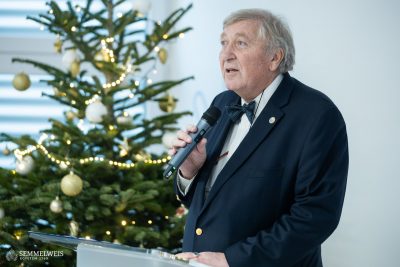 Dr. László Entz, chief clinical physician of the Department of Vascular and Endovascular Surgery, recalled in his laudation that the laureate started his surgical training under teachers such as József Kudász, Sándor Drobni, Lajos Soltész, Imre Szabó and Sándor Papp. As a researcher, practitioner and teacher, Dr. Csaba Dzsinich recalled that he became involved in professional public life quickly, and was a member and even leader of the most important professional organizations and associations. Dr. László Entz stressed that his ability to organize congresses was legendary, and he always tried to use his international contacts to support his colleagues.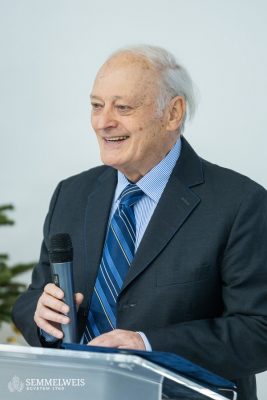 Following the laudations, Rector Dr. Béla Merkely presented the Pro Universitate medal to Dr. Csaba Dzsinich. He thanked the award and birthday greetings, and recalled that his relationship with the clinic goes back almost a hundred years through his father. He shared that teaching trainee doctors was a great challenge for him, as he had to keep his knowledge up-to-date and he himself learned a lot while teaching – he was involved in the training of about 220 trainee doctors altogether. According to him, the spirit of the clinic created a community that brings out the best in the people who work here, and everyone who has ever worked at Városmajor contributed to this. He said that when Professor Kudász admitted him to the clinic, fewer than 180 vascular operations were performed that year. In the year he left however, 3,700 such operations were performed, which is a huge difference showing the progress that has been made.
In a video message prepared for the ceremony, Dr. Péter Glovicki, the internationally renowned vascular surgeon living in America, recalled his friendship with Dr. Csaba Dzsinich, whom he greeted on the occasion of his birthday and congratulated on the Lifetime Achievement Award. He said that he was very proud of the time he had spent as a member of staff at the Városmajor clinic, where he had learned the basics of vascular surgery and vascular operations from him personally. The professor stressed that this had a great influence on his entire professional career. Dr. Péter Glovicki recalled the congresses and conferences they attended together, and stressed that Dr. Csaba Dzsinich played an important role in the establishment of modern vascular surgery in Hungary. He also pointed out that there are many surgeons in the world who learned their profession from Dr. Csaba Dzsinich and who still think of him with gratitude and affection. Finally, referring to the professor's hobby, he wished the celebrant happy sailing, good health and a long life.
Péter Pogrányi
Translation: Viktória Kiss
Photo: Bálint Barta – Semmelweis University