It was due to an unexpected, life-changing experience that Dr. Dániel Végh chose dentistry as his vocation. Semmelweis University, where he completed his undergraduate and postgraduate studies, and where he is now an assistant professor at the Department of Prosthodontics, played a major role in shaping him into an outstanding professional. Dedication, ambition, and excellent research results helped the young doctor to achieve a landmark event in the academic year 2021-22: he was awarded the prestigious international ITI scholarship in implantology, which enabled him to spend a year at the Medical University of Graz and to study at Harvard.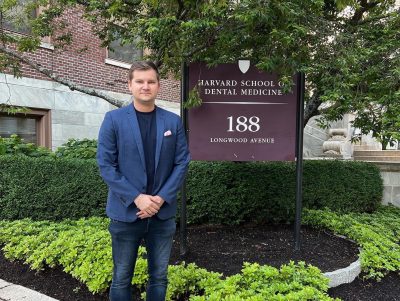 The development of a vocation
Pursuing medical studies and becoming a doctor have been great dreams for Dr. Dániel Végh since his early childhood, when he closely experienced how deeply his mother was committed to her profession as a family doctor. Practicing in villages around Győr, she was always ready to help the people entrusted to her care. She was often called out to see a patient even at night, when her loving family would provide company for her. It was during these years that the then young boy's dedication to helping people developed, which later matured into a medical profession.
After starting his university studies at the Faculty of General Medicine of Semmelweis University, a life-changing event led Dr. Végh to become a dentist. During one of his first exam periods, he was diagnosed with type 1 diabetes, which, after much deliberation, made him decide that a career in dentistry was a more viable option for his future. As a result, after graduation he completed his PhD studies on the oral complications of diabetes. This significant decision, however, did not only affect Dr. Végh's personal career, but as it seems, it also has a great impact on the training of Hungarian dentists, and especially on the dental care of patients with diabetes both nationally and internationally.  
Currently, Dr. Végh works as an assistant professor at the Department of Prosthodontics of Semmelweis University, and a mentor at the Translational Medicine PhD program. It is remarkable that he also leads his own research group, which provides free screening for people with diabetes, without any regional restrictions, in a unique way in Hungary. The Diabetes Dental Research Group is dynamic in patient care, research, as well as prevention. They collaborate with professional partners such as the Hungarian and the International Diabetes Societies. Dr. Végh also regularly organizes international lectures in the field of implantology at the Prosthodontics Department.
When asked about his research group, Dr. Végh emphasized: "We strive to work closely not only with patients but also with associate professions. We have set up a patient pathway at Semmelweis University to ensure that colleagues can refer patients with diabetes to us for oral screening. We are also proud of the four Ph.D. students who are currently working on this topic. I think that's remarkable for such a young group."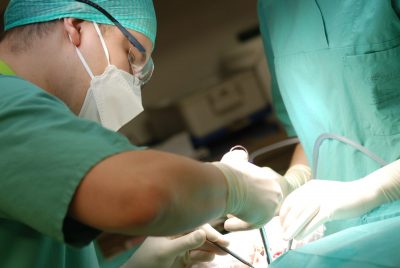 Semmelweis roots
Dr. Végh's close relationship with Semmelweis University started at the very first encounter, the open day organized for the applicants at the Theoretical Block on Nagyvárad square, when he was greatly impressed by the aura of the university, and the large number of enthusiastic people he met there. He says "I am proud to have studied at Semmelweis University, which is the best medical education institution in Hungary and is aiming for the TOP 100 internationally. The University gave me the teachers, colleagues and patients who shaped me into the person I am today."
After graduation he stayed at the university – professional exam, PhD degree, assistant professorship. It is no exaggeration to state that since then Dr. Végh has left the university almost exclusively for study trips that enhance the reputation of the university. When we asked him to what extent Semmelweis University provides a good background for his postgraduate studies and professional development, Dr. Végh emphasized that working at the Faculty of Dentistry of Semmelweis University is a great prestige and it means professional security. "There is a lot to learn from the great number of patients, and you can rely on the advice of your experienced colleagues in case of difficulties. It is also worth getting involved in research, thus deciding the main areas of your interest and going for the opportunity. Tutors can easily recognize those who are not only talented but also ambitious enough and want to develop professionally, and this usually opens doors. I am particularly lucky because I have had the opportunity to work with a fantastic mentor, Prof. Dr. Peter Hermann, who has supported my diabetes-related research and my PhD studies. Starting a PhD here provides many opportunities, and the necessary conditions for research. You can apply for grants, travel to conferences, and meet foreign colleagues. These links will give our University its future strength, and we need to build on them", he explains.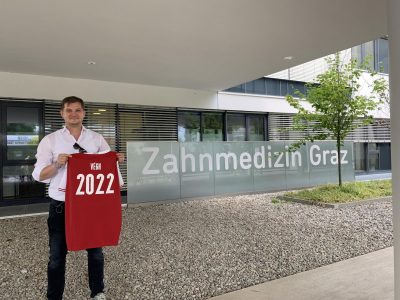 Life-shaping opportunity: ITI Scholarship to Graz
Dr. Dániel Végh has been awarded one of the world's most prestigious scholarships in the field of implantology in the academic year 2021-22, and had the honor to study and work at the Graz Center of ITI (International Team for Implantology). Around 300 people apply for this scholarship each year, of which only 15-20 young experts are given the exceptional opportunity.
His inclusion in the ITI team was especially notable, because he was not recruited as an implantologist or parodontologist, like most of the others, but with a specialist qualification in prosthodontics. The award of the grant must have been greatly influenced by an important previous research of the young doctor. He was involved in the creation of one of the most important dental consensus on diabetes, the "Madrid Consensus", a publication with over 400 citations.
At the Department of Oral Surgery of the Medical University of Graz his professional development was assisted by internationally renowned experts, such as Prof. Michael Payer, his mentor, an André Schroeder Award-winning specialist, one of the world's best known experts in ceramic implants. Dr. Végh was able to learn about computer-aided design for digital implantology from Barbara Kirnbauer, and enjoyed Prof. Norbert Jakse's trust, who gave him the opportunity to work in his clinic as a full-fledged colleague getting shifts and being able to spend as much time in the operating room as possible.
"We found ourselves in a circle where the spotlight was absolutely on us. It is also in the interest of the ITI, of course. The Centre was very happy to have us there, and that's also true in the first person singular", he recalls his scholarship experiences.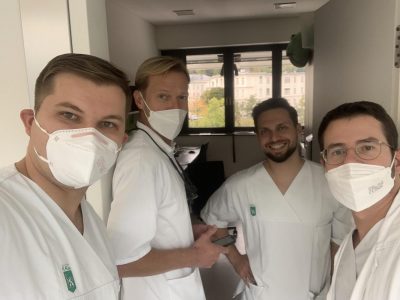 Regarding the question of what the Graz Centre offered him that was new or different in his field of expertise compared to the possibilities in Hungary, Dr. Végh explained that since he was already familiar with prosthodontics, the surgical part of implantology was the main new challenge for him. He was able to practice this in the ultramodern operating theatre of the Graz Clinic, where all the equipment was available and he even had the opportunity to perform joint operations with Prof. Payer. It was a great experience for him that oral surgeons implanted together with prosthodontists, thus combining the aspects of the two fields. In addition, he had the opportunity to participate in many international hands-on training courses in the field of implantology with the help of his scholarship at several locations – in Graz and also in England, Portugal, the United States, and Italy.
One of the greatest benefits of the year was being involved in the international bloodstream, according to the doctor – the University of Graz has a wide international network and this could also be very intensively experienced in the clinic where he worked. "In fact, the whole point of the scholarship year is to make contacts that will help us in our future work at Semmelweis University. Due to the fact that I had previously gained knowledge in connection with my diabetes research about how to work on projects in an international environment, I knew exactly how to behave in order to build this up. It required constant networking during the entire year. The opportunities were there for all of us, but only those who were really ambitious could take advantage of them. It was a full hit for me, as I arrived with tremendous momentum and I could feel throughout the year that I was accelerating. We parted ways with the staff at the Graz clinic with great satisfaction, and our mutual respect to each other is best proven by the fact that we have been working on several projects ever since, the story continues to be written", he says.
His mentor, Prof. Payer also gave Dr. Végh the opportunity to participate in joint research with him, as well as to be involved in mentoring – he supervised the thesis and research of two Austrian dental students. Due to his close collaboration with Prof. Payer, he published 17 scientific articles with impact factor over 50 during the fellowship year, among which there were joint projects with the other members of the international team. These publications cover a wide range of topics, including diabetes, dental 3D printing and ceramic implants, as well as studies of diseases affecting dental implants.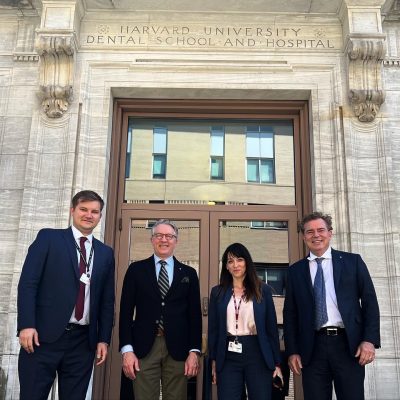 Bonus at the end of the scholarship year: Educational Week at Harvard
At an ITI meeting in Rome, Dr. Végh was given another life-changing opportunity, that is to participate in an educational week at Harvard University in summer 2022. "All year long, I was looking forward to the week I could spend at Harvard. Interestingly, at an evening event in Boston, someone started talking to me in Hungarian. As it turned out, he was the head of the dental lab at Harvard University. András is of Hungarian origin, but has been working in the United States for a long time," says the young dentist, recounting a pivotal experience.
After having seen his professional possibilities from a different perspective, and collecting a great amount of knowledge, practice, as well as lasting experiences and relationships, Dr. Végh says he is proud of being Hungarian and belonging to Semmelweis University: "The fellowship year confirmed to me that Semmelweis University and Budapest are very good places in the world, and although I have seen many universities and clinics that are at the forefront in my profession, I returned home with a happy heart."
Bionote
Born in Győr, Hungary
Graduated from Révai Miklós Highschool, Győr
2015 Degree in dentistry from Semmelweis University, Budapest, Faculty of Dentistry
2018 Professional exam in Conservative Dentistry and Prosthodontics at Semmelweis University
2019 Ph.D. degree, Semmelweis University, Doctoral School
2021–2022 ITI Fellowship in implantology – Medical University of Graz, Austria
Veronika Jávor-Szelid
Photos: Dr. Dániel Végh