In the latest episode of our alumni interview series, Dr. Christian-Hendrik Heeger, Deputy Director of Rhythmology department and Head of the Electrophysiology Department at the University Heart Center Luebeck, Germany recalled his student years at Semmelweis University.
His clinical and research focus are new technologies and techniques to treat atrial fibrillation and ventricular arrhythmias. He is a procter for Medtronic and Boston Scientific Cryoballoon based ablation procedures, Cardiofocus Laserballoon based ablation procedures as well as Farapulse based pulsed field ablation procedures. The internationally renowned cardiologist and electrophysiologist attended Semmelweis for two years, graduating in 2006.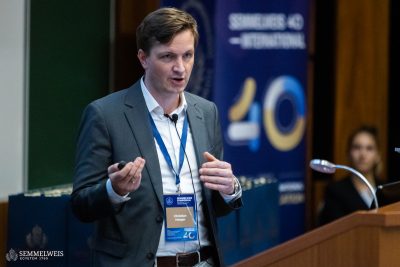 What do you remember most from your university years spent in Hungary? 
Between 2004 and 2006 I was a student at the German-language training of General Medicine at Semmelweis University. My favourite subject was anatomy. I finished all my exams with an A, so I received the Best Student Award. I won the I won the first prize in the students' physics and anatomy competition and second prize in Physiology. During my student life, I focused intensely on learning medicine, yet I also did a lot of sports. I was part of a swimming team of Margitsziget. Furthermore, I spent time with my friends and went to parties on Thursdays at the Veterinary Campus. I do remember the intense learning, the friends, and a beautiful city. Budapest is a gigantic capital that was real impressive for me, especially after my much smaller hometown Nordhorn in Lower Saxony.
What happened after Semmelweis and after your graduation? 
After finishing the second year, I returned to Germany and continued my studies at the University of Luebeck. I also started a Doctorsthesis in Experimental cardiology and won a students grant from the university (Excellence medicine grant). After becoming a doctor, I worked as a cardiologist at the St. Georg Institute of Asklepios Clinic, at the Department of Cardiology (Head: Prof. Dr. Karl-Heinz Kuck) and trained to become an electrophysiologist. Since 2018 I have been a consultant electrophysiologist at the Heart Center and became deputy director of the Clinic of Rhythmology (Director: Prof. Dr. Roland R Tilz) and Head of Electrophysiology. In 2019 I got the title of associate professor, and nowadays, we are performing more than 1000 catheter ablation procedures and about 600 device implantations per year.
As a researcher, where is your focus point?
My research focuses on cardiac arrhythmias, in particular innovative treatment of atrial fibrillation and ventricular arrhythmias using novel diagnostics and technology. I am author of more than 50, and co-author of more than 200 articles. I have received several awards and honours for my research (Hugo-von-Ziemssen award, Eric N. Prystowsky Award, ECAS Best Abstract Award, EHRA Best Graded Abstract Award).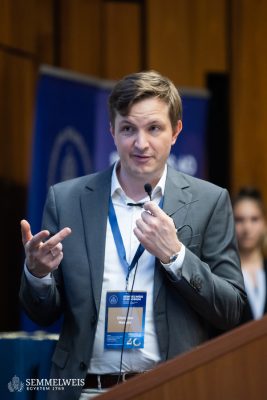 How can you find the balance between the high-quality academic requirements and your private life? 
It's not easy, but it's also part of my daily work, I'm used to do so. In addition, I have a fantastic partner and three children.
What would you highlight from your life and career that you can thank your Alma Mater? 
A very intense and personal learning during my studies, plus a great city with many things to see and do. 
What would you advice to today's students regarding learning, career, etc.?
ASICS – anima sana in corpore sano. You need to combine sport and learning to reach all your goals.
Alumni Directorate
Photo: Bálint Barta – Semmelweis University
Christian-Hendrik Heeger attended the Semmelweis Symposium for the first time this year, where he also gave a presentation on "Cardiac ablation techniques for the treatment of atrial fibrillation". "PFA (pulsed field ablation) is a very young and developing field of medicine: ablation is usually performed using cold or hot thermal energy, whereas PFA is an electromagnetic pulsing technique and is used exclusively in cardiology", he explained us before his lecture.