On 10th October, Semmelweis University's Clinical Center and the Catholic Charity Service signed a declaration of intent to cooperate in promoting and supporting the care of patients struggling with childlessness.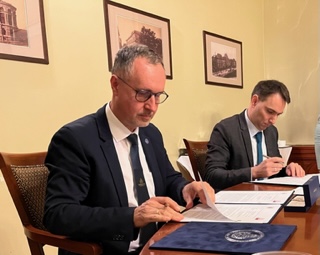 "In recent years, the number of women of reproductive age has declined, so maintaining, and optimally increasing, the birth rate is of perhaps unprecedented importance," Dr. Attila Szabó, Vice-Rector for Clinical Affairs and President of the Clinical Center said. He stressed that every single child's life holds a miracle, which unfortunately not every couple can experience. The trends of the last decade call attention to the fact that everyone who is able to do so because of his or her knowledge, dedication and willingness to do something must do something for this important goal. "The cooperation between Semmelweis University and the Catholic Charity Service can play an important role in the care of patients struggling with infertility and do not wish to undergo assisted reproductive procedures for moral or health reasons, but wish to receive cycle tracking and certain restorative medicine-based examinations and treatment," he stressed.
Dr. Norbert Vajda, Director General of Catholic Charity Service, stressed that they have a wide range of support activities placing special emphasis on supporting couples struggling with childlessness, with faith always being the guide to achieving this goal. Within the framework of the cooperation, doctors participating in the "Natural Childbirth" reproductive restorative medicine training course of the charity, which has been running since 2018, will start treating patients struggling with infertility at the Assisted Reproduction Centre (ARC) at the Department of Obstetrics and Gynaecology of Semmelweis University from autumn 2022, under the leadership of Dr. Szabolcs Várbíró. The cooperation will build on the synergistic relationship between the two institutions, creating significant therapeutic, educational and scientific added value both domestically and internationally.
Source: Clinical Center President's Office
Translated by Rita Kónya
Photo: Attila Kovács – Semmelweis University