As a first in Hungary, accredited training for stoma therapy nurses has been launched at the Department of Surgery, Transplantation and Gastroenterology of Semmelweis University. The training, in partnership with the Faculty of Health Sciences, enabled 20 nurses to start their studies, who will receive a certificate on completion of the course, which focuses on practical skills, and will be able to provide high quality care and assistance to patients who may need lifelong stoma support. The organizers would like to see stoma care recognized as a separate field of specialization in the future.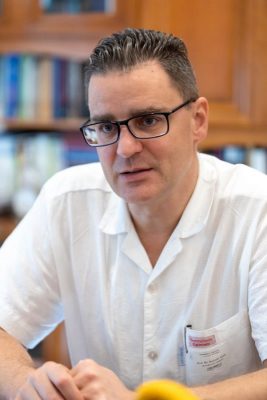 The medical profession has been working towards the establishment of an accredited stoma therapy nurse training in Hungary for about a decade and a half or even more. In the past, companies distributing therapeutic devices organized such trainings, but these were not accredited, Dr. Attila Szijártó told our website. The director of Semmelweis University's Department of Surgery, Transplantation and Gastroenterology (STÉG), the initiator of the training stressed that the course which started on 1 October is a quality-controlled training in an academic environment, where the professional aspect is at the forefront.
"In post-operative care, stoma therapy nurses have the biggest responsibility: they are the ones who take care of patients, thus recognize complications, and can differentiate between minor issues and cases that definitely require medical intervention," the director added. "Real care is when you meet someone every week, every month, every six months, and there is a dialogue, so it can be much more direct and revealing than situations when you have only ten minutes in the doctor's office. Nurses who are trained to handle stomas can also enjoy greater trust in the long term. At STÉG, we insert 200-220 new stomas a year. A significant number of these patients have to wear stomas for prolonged periods of time, even years, so a nurse has contact with up to 100-150 patients," the director stressed.
In Hungary, it is estimated that around 18,000 people live with a stoma – a surgical procedure to administer or discharge fluid into the body through a surgically engineered orifice. This includes stomas to provide an airway after ear, nose and throat surgery, to provide urinary excretion and drainage after urological surgery, as well as colorectal and small bowel stomas. Moreover, stomas for the delivery of food to the stomach or small intestine also belong here. The population concerned is between 60 and 70 years of age on average, but inflammatory bowel diseases in surgery manifest themselves mainly at a young age, with an increasing number of patients requiring permanent stoma in their 20s, 30s, and 40s.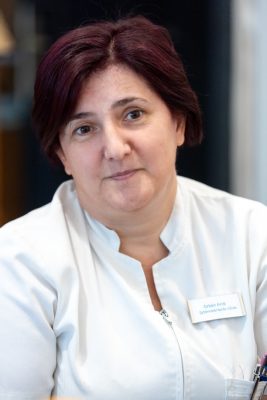 According to Andrea Orbán, the clinic's stoma therapy care developer, who is in charge of the training's nursing practice, "The practical sessions also focus on helping nurses to rehabilitate the patients, so that they can reintegrate into society as easily and quickly as possible. The goal is to return to their previous lifestyle, whether it is leisure activities, socialising, having fun, gardening or spending time with grandchildren. In our experience, people with a stoma can generally follow the same lifestyle and rhythm of life as they would normally," the specialist stressed.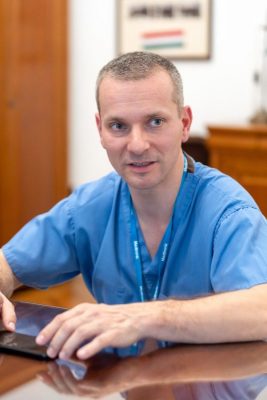 Dr. Balázs Bánky, Associate Professor of Surgery, summarizing the structure of the training said, "We focused on the stoma types that occur in everyday life; colorectal stomas, small bowel stomas, stomas of the urinary tract, laryngeal stomas or feeding stomas. Each field is presented to the students by its own expert. The practical training is led by stoma therapy nurses. They show STÉG's own stoma therapy system and units to the participants, including the newly built stoma therapy department. Leading stoma therapy companies are also involved in the training, along with their products, with the explicitly non-promotional aim of giving the students an opportunity to see the full range of stoma therapy equipment available in the country, and to have a few words with the companies' representatives, including technical details."
Participants also learn about how to keep in touch with patient organizations. Patients with a stoma are also invited to talk about their experiences – their fears before the procedure, the problems they encountered during the therapies or after the stoma was inserted. The practical knowledge gained here also help students who may be completely new to stoma therapy. The organizers plan to develop the training further based on the feedback from teachers and students in the future.
Dr. Attila Szijártó noted that the clinic would act as a reference centre in the future, so they would undertake to organize the training and education of stoma therapy nurses nationwide. Also, they hope that this field could get a more prominent position in social security funding, in line with its importance.
Róbert Tasnádi
Translation: Viktória Kiss
Photo: Attila Kovács – Semmelweis University