For the eighth consecutive year, for the ninth time in total, Semmelweis University has won the Superbrands Award as a brand. The award, which is presented through a multi-stage professional selection process, recognizes outstanding brand quality and the work invested in brand building.
Semmelweis University won the award for the first time in 2012, and then every year since 2015. The decision makers took into account Semmelweis University's brand tradition, recognition, good business reputation, innovation and branding practices.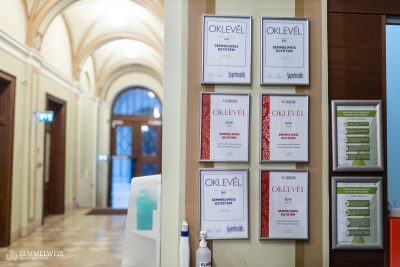 In Hungary, the success of the program is demonstrated by the fact that this year the most outstanding consumer brands can receive the Superbrands Awards for the 18th time, and the best business brands will be recognized for the 15th time," Superbrands Hungary announced in its statement. The principles of the selection process are the same: the nomination is based solely on professional criteria, its is not possible to apply for or nominate. The award is decided in a multi-stage process, by the 40-member Superbrands Hungary Expert Committee of independent experts.
The Superbrands program was launched by the British Brand Council in 1995 to provide insight into the world of top brands. Since then, it has been operating in 90 countries around the world and pays tribute to brands that have achieved outstanding market success in their field.
Róbert Tasnádi – translation by Gábor Kiss
Photo: Bálint Barta – Semmelweis University