Unique both in the country and Central and Eastern Europe, the Digital Dental Design bachelor's degree program has been launched for the first time this year in cooperation between Semmelweis University and John von Neumann University. The incredibly rapid development of digital technology is also evident in dentistry and prosthodontics. Computer-aided design, 3D printing and digital tooth colour determination are not the distant future, but the present.
Removable prostheses are increasingly being replaced by fixed prostheses on implants in the jawbone, traditional braces by invisible devices and dental X-rays can be sent by email with a click. The advent of artificial intelligence and the rapid development of digital technology also require knowledge in dentistry that cannot be acquired at a truly high level in a few days of training. This is why Semmelweis University and John von Neumann University of Kecskemét jointly launched the 3-year digital dental design course in September 2022 to meet the market demand.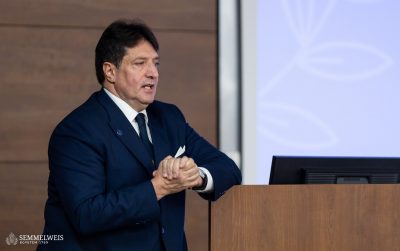 At the opening ceremony of the newly launched course, Dr. Péter Hermann, Vice-Rector for Education and Director of the Institute of Prosthodontics at Semmelweis University stressed that, as in other areas of life, workflows in dentistry and dental technology are moving from analogue to digital.
He said that the course established jointly with the John von Neumann University is unique in the country, but there are only a few dental faculties in Europe that have ever started this kind of course.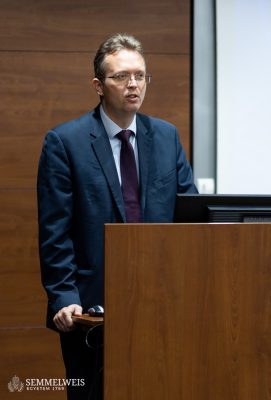 Dr. Balázs Hankó, Deputy State Secretary for Higher Education pointed out that the launch of the course is also important from a higher education policy point of view, as it will enhance the competitiveness of universities, respond to a practical need and strengthen cooperation between two universities that have already implemented the model change.
"Our ambition is to strengthen both vocational training and higher education in specific areas, and this is exactly what is happening here," he said, highlighting the practice-oriented nature of training and digitization as one of the magic weapons of our time.
Dr. Gábor Gerber, Dean of the Faculty of Dentistry, highlighted the unique nature of the degree and gave an insight into the creation of the program.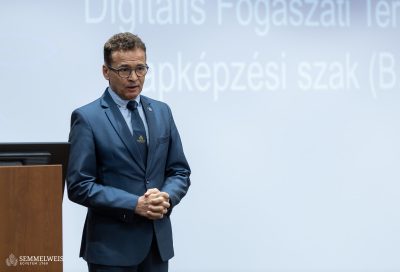 As he explained, they contacted John von Neumann University in 2017 during a visit, at the invitation of Dr. László Palkovics, then State Secretary for Higher Education, and the developments and technical capacities there met the ambitions of Semmelweis University, so they jointly developed the course, which can now be launched five years later.
"It is not easy to be a pioneer in a field, to walk an untrodden path, but it is a good feeling and an exciting experience for those who start. The Faculty of Dentistry is doing the same with this new course, where the lecturers, together with the students, are gathering the experience that will make this training even more successful," added Dr. Gábor Gerber.
"Two completely different universities have undertaken to create a fusion course, to use a fashionable term," said Dr. Lóránt Kovács, Dean of the Faculty of Engineering and Computer Science at the GAMF, John von Neumann University.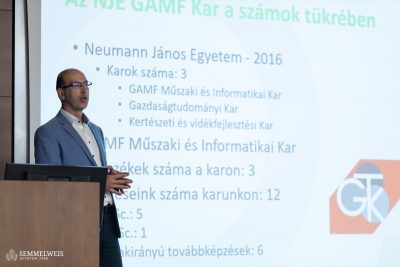 One of the main missions of his university after the model change was to put together courses that combine different professions to create important skills that are essential in certain fields. The digital dental design course is also relevant today because nowadays it has gone in a direction where digital techniques have become inevitable and part of everyday life, he explained.
There was a five-fold oversubscription for the digital dental design bachelor's degree, with 20 students enrolling this academic year. Students will study biophysics, cervical anatomy, dental implantology and prosthodontics, among others, while engineering subjects – including mathematics, materials science, networks, CNC milling and additive technologies – will make up a third of their training. 
Róbert Tasnádi, Ádám Szabó
Translation: Gábor Kiss
Photo: Attila Kovács – Semmelweis University