This year, thirteen outstanding professors of international renown who have cultivated ties with the university were awarded honorary doctorates by Semmelweis University. Last year's Doctor Honoris Causa ceremony could not take place due to the pandemic, so last year's awardees were also presented with their honorary doctorates along with this year's recipients. The event, which took place in the Semmelweis Salon, was opened by Rector Dr. Béla Merkely, who pointed out that this is the 46th time since 1967 that the university has awarded honorary doctorates, on the basis of nominations from the faculties.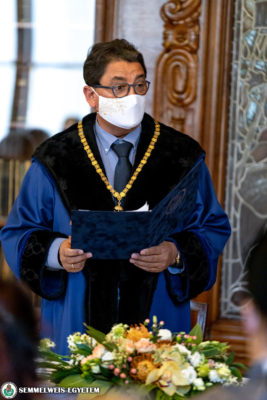 "The Doctor Honoris Causa ceremony is one of the most prominent events in the academic life of our university, where we welcome internationally renowned professors with important links to our university," said Rector Dr. Béla Merkely in his opening speech. He recalled that the last time honorary doctorates were awarded was in 2019, the 250th anniversary year of Semmelweis University, as the pandemic situation prevented the event from being held last year. He praised Semmelweis University's role in the fight against the pandemic and highlighted that the education, research and health care work carried out during the pandemic also contributed to the university's inclusion in the top 1% of the world's best higher education institutions, for the first time in its history.
We could not have such a dynamic development without the forward-looking international scientific relationships we have developed with the professors here.
– said Dr. Béla Merkely. He emphasized his confidence that the award winners would continue their cooperation with the university's staff in the future and help to spread the good reputation of Semmelweis University worldwide.
This year, ten people were awarded honorary doctorates upon the nomination of the Faculty of Medicine. The laudations of the laureates were presented by Dr. Miklós Kellermayer, Dean of the Faculty. (See the links for the full text of the laudations).
Dr. Stefan Anker, Professor of Cardiology, heart failure specialist and Head of the Field "Tissue Homeostasis and Cachexia" at the Charité University of Berlin. He has played an important role in promoting cooperation between Hungarian and German cardiologists and was elected honorary member of the Hungarian Society of Cardiology in 2016. He works in close collaboration with the Heart and Vascular Center of Semmelweis University, involving the department and Dr. Béla Merkely as a member of the steering committee in several joint research projects, a collaboration that has resulted in several scientific articles. His research interests include pathophysiology and treatment of acute and chronic heart failure, cardiology device therapy and clinical evaluation of cardiovascular biomarkers.
Dr. Gary Francis Baxter is Professor of Pharmacology at the School of Pharmacy and Pharmaceutical Sciences, Faculty of Biomedical and Life Sciences, Cardiff University. His research interests are in myocardial and coronary biology, with a particular focus on the pathophysiology and pharmacology of acute myocardial infarction and the molecular basis of protection against ischemia-reperfusion injury. Since the early 1990s, he has been actively collaborating with Hungarian laboratories and has co-authored several joint research papers with Hungarian researchers. His collaboration with Dr. Péter Ferdinandy, Vice-Rector for Science and Innovation, has resulted in highly cited articles in leading scientific journals.
Dr. Carlos José Bustamante is Professor of Molecular and Cell Biology, Physics, and Chemistry at the University of California, Berkeley, where he is the head of the Department of Biophysics. He has revolutionized biological research with his advances in unique molecular manipulation methods and theories of polymer flexibility, protein and RNA folding. His results changed the direction of biochemistry and biophysics by enabling experiments that were unthinkable just two decades ago. His collaboration with Semmelweis University has led to a number of original publications and the creation of a Nanobiotechnology and Single-Molecule Biophysics research group.
Dr. Gerasimos Filippatos is a heart failure specialist, Professor of Cardiology at the University of Cyprus and at the National and Kapodistrian University of Athens, Director of the Heart Failure and Cardio-oncology Units at the Attikon University Hospital. He has been working for decades in the European Society of Cardiology, hence his friendship and professional collaboration with Dr. Béla Merkely and other Hungarian colleagues. His institute has collaborated with the Heart and Vascular Center in several clinical trials, resulting in several joint publications.
Dr. Jude Fitzgibbon is Professor of Personalised Cancer Medicine at Queen Mary University of London, Lead of the Centre for Cancer Genomics and Computational Biology at Barts Cancer Institute. His research focuses on the genetic alterations responsible for the development and progression of leukemia and lymphomas, and therapeutic strategies to reverse them. Over the past decade, he has developed extensive collaborations with the research group of Semmelweis University's 1st Department of Pathology and Experimental Cancer Research, recording numerous joint projects and publications. Professor Fitzgibbon has been a visiting professor at the department since 2018.
Dr. Hans Henkes is a Professor of Neuroradiology, and Medical Director of the Neuroradiological Clinic at Klinikum Stuttgart, Katharinenhospital. As a clinician he is involved in the treatment of patients with neurovascular disorders. He is also a successful scientist, author of nearly 500 publications. In 2008, he performed the first stent-retriever thrombectomy for the treatment of acute ischemic stroke, and since then mechanical thrombectomy has become a globally accepted treatment. He lectures regularly in Budapest in German language education and is an enthusiastic supporter of the development of stroke care at Semmelweis University.
Dr. Udo Hoffmann is Professor of Radiology at Harvard Medical School, Chief of the Division of Cardiovascular Imaging at the Department of Radiology at Massachusetts General Hospital. He is the founder of the Cardiovascular Imaging Research Center, a leading research institute in the field of cardiovascular (CV) imaging. He has developed diverse multidisciplinary research programs in areas such as the treatment of chest pain and the role of inflammation in atherosclerotic heart disease. He has trained several of the world's leading CV imaging specialists, including Dr. Pál Maurovich-Horvat at Semmelweis University.
Dr. Mariann Pávóné-Gyöngyösi is Professor at the Division of Cardiology, 2nd Department of Internal Medicine, at the Medical University of Vienna. Since 2006, she has been a fellow of the European Society of Cardiology and has been awarded several prestigious honors. Her research and clinical interests include ischemic heart disease, interventional cardiology, cell- and gene-based therapy, heart failure and cardiotoxicity. She has been collaborating with vice-rector Dr. Péter Ferdinandy since 1994 in the fields of molecular biology, biochemistry and clinical cardiology, and they have worked on several joint projects, which have contributed to the bilateral collaboration of several Hungarian and Austrian PhD students and postdocs.
Dr. Shahrokh François Shariat is a urologist, Professor and Chairman at the Department of Urology and the Comprehensive Cancer Center at the Medical University of Vienna. He is the author of more than 1400 scientific articles, has 4 patents and more than 80 national and international awards. He is a member of the editorial board of 25 scientific societies and 26 scientific journals. Since 2013, he has been actively involved in scientific and clinical collaboration with the Department of Urology at Semmelweis University, resulting in 18 international publications and several scientific and clinical exchange programs.
Dr. Ondrej Viklicky is an internist and nephrologist, Director and Professor at the Transplantation Center and the Nephrology Department, and Head of the Transplantation Laboratory at the Institute for Clinical and Experimental Medicine (IKEM) in Prague. He is an internationally renowned nephrologist and scientist, and a prominent figure in European nephrology and transplantation. He is the organizer of several international conferences, including the annual Nephrology and Transplantation Conference since 2014, where he is the main organizer, inviting speakers from Semmelweis University and supporting the participation of young professionals from the university. He is an honorary member of the Hungarian Society of Nephrology and has published several scientific papers in collaboration with Semmelweis University.
The honorary doctor nominated by the Faculty of Health and Public Administration was presented by Dr. Miklós Szócska, Dean of the Faculty.
Dr. Hans Henri Marcel Paul Kluge is a physician, public health expert and health researcher, and Regional Director for Europe at the World Health Organization. His research and development programs include the development of the concept of modern primary care, new ways of measuring protection against the burden of disease, and the impact of the economic crisis on health care systems. He has a professional relationship with the Health Services Management Training Center (EMK) at Semmelweis University spanning almost two decades. Examples of joint projects include the WHO's training program to help people cope more effectively with infectious diseases, and the development and monitoring of novel measures of disease burden reduction, which were developed with the help of EMK researchers.
The two honorary doctors nominated by the School of PhD Studies were presented by Dr. Zoltán Benyó, President of the Doctoral Council.
Dr. György Markó-Varga is Professor and Head of the Clinical Protein Science and Imaging Division at the Department of Biomedical Engineering, Lund University. He has established a large cancer biobank at the university. He is an internationally recognized expert in the proteomics of cancer, and malignant melanoma in particular, and together with his team defined the first proteome atlas for melanoma. He has extensive collaborations with several departments of Semmelweis University in the field of melanoma research, resulting in 12 joint international publications since 2015.
Dr. Andrea Olschewski is Professor of Anesthesiology at the Medical University of Graz. She is an internationally recognized expert in pulmonary circulation and pulmonary vascular diseases. The Ludwig Boltzmann Institute, a translational research and training center established under her direction, has become an internationally recognized research and training center for young scientists. She was born and studied medicine in Debrecen, and later established several successful collaborations with the Enyedi Group at Semmelweis University.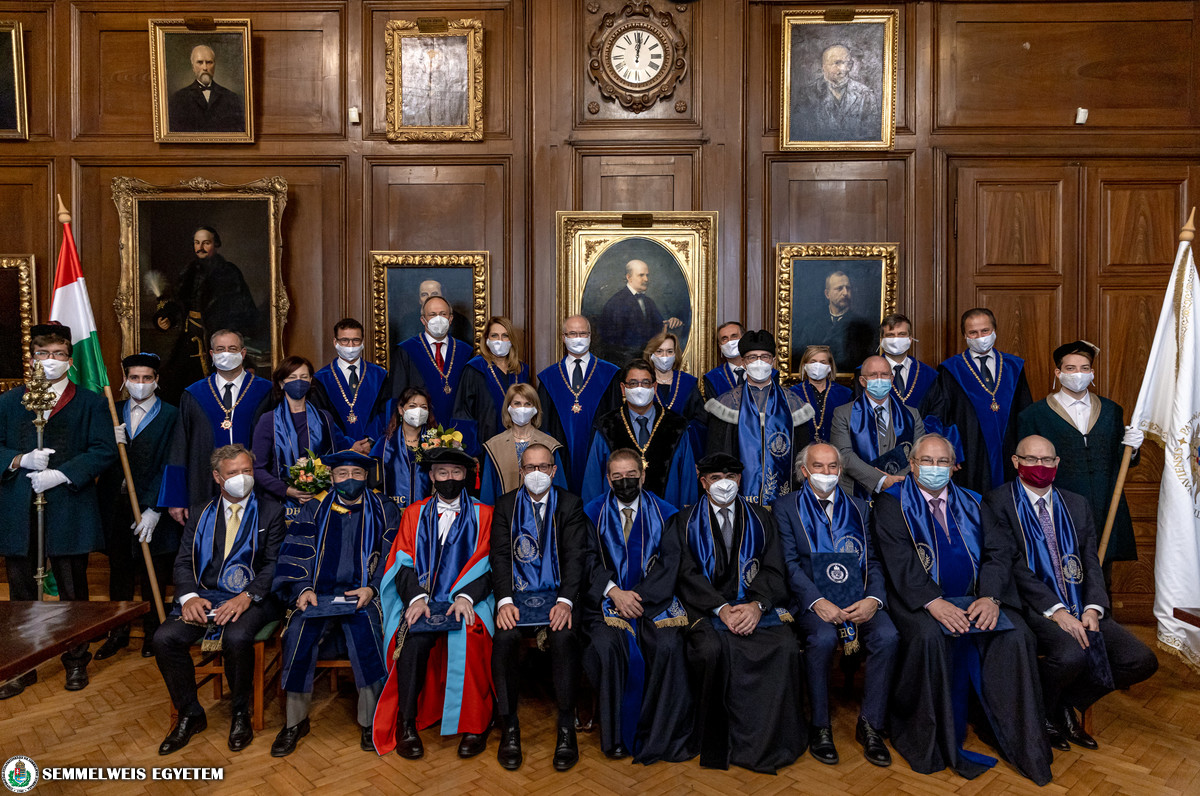 Following the laudations, Dr. Béla Merkely, Dr. Miklós Kellermayer, Dr. Miklós Szócska and Dr. Zoltán Benyó presented the honorary doctorate certificates and stoles to the recipients, followed by a short speech by the newly inaugurated honorary doctors.
Tamás Deme
Photo: Attila Kovács – Semmelweis University