The most important strategic goals are increasing the capacity of the emergency care unit of Semmelweis University, improving the coordination and cooperation between other healthcare units and providing holistic patient care – said dr. Csaba Varga, director of the new Emergency Care Department of Semmelweis University. Dr. Varga was former director of the Emergency Medical Center of the Hospital in Kaposvár. As the new director, he aims to gradually develop Hungary's best emergency care department.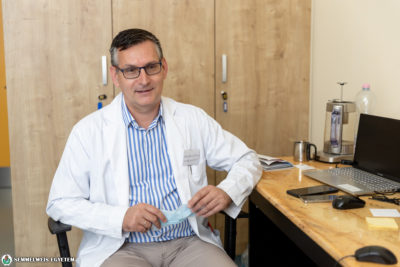 Paramedic services and clinical, hospital emergency care are both key areas in this important process. The only way to determine the correct diagnosis is to be present at every step of the diagnostic process, which requires team effort. – added dr. Csaba Varga, who was appointed director of the new Emergency Care Department on 1st May. Early in his career, director dr. Varga, former director of the Emergency Medical Center of the Hospital in Kaposvár was interested in both areas. During his university years he used to work as a paramedic. Later, as an intensive therapeutic trainee specialist he kept on working as a emergency medical technician. Later he was the head of the Ambulance Service of Kaposvár for four years.
He had know since he was in middle school that he wanted to become a doctor. Before beginning his medical studies, he spent a gap year near the Kis-Balaton area, where he worked on excavations – as he also showed great interest in history. This one-year experience also helped him choosing the right career.  "Analyzing the symptoms and arriving at the proper conclusion can be highly challenging even for a medical expert, but I was always fascinated by this challenge. At the same time I was attracted to the acute situations, where one has to intervene quickly. I wanted to choose a training specialty which focuses on integrated care and treating the patient as a whole, and not just certain symptoms or a particular disease. – explained dr. Varga. This is why he chose anesthesiology and intensive therapy. He feels it is particularly important to pass on his unique approach and knowledge to the next generation, like he did during his 16 years working at the hospital in Kaposvár. He tutored hundreds of professionals and helped 40 people to pass their specialist exam.
As the leader of the new university clinic his main mission is to gradually develop Hungary's best Emergency Care Department. I pay tribute also to dr. Tamás Berényi, my predecessor in this job for granting us the opportunity to hire additional staff for our great team of young and enthusiastic healthcare professionals. He emphasized that an inclusive approach at the Emergency Care Unit is essential in order to take the burden off other in-patient facilities.
The area of emergency care is largely dependent on several factors: diagnostics, availability of other professionals supporting emergency care and professional competence. Semmelweis is the perfect place to develope professional competences.  We plan to involve traumatology in our emergency care department and to further develop interventional techniques, as these are essential when treating the most severe, acute emergency cases. "We have been actively involved in the fight againt COVID-19. Increasing numbers of patients are arriving at the emergency department and we want to take up this challenge" – added dr. Varga. In order to treat trauma, stroke and gastrointestinal bleeding in a modern way we need to facilitate transportation of patients. We plan to get the heliport on the top of the Central Patient Care Building up and running as quickly as possible.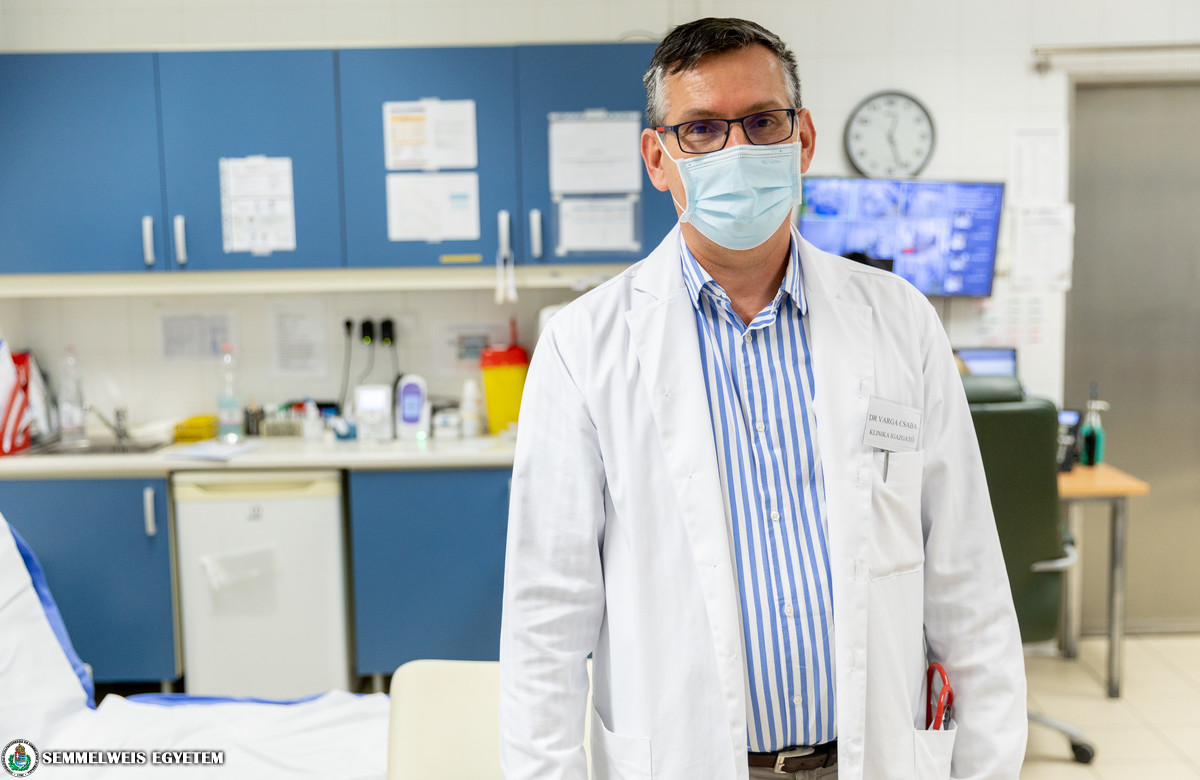 Dr. Csaba Varga also mentioned that the establishment will contribute to increase educational and scientific activities. Metaphorically speaking, we are sitting on a goldmine, the scientific work has an enormous potential, if we successfully synthesize our research findings. We have around 100-150 patients every day at the emergency department, tens of thousands on an annual basis. There is currently an abundance of data and statistical information on different patient groups. – said dr. Varga, adding: The establishment of this new department and increasing of staff gives us an outstanding opportunity to further develop research as well.
Along with other institutional units the department has been actively involved in the three language training programs of Semmelweis University. Now that the department has been transformed, it is ready to organize these educational matters independently, we also aim to maintain essential cooperations as well.
Dr. Csaba Varga worked at the Kaposi Mór Teaching Hospital in Kaposvár from 2004, where he was responsible for establishing the hospital's emergency department. After only a few years it was accredited as a level III emergency department.  There were other factors which influenced dr. Varga's decision to relocate to the Hungarian capital. Both of his two sons live here, and his youngest child has been recently recruited to play in the U18 hockey team in Budapest. Furthermore, establishing the second Hungarian Emergency Care Department represents a major challenge.
There is nothing more motivating for me than establishing a good team of professionals
– added dr. Varga. It is the leader's main responsibility to choose and train good colleagues. A leading role involves coordinating and providing strict guidelines and goals.
Pálma Dobozi
Photo: Attila Kovács – Semmelweis University
Translation: Norbert Lukács