A ceiling lifting system has been installed at Semmelweis University's Department of Pulmonology. In the 3-bed ward of the Department of Non-Invasive Respiratory Therapy, the modern lifting device is equipped with scales and helps to move overweight patients.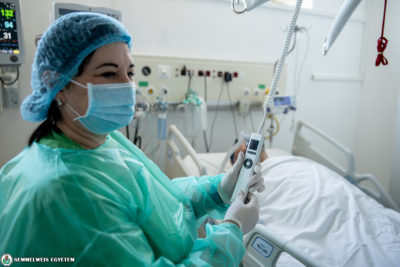 "So far, overweight patients of the department have been moved with the help of nurses and patient carriers; sometimes it took 6-7 people to lift a patient. The problem of moving inpatients over 120-150 kg, who are unable to move independently, has been solved by the ceiling lifting system installed at the Department of Non-Invasive Respiratory Therapy. Thanks to the device, now it is possible to move patients mechanically in a 3-bed respiratory ward. The load capacity of the system is 350 kg and the lift can be moved on the ceiling rail with a remote control", highlighted Judit H. Ballai, head nurse of the Department of Pulmonology.
More and more overweight patients are admitted to the department as part of COVID-19 patient care, who have been difficult to move. Since the prevalence of the coronavirus disease is higher in overweight patients and they are also brought to the department in bad condition, moving them required the work of several health care workers. The device primarily facilitates the daily work of nurses, as making the bed, helping the patients to sit up, and turning them to the side can be done with less energy and in a shorter time with the help of the new equipment.
"Part of the lifting device is a strong tarpaulin sheet, which is laid under the patient. After this, two people would be enough to take care of a patient who is unable to move, even without much effort", the head nurse explained.
"The patient lifting device primarily saves time and energy, protecting the health and strength of nurses, and also increases patient comfort", said Péter Danis, deputy head nurse of the Department of Non-Invasive Respiratory Therapy.
As a great advantage of the Danish Guldmann lifting device, Péter Danis mentioned that it also includes digital scales, which provides accurate information on the patient's weight. Therefore, by monitoring the current weight of bedridden patients on a daily basis, medical decision about the need for additional therapy can be made immediately.
Dóra Vas
Photos: Attila Kovács – Semmelweis University
Translation: Katalin Illés-Romhányi