Since the onset of the pandemic, thousands of Semmelweis University students have participated in the epidemic control in addition to their studies: in the beginning, providing support with screenings at the university and then with screenings organized by the National Ambulance Service, or working by the patient bed or performing screenings in the framework of secondments coordinated by the Government Office. In our article, we present four students from four different faculties. All the six faculties are represented in the university coordination group, which, under the supervision of the Vice-Rector for Strategy and Development and with the cooperation of the Semmelweis University Students' Union, supports the efficient and smooth communication of the participants and takes part in regional and national organization and administration. The leadership of Semmelweis University assists students involved in volunteering and secondments with a number of study benefits, such as extending the examination period, providing additional examination and supplementary examination opportunities, or changing the deadline for submitting the thesis. 
Dorottya Német: anyone who is preparing to be a health care worker should learn how to cope with emergency situations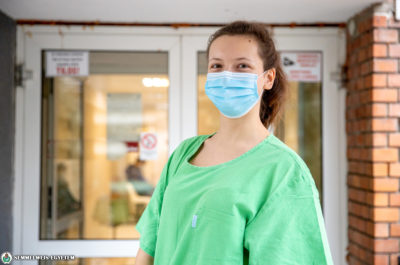 Dorottya Német, a 3rd year physiotherapy student at the Faculty of Health Sciences, started working in the framework of a secondment as an auxiliary nurse at the Bajcsy-Zsilinszky Hospital in Kőbánya on 30 November, where she assisted the COVID department for two weeks every working day until 11 December. As she says, after the information about the student secondments arrived, she was already expecting the notification, and a few days later she received the e-mail that she was welcome for a training session and discussion at the hospital in Kőbánya. 
"I was definitely positively disappointed in the hospital as the nurses, despite working a lot, were kind and understanding with us all along", she said. 
Dorottya Német worked at the hospital's COVID department where patients suspected of the coronavirus were cared for: they were the ones who arrived with symptoms but had not yet had a test result, or were in contact with a confirmed infected person while being in another department of the hospital. 
"We treated them as if they were COVID patients, so there were strict security measures in place with a locked access system and separate zones, yet it was a relief that we were not assigned to deal with patients in the most serious condition", she highlighted. 
All assistance and necessary protective equipment were provided by the institution. She and her fellow students mainly assisted the work of the nurses, for example serving breakfast, but they also accompanied the physicians during the doctors' visit. They measured blood pressure, oxygen saturation, and body temperature, and they had to take notes because they could not bring the patient charts to the COVID zone due to the risk of infection. 
"As a physiotherapy student, I initially had some fears about hospital work, but I soon got used to it thanks to the supportive environment and the training prior to starting work", she pointed out. 
The most difficult part of the job was to coordinate hospital tasks and studying. 
"I woke up at 5:00 a.m. every day to be able to arrive at the hospital by 6:30 a.m. I changed into the appropriate protective clothing, and with the help of the nurses we reviewed the patient charts and the most important information about the patients, for example, what therapy the patients are receiving. We discussed with the nurses on night duty if there had been any changes with the patients and around 8:00 a.m. I already had to be by the patient beds. I finished work around 3:30 p.m., and I could start studying only afterwards. There was little time to prepare for the exams, and the work really puts one to the test, but the teachers were understanding and they even tried to set the dates of the exams so that they fit in our schedule", she said. 
Dorottya Német feels that she has learned a lot from being able to acquire skills that are not definitely part of a physiotherapist's competencies by default. 
"I believe that anyone, preparing to be a health care worker should learn how to cope with such unusual situations; how to talk to patients, to turn to them patiently. These are all skills that I can only benefit from in the future", she said. 
There are a number of benefits and discounts to help students involved in epidemiological control 
Students involved in epidemiological control were among the first to receive the COVID-19 vaccination. The leadership of Semmelweis University is committed to helping those students who are involved in disease control with study discounts as well; these are detailed in Section 10/A of the relevant Rector's and Chancellor's Instruction. The university does not give up on quality, however, during the exams we provide flexible opportunities to take exams – Dr. Béla Merkely, rector highlighted. Within the framework of the study benefits detailed in the instruction, the examination period of the fall semester of the academic year 2020/2021 has been extended by two weeks, compared to the period announced according to the original schedule, for students who performed epidemiological tasks on a voluntary or secondment basis during the emergency period. Furthermore, also applies to those students who have proof of having undergone COVID-19 infection or been quarantined during the course of their epidemiological duties. On the basis of the dean's decision, an additional opportunity to make up for the missed examination may be given to those who have performed epidemiological tasks for more than two weeks, or who have been quarantined or been subjected to epidemiological surveillance during the completion of epidemiological tasks. The deadline for submitting the thesis based on the academic schedule may be changed by the dean to a later date, about which students must be notified at least 15 days before the original deadline. In the case of subjects ending with an examination, the acquisition of a signature is required to be able to take the examination. Affected students also received a postponement until the third week of the examination period. At least 3 additional opportunities had to be provided during the examination period to make up for tests and and demos missed before the examination period. In the case of subjects where students receive a seminar grade at the end of the semester, at least 2 opportunities had to be provided for correction or replacement by the first two weeks of the examination period. Before the beginning of the examination period, students had been able to cancel those previously chosen subjects that they could not complete without any consequences. The reimbursement fees specified in Annex 8 of the Compensation and Benefit Regulations on the titles and amount of reimbursement fees may be reduced up to a maximum of 50% in the academic year of 2020/2021.  
Adrián Veress: It is a good feeling that we can do something useful together with my fellow students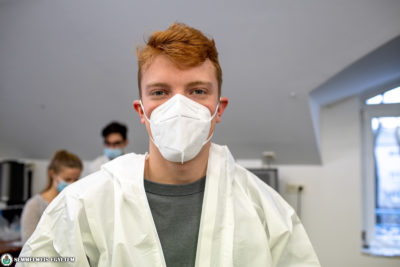 "One Friday I received a phone call, which I was already expecting by that time", says Adrián Veress, a 4th year student of the Faculty of Dentistry, who took part in the nationwide COVID testing of teachers for two weeks. 
"At first I had a bit of a "military service" feeling, seeing the military tents set up in front of the National Police Headquarters building, and I was under a lot of pressure, I felt the weight of the task, the huge responsibility, but it also motivated me", said he. 
Adrián Veress described his daily schedule in details: they met every morning at 6:30 a.m. at the National Police Headquarters, where they could start work only in case of a negative rapid test. They had to visit eight or nine places a day, and they were working for two weeks with a fixed team that included students of dentistry, pharmacy, medicine and government administrators. Adrián Veress pointed out that he met a lot of new people, which is a positive aspect; as staying in quarantine during the spring wave was a difficulty for him. 
"Now, that we are deprived of many social contacts, it is a good feeling to do something useful with my fellow students, and this makes getting up early in the morning more bearable, too", he said. 
The screenings were always carried out in full protective equipment in a separate room designated by the school, where 50-60 teachers were screened in roughly 45 minutes, if everything went smoothly.
"The teachers were very kind to us almost everywhere, many of them thanked us for our work", Adrián Veress said, who considers screening to be a good life experience overall.
He also believes that this was a good opportunity to practice communicating with patients by getting to know different types of patients, which will then be useful for them later as a physician as well.
"I have gained experiences for a lifetime during this extremely stressful period for the society as a whole, and I am also pleased to be among the first to be asked to do a secondment before the exam period started. I am just one of many students who do their duties. We make up a team together and without each other, we would not be able to proceed", Adrián Veress said. 
Félix Takács: In addition to my practical skills, I can also develop my communication skills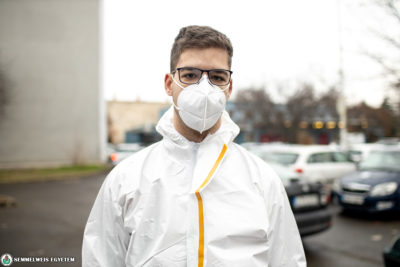 "The situation caused by the coronavirus, in addition to being a terrible pandemic, is also an opportunity for us, medical students to develop our practical skills", highlighted Félix Takács, 4th year student of the Faculty of Medicine.
As the vice-president of Semmelweis University's Students' Union, he was involved in coordinating the screenings organized by the National Ambulance Service from the beginning, but after the administrative work done from behind the laptop, he felt he had to do something useful at the forefront as well, therefore starting from 30 November, he was regularly on site. 
"At the beginning of each week we met on site and the training consisting of four steps took place, during which we learned the basics of vehicle knowledge and management, sampling, accident and fire protection, radio use and communication", Félix Takács said. 
Voluntary contracts were also signed, and the applicants decided for themselves how many weeks of shifts they were able and willing to undertake. Then they could start working in call centers, screening points or on site. As a volunteer, Félix Takács took part in the latter, taking samples at given addresses in Budapest and Pest county. Students of the Budapest University of Technology and Economics also helped with the driver's tasks. 
"We performed a rapid antigen test first: if it was positive, then it was automatically qualified as a positive case, which we had to report. In the case of a negative antigen test, however, PCR sampling was also performed. We were in constant radio contact with the central control, who helped us not only to record positive results, but also in cases where, for example, the doorbell did not work or we could not reach the person we were looking for. In such cases, an attempt was made to contact the person from the center", he said. 
"During the sampling, I was able to improve not only my practical skills, but also, for example, my communication skills, as I not only had to talk to patients, but it was also important to stay in touch with the staff and the central management. I got into many situations where I could learn a lot of things that I would not have had the opportunity to do by the desk. Furthermore, we could help the country and the population with the work we were doing", Félix Takács said. 
He thought that volunteer work was a "sweet burden", but at the same time he had less time to prepare for his exams. As a Semmelweis citizen, he was particularly motivated to feel part of a community whose members all put their lives on the line to help others. 
"This period was not only difficult for us, everyone had to face challenges in their field. I was convinced that if everyone took on their own, smaller sacrifice, it would add up and in the end no one would have to make such a big sacrifice that they could not bear", Félix Takács said.  
Aldubai-Mohamed Muád: We can learn a lot about the importance of empathy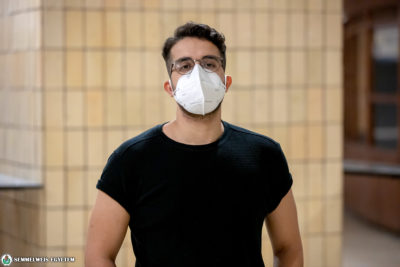 "When we received the information at the end of October in 2020 that it was possible to help the staff of the National Ambulance Service with screenings, my friends and I immediately decided to join the work as volunteers", recalled Aldubai-Mohamed Muád, 3rd year student of the Faculty of Pharmaceutical Sciences, who participated in the sampling for 5 days in and around Salgótarján with three fellow 3rd year students. 
"We were looking for a place where there were four more vacancies for the week that we selected. Nógrád county was suitable in this respect, moreover, I had been there before and found it beautiful. Semmelweis University's Students' Union compiled a detailed table with locations, dates, and responsibilities included so that tasks could be transparently aligned with our studies", he said. 
The bus of the police forces picked him and his fellow students up in front of Nagyvárad tér Theoretical Building. They were provided with accommodation right next to the center of the Salgótarján ambulance service. Not only the accommodation, but the entire working environment was homely.
"The staff at the ambulance service were very helpful and we were also very impressed by their positive attitude. We were provided with everything, from meals to the proper protective and working equipment", pointed out Aldubai-Mohamed Muád.
As Aldubai-Mohamed Muád told us, he feels lucky that he could work in an excellent environment and with the support of great colleagues. Furthermore, he was working in a team together with his fellow students throughout the entire time, with whom he applied for the opportunity.
"It was my friend's job to drive, and I was responsible for taking the samples. We covered an average of about 150 kilometers per day and typically went to 10-15 addresses. However, the staff of the National Ambulance Service also made sure that the workload was even: those who drove a lot on difficult terrain one day received fewer addresses the next.", he highlighted.
As a pharmacy student, he did not underline the direct professional experiences in the first place, but rather the fact that he developed his complementary abilities, which he considers just as important.
"We received an incredibly useful communication training, as we were in constant contact not only with each other but also with the patients. We could meet people of all ages and social backgrounds. Sometimes I had to explain the sampling procedure, other times I had to reassure a person who was in despair because his elderly mother had tested positive. These cases not only improved our communication skills, but we could also learn a lot about the importance of empathy, ethical behavior, and the relationship between health care professionals and patients", said Aldubai-Mohamed Muád. 
Ádám Szabó, Pálma Dobozi, Bernadett Bódi
Photo: Attila Kovács – Semmelweis University
Translation: Katalin Illés-Romhányi