The Employee Advisory Service, which is available starting from December 2020 in the joint organization of the Semmelweis Health Development Center and the Institute of Behavioural Sciences, primarily aims at providing support for university employees in case of life management difficulties, as well as problems related to stress and burnout.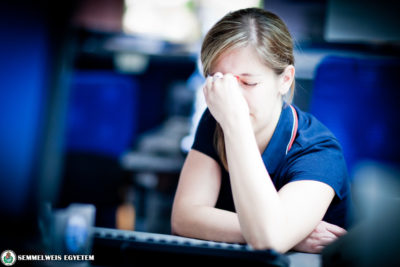 The counseling service provides psychological assistance to university staff and provides support when needed to deal effectively with everyday challenges. University staff members may turn to the counseling service not only with psychological problems that are related to work performance, but with any questions that inhibits it in some way. Such problems are for example: the difficulties of handling stress and anxiety; problems in relationships/with partners; time management questions; difficulties with family members; problems related to grief or the disease of the person/parents/children/partners; search for a professional identity; uncertainty and difficulties in decision-making. The Employee Advisory Service also provides help in the solution of the emotional consequences of the increased workload related to COVID-19 epidemic and in the handling of the associated stress.
"The existence of the counseling service and the real need are also shown by the fact that there are colleagues working within the university who also visit our Psychosomatic Outpatient Department, which is open to anyone. They ask for psychological help, there are no mental disorders in their case, so there is no need for psychotherapy and psychiatrist intervention, but they have already developed depressing, stress-related blocks that need to be dealt with. The basic idea of the Employee Advisory Service was formulated along these experiences", highlighted Dr. György Purebl, Head of the Institute of Behavioural Sciences.
According to the experiences of Dr. György Purebl, there are basically two factors that make people turn to a specialist. One is when the situation starts to become unbearable and there comes a "last straw". In the other case, they are convinced by the good experiences of a friend or colleague in counseling.
According to Dr. Adrienne Kegye, the purpose of counseling is to enable those who turn to them to look at their own problems, to deal with their own situation, thoughts, emotions and to have a sort of change of their attitude.
Besides individual consultations, the Employee Advisory Service provides group psychology services as well, such as stress handling group services, group services for the prevention of burnout, Mindfulness groups and groups for case discussion. In the latter, cases that are psychologically burdensome can be discussed by colleagues, regardless of specialization.
Zsuzsa Borbély
Photo: Attila Kovács – Semmelweis University
Translation: Katalin Illés-Romhányi