"I am attached to Semmelweis University due to family relations. My uncle, Dr. Lajos Bakay was appointed as rector in 1942", pointed out Dr. Ágnes Kokovay. The portrait of her ancestor can be found in the Senate Room among the portraits of the university's significant personalities, former rectors and members of medical dynasties. "What I especially remember about him from the family legends is that he had to leave the university's leading position in the '50s, and even if afterwards he worked as a shepherd, he never forgot about the Hippocratic oath that he had taken. He always had his medical kit with him, so that he could help whenever it was needed", said Dr. Ágnes Kokovay, director of the Directorate of E-Learning and Digital Content Development.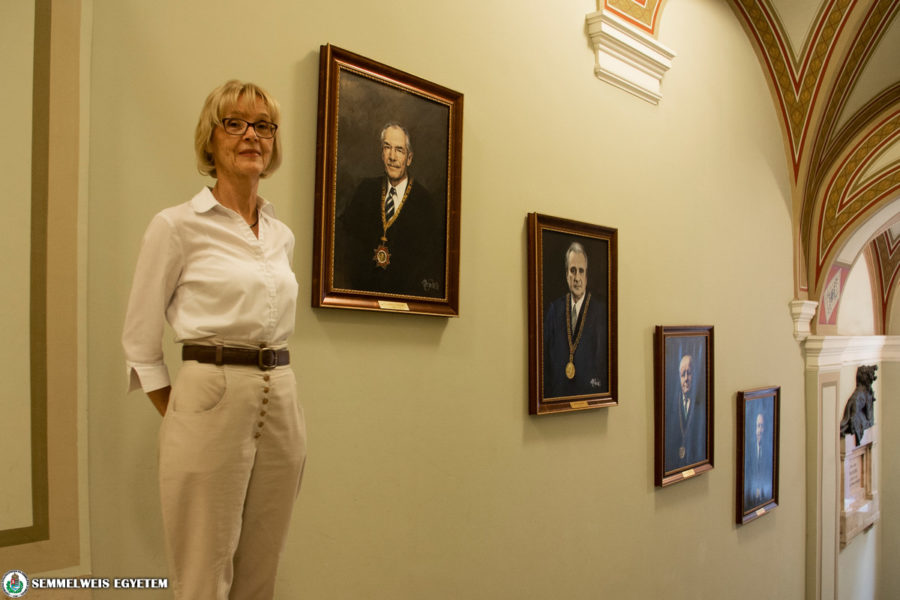 As her favorite university place, Dr. Ágnes Kokovay chose the rectors' portraits located by the stairs in the Rector's Building, because she likes recalling many former members of the university leadership. For her, these paintings symbolize the welcoming and supportive community of Semmelweis University. "I graduated as a teacher, afterwards I was working in one of the branches of pedagogy, educational methodology. My specialties are digital learning environment and e-learning: I wrote my doctoral thesis about these and my thesis defense was at Semmelweis University. Dr. Ágoston Szél, who used to be the director of the School of PhD Studies then, supported me in this to a great extent, for which I am absolutely grateful to him", said she. At that time, the university did not yet have a separate organization unit which was specialized in this field. The establishment of the e-learning working group was initiated by Dr. László Táncos, head of the Semmelweis Publishing House and Multimedia Studio and was approved of by Dr. Tivadar Tulassay, former rector. The Directorate of Digital Content Development and E-Learning was established in 2012.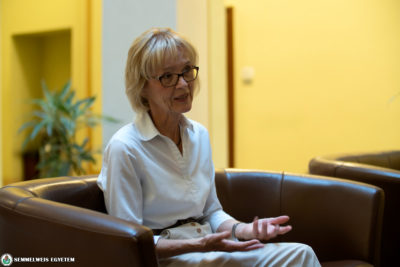 According to the director, at first there was a great resistance against digital teaching and learning among the university professors, but due to the presentations and trainings soon the tension disappeared and more and more organization units joined in the developmental process. Online educational opportunities have especially appeared at the center of attention in the current epidemiological situation. "It was a huge advantage that certain forms of digital education were already available in several faculties, for example at the Faculty of Medicine and the Faculty of Dentistry. Apart from this, of course it was an enormous project and hard work to implement the complete curriculum system of all the faculties in an online version", explained Dr. Ágnes Kokovay. She is pleased that the transition was successful without any bigger problems. In order to achieve this result, Dr. Levente Kiss and Dr. László Tornóci played an important role in the project: they supervised the work of the organization unit during the transition period.
Dr. Ágnes Kokovay has spent 10 years at the directorate as a director, and she is retiring in 2 months. As she said, the Center for Educational Development, Methodology and Organization was going to take over the work, they are going to continue the projects started by Dr. Kokovay and her team. "I am most proud of the fact that after my uncle, I could come back to Semmelweis, where I found my home", she emphasized. What she will miss the most are teaching and her colleagues, but she hopes to stay in contact with them after she leaves the university, too.
Ádám Szabó
Photo: Bettina Gál – Semmelweis University
Translation: Katalin Illés-Romhányi
In our article series entitled "My University", we ask university citizens to show their favorite university location. These articles are a part of the celebration of Semmelweis University's 250th anniversary year, which can be viewed on the University's anniversary website.