"The university was given a historic opportunity with the introduction of distance education. Developments of educational methodology had to be implemented in a very short time due to the epidemiological situation, which the university can benefit from later on.", said Dr. Máté Jász, clinical specialist at the Department of Prosthodontics. In our series we are presenting the changes that the current epidemiological situation has brought upon the lives of the university staff working in different areas.
Despite the emergency situation caused by the coronavirus epidemic and the restrictions introduced, education at the Department of Prosthodontics did not stop for long. After Dr. Béla Merkely, Rector ordered an extraordinary break on 12th March, 11 days were available to prepare for and launch distance education.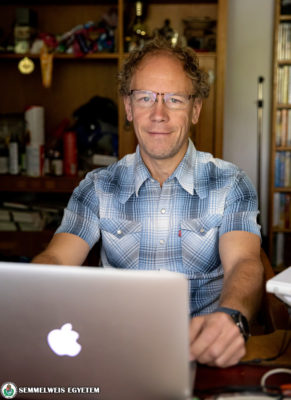 "The Centre for Educational Development, Methodology and Management provided all the help we needed and we were able to work with professional tools, wide access and excellent support. Moreover, the unusual situation has reinforced and empowered our community.", said Dr. Máté Jász, clinical specialist.  
There was very little time to switch to distance education due to the epidemiological emergency, but lecturers of the university were able to carry out an 'educational revolution' in 11 days with the help mentioned above that usually requires 11 years. Distance education brought not only technical but methodological changes as well, when lecturers realised that students would not sit in front of their computers 8 hours a day to listen to lectures.
"Nowadays, lessons enabling two-way communication, small group work, seminar-like education, creative tasks and useful time spent together are becoming more and more appreciated. Students liked the revolutionary lessons: not only did we receive a lot of valuable feedback, but attendance rate of online lessons has risen despite the fact that it is not mandatory to attend these lectures since September", said Dr. Máté Jász.
The previous weeks have provided a lot of useful addition to education that the university can benefit from even after the revocation of the epidemiological emergency. One such advantage is the system and management of online education.
Ádám Szabó, Eszter Keresztes
Photo: Attila Kovács – Semmelweis University
Translation: Ágnes Raubinek