The delegation of the Shanghai Center for Drug Evaluation and Inspection visited Semmelweis University at the initiation of Gedeon Richter China and was mainly interested in the institution and the research conducted here. During the meeting, it was suggested that joint research and student exchanges could be possible in the future between the university and the Chinese drug evaluation and inspection centre.
The delegation of seven senior experts was led by Cheng Guiliang, head of the centre, accompanied by Li Zhong, Medical Director of Gedeon Richter China, and András Gizur, Vice President of Gedeon Richter China. From Semmelweis University's side, Dr. Péter Ferdinandy, Vice-Rector for Scientific Affairs, Dr. Romána Zelkó, Dean of the Faculty of Pharmaceutical Sciences, Dr. Zoltán Zsolt Nagy, Dean of the Faculty of Health Sciences, and Dr. Marcel Pop, Head of the Directorate of International Relations, participated in the meeting.
Dr. Marcel Pop briefly introduced the university in a presentation, highlighting its Chinese relations, explaining the plans for further cooperation that have emerged from previous experiences, as well as the strategic goals set for the near future.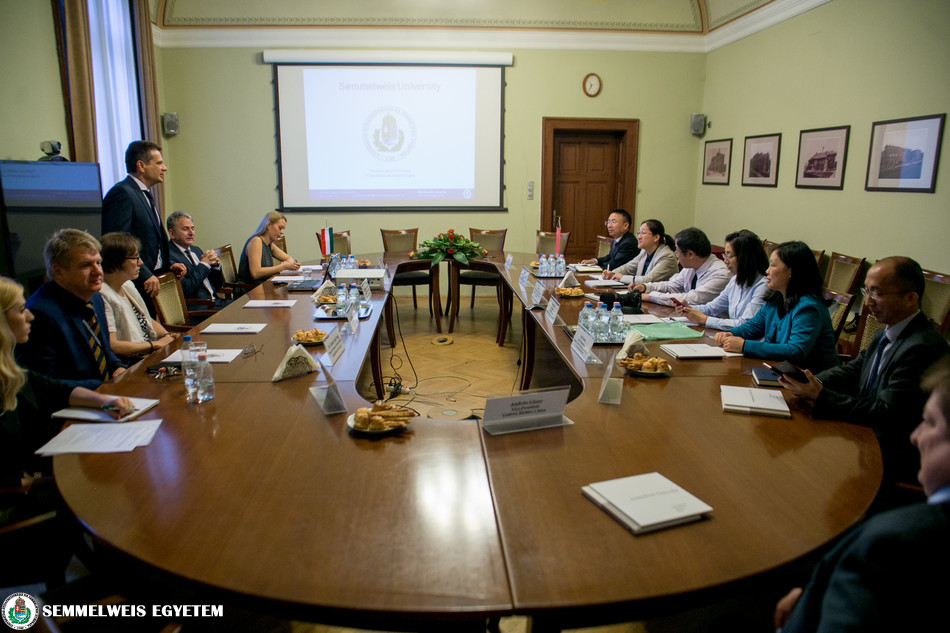 Afterwards, Dr. Péter Ferdinandy gave a presentation on clinical trials at Semmelweis University. He presented the legal framework, the contracting processes, research ethics and the statistics of recent years' research.
The Chinese delegation also presented their institution, which belongs to the Chinese Academy of Sciences and whose activity is broadly in line with the Hungarian National Institute of Pharmacy and Nutrition (OGYÉI).
The presentations were followed by a question and answer session. The members of the Shanghai Center for Drug Evaluation and Inspection were interested primarily in clinical trials. Dr. Péter Ferdinandy explained the conditions and the process of launching clinical trials highlighting the main features of the Hungarian practice: centralized and rapid authorization processes and the operation approval of Phase I trial centres. The Vice-Rector for Scientific Affairs stated that Semmelweis University is open to being the first institution in the European Union to be formally contacted by the Chinese centre for cooperation in clinical trials. In addition, it would be possible to develop partnerships in student exchange as Semmelweis University aims to increase the number of foreign postgraduate and PhD students, he added.
Diána Módos, Directorate of International Relations
Photo: Attila Kovács, Semmelweis University