The delegation of Semmelweis University and Szent István University visited Sapienza University of Rome, which is the largest and one of the oldest universities in Europe. From Semmelweis University Dr. Ágoston Szél, Rector and Dr. Marcel Pop, Director of the International Relations, attended the meeting. The welcoming committee, led by Dr. Eugenio Gaudio, Rector consisted of Bruno Botta, Deputy Rector for International Relations, Luciano Saso, Deputy Rector for European University Network, Carlo Della Roca, professor of the Department of Medico-Surgical Sciences and Biotechnologies and Andrea Carteny, delegate for student mobility.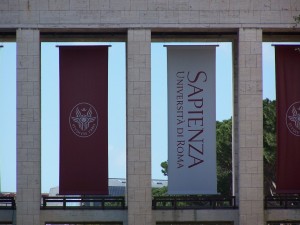 In his greeting speech the Rector, who is also a doctor of internal medicine, said that internationalization and the development of international relations are of high priority at Sapienza University. Furthermore, building partnerships with Hungarian higher education institutions is also considered important, as well as the intensification of the existing partnerships. At the meeting the possibility of launching staff and student mobility programmes was mentioned and both parties agreed that joint research activities, the support of the visiting staff and the participation in the joint competitions are also of high importance. It became clear, that both parties prefer to engage in projects, which are based on mutual interests.
The uninterrupted joint research activity between the two universities supports the efforts in finding the mutual areas of interests. As a result of this collaboration, between 1986 and July 2015, no fewer than 102 joint publications were published. About 70% of these publications are about psychology, but many of them were written in the fields of paediatrics, dermatology, ophthalmology and genetics.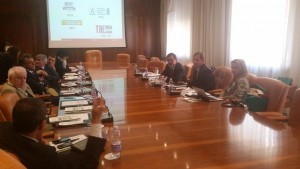 The representatives of the two institutions also discussed the differences and similarities between the structure and function of Hungarian and Italian universities, organizational structures and the division of various tasks and competence. In both countries, medicine, dentistry and pharmacy students are trained in single long cycle programmes, thus in case of an international collaboration interoperability is provided.
At the 11 faculties of Sapienza University there are more than 3 500 teachers and 130 000 students, out of which 7 000 are from abroad. More than 3000 students take part in international mobility programs. One of the 7 medical training programs offered by University was launched in English 4 years ago.
The Universities' further endeavours of collaboration are based on a Memorandum of Understanding, which was signed in 2007. One of the main purposes of the meeting was to examine the possibility of the application of the goals defined by this Memorandum of Understanding. The Italian party advised the renewal of the agreement and suggested narrowing down the fields of collaboration, and extending it with an Erasmus+ agreement.
Ágnes Raubinek
Translated by: Kata Sáray