Ankara University's Rector, Dr. Erkan İbiş, Vice-Rector, Dr. Kasım Karakütük, and Dr. İlhan Karasubaşı, Consultant for International Affairs visited Semmelweis University.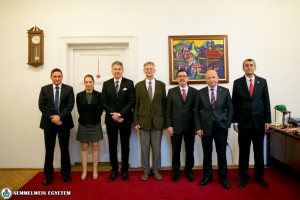 The delegation was received by Dr. Ágoston Szél, Rector, Dr. György Bagdy, Vice-Rector for Scientific Affairs, Dr. Marcel Pop, Director of International Relations and Dr. Judit Vadlövő Project Coordinator from the Directorate of International Relations.
During the meeting the representatives of both universities had the opportunity to get an insight into the structure and priority areas of the other institution. Ankara University's Faculty of Medicine occupies a prestigious position among the Turkish universities and has an extensive network of international relations and they are also planning to introduce English programmes.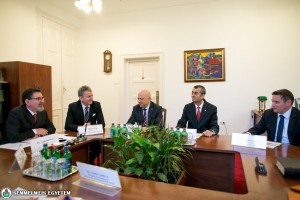 Both parties agreed on the preparation of an agreement which would be signed on the occasion of a future meeting. The agreement would contain cooperation within the framework of the Erasmus+ programme, staff exchange and joint research in fields that both universities have research facilities for and have achieved significant results (eg. oncology, brain research, pharmaceutical sciences and hepathology).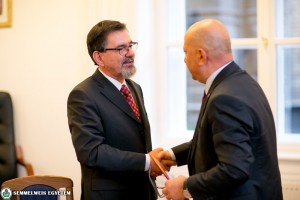 Based on Dr. Ágoston Szél's suggestion, in order to start the cooperation partnerships between the two universities' faculties of pharmacy and medicine should be organised first. The idea of a collaboration between the two doctoral schools was mentioned as well, as both parties consider it a great opportunity for postgraduate students to be able to do research and study in a different country, while learning about its scientific results, language and culture at the same time.
Dr. Judit Vadlövő, Directorate of International Relations
Photo: Attila Kovács, Semmelweis University
Translated by: Ágnes Raubinek