The delegation of Seoul National University College of Medicine visited Semmelweis University on 16th October, whereby the parties signed an agreement on faculty and students mobility between the universities' faculties of medicine.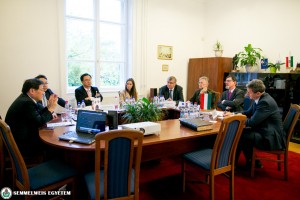 From the South-Korean university's Dr. Daehee Kang, Dean of Faculty of Medicine, Dr. Seungyong Jeong, Associate Dean for Education and Dr. Seungyong Seong, Associate Dean for Graduate studies attended the meeting. The welcoming committee of Semmelveis University consisted of Dr. Ágoston Szél, Rector, Dr. György Bagdy, Vice-Rector of Scientific Affairs, Dr. László Hunyady, Dean of Faculty of Medicine, Dr. Marcel Pop, Director of the International Relations and Dr. Judit Vadlövő, Project Coordinator of the Directorate of International Relations.
At the meeting, both parties introduced their education system, emphasizing the structure of medical education. Dr. Marcel Pop, Director introduced Semmelweis University, underlining its relations with several Korean institutions. Dr. Ágoston Szél, Rector highlighted the importance of those values that are also the main principles of the South-Korean University: ethics, integrity, talent and collaboration.
The Koreans are interested in the Erasmus + programme, furthermore they consider PHD programs an additional opportunity. Dr. György Bagdy, Vice-Rector for Scientific Affairs presented the Hungarian situation of creative medical technology and its industry. Seungyong Seong, Vice-Dean of the Korean university, said that Seoul National University has the most advanced technological equipment, including the biotechnological developments.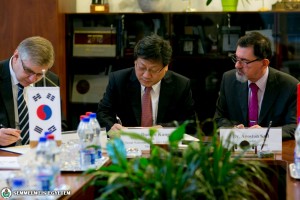 At the meeting, the parties signed the agreement between the universities' faculties of medicine, which is the basis of the proposed collaboration and aims to achieve faculty and student mobility as well research collaborations. As part of the delegation's program, after the signing ceremony the discussion was continued in office of Dr. László Hunyady, Dean, with participation of Dr. Enyedi Péter, professor of the Department of Physiology, who has had academic relations with Seoul National University.
Dr. Daehee Kang, Dean mentioned several times that the Hungarian government is willing to support the efforts to strengthen relations between South-Korea and Hungary, and Semmelweis University as well. The parties talked about mutual financing opportunities, arising from the Erasmus+ program, the promotion of the accreditation of Korean institutions, and scientific cooperation in the existing fields of research, like immunology, oncology and neurology.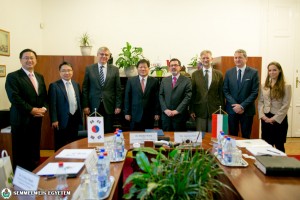 Both parties agreed on the implementation of not only student mobility but staff mobility as well. Dr. László Hunyady suggested that as a first step of the cooperation two medical students, two PHD students and two faculty members of the university participate in the exchange program, possibly within the framework of the Erasmus+ program.
The Universities consented to sending their curricula of medical education to each other, as well as a detailed description of the PHD programme, and more information on the Erasmus+ programme.
As a conclusion, the meeting was very productive; the proposed collaboration with the Korean partner has a significant potential in education and research as well.
Dr. Judit Vadlövő, Directorate of International Relations
Photo: Attila Kovács , Semmelweis University
Translated by: Kata Sáray