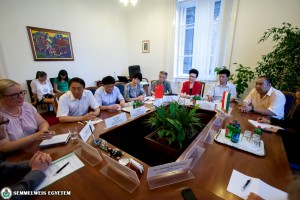 A delegation from Shanghai's Putuo District was received at Semmelweis University by Dr. Ágoston Szél, Rector. The delegation arrived with the intention of establishing a town-twinning programme with the 8th district of Budapest as there already is an agreement signed with Semmelweis University, which will realize a three-week-long training programme for Chinese nurses at the Faculty of Health Sciences. Xu Weiguo,
President of Putuo District People's Congress Standing Committee said that their priority is to establish partnerships with healthcare, scientific, educational, medical and sport institutions in the 8th district. According to Li Songhai, President of the city's Political Advisory Committee and Foreign Affairs Office the training programme for Chinese nurses at Semmelweis University serves as an excellent basis to further expand and strengthen relationships in the field of education.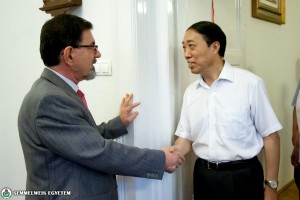 Dr. Ágotson Szél expressed his pleasure in seeing the expansion of Semmelweis University's Chinese relations and emphasized the possibility of uncovering further areas of collaboration.
Following the meeting, the delegation was received at the Faculty of Health Sciences by Dr. Zoltán Zsolt Nagy, Dean, Dr. Judit Mészáros, former Dean and Dr. Tamás Jakkel, Head of the Faculty's International Relations. Dr. Zoltán Zsolt Nagy introduced the faculty by highlighting its most important programmes which are popular with foreign students and which could be of interest for the Chinese visitors. One of these is Traditional Chinese Medicine, which is exclusively taught at Semmelweis University in Hungary and which Putuo District could consider as a basis for future collaboration. The Dean also highlighted the Faculty's programmes in Midwifery, Health Visitor, Physiotherapy and Public Health Inspector, as well as the three- and four-week-long training programmes in Organizational Management. President Li Songhai said that they are interested in the improvement of elderly care and rehabilitation; therefore they consider physiotherapy a possible area of cooperation.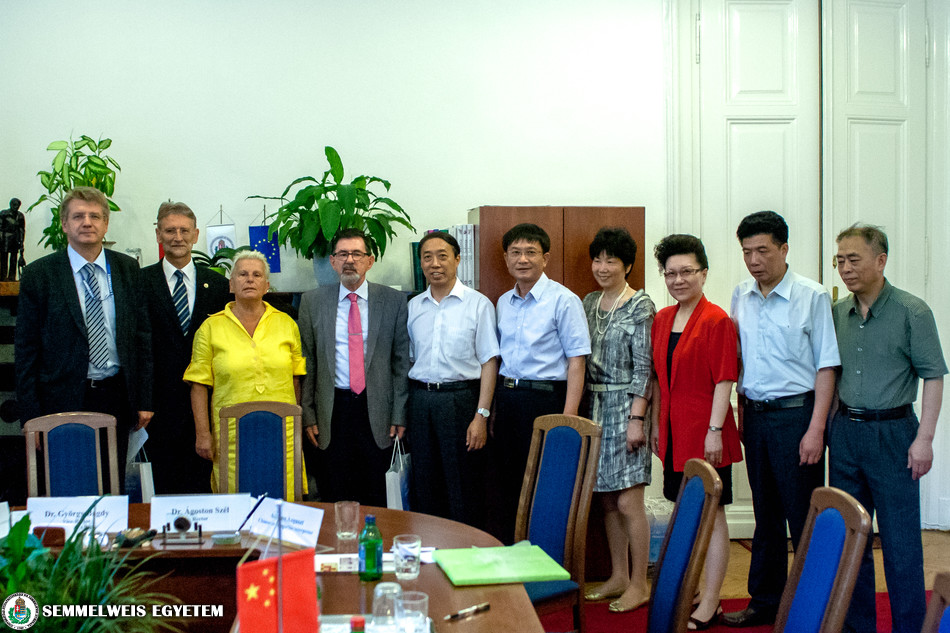 Former Dean, Dr. Judit Mészáros mentioned that Semmelweis University would be pleased to launch a short-term exchange programme for students as well as a staff mobility programme for professors to hold lectures and to participate in conferences. Xu Weiguo was supportive of the aforementioned ideas and Li Songhai said that the cooperative intentions of Semmelweis University will be related to the leadership of Putuo District and will be strongly supported by the local government. In order to ensure a productive partnership and continuous communication, Dr. Zoltán Zsolt Nagy will act as a contact person on behalf of Semmelweis University.
Judit Vadlövő – Directorate of International Relations
Photo: Attila Kovács – Semmelweis University
Translated by: Ágnes Raubinek – Directorate of International Relations