Semmelweis University started negotiations with Azerbaijan on an off-campus programme which is supported by both the Hungarian and Azerbaijani governments.
Dr. Ágoston Szél, Rector and Dr. Marcel Pop, Director of International Relations were invited to visit Baku by the Ministry of Education of the Republic of Azerbaijan. Consultations were held with Mikayil Jabbarov, Minister of Education, Ogtay Shiraliyev, Minister of Health, Erika Tóth, Chargé d'affaires and Amiraslanov Ahliman Tapdig oglu, Rector of Azerbaijan Medical University.
The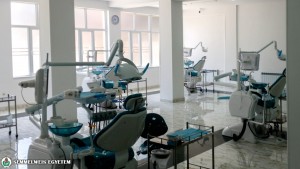 Minister of Education emphasized how important it was to develop relations between Azerbaijan and Hungary in the field of education, especially that of biomedicine and hopes that this cooperation could contribute to the reformation of education in Azerbaijan. Dr. Ágoston Szél introduced Semmelweis University and its off-campus programmes and pointed out that in order to establish the most efficient form of cooperation the local conditions (infrastructure and personnel) had to be assessed. The departments of Azerbaijan Medical University were visited, which are equipped with the latest state-of-the-art machinery (especially the equipment at the department of dentistry), which implies that the infrastructural background is available for the possible establishment of an off-campus programme. The university's system is similar to that of Semmelweis University; there are programmes running in Azerbaijani, Russian and English languages and it has four departments (dentistry, surgery, oncology and a polyclinic).
Minister Jabbarov suggested either the establishment of a highly autonomous programme in collaboration with the local university in any field or the start of a greenfield project, which is however lengthy and costly.
Accocrding to Ogtay Shiraliyev, Minister of Health, one possible form of cooperation could be sending Azerbaijani students to SU's full programmes which has been in practice for 10 years and there are also state scholarships available for this purpose. Another option could be Semmelweis University's staff joining the Azerbaijani programmes aided by government funding. Launching a 2+4-year-long programme would also be feasible, however a 6-year-long off-campus programme in Baku would be preferred.
According to Dr. Ágoston Szél the most efficient and fruitful form of cooperation would be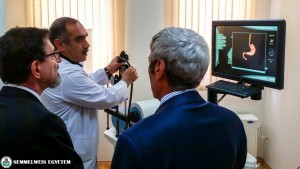 the establishment of a full time programme in Baku, however this option is the most difficult to realise. A setup based on the Hamburg off-campus model could also be considered, however it would only be a half measure for Azerbaijan. Rector Szél emphasized that Semmelweis University is open to any form of collaboration, however launching and off-campus programme requires a complex accreditation procedure involving thorough provisions.
Further details will be discussed in work groups at another meeting and Memorandums of Understanding will be prepared by Azerbaijan Medical University and Semmelweis University.
Pálma Dobozi
Photo: Directorate of International Relations
Translated by: Ágnes Raubinek