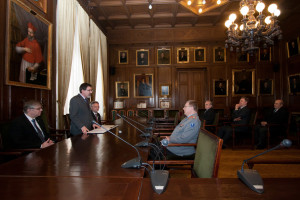 Brigadier General Dr. Stefan Kowitz, director of the Budapest based NATO Centre of Excellence for Military Medicine (MILMED COE) was appointed as Scientific Senior Adviser of the Department of Military, Disaster and Law Enforcement Medicine. The certificate was handed over by Rector Ágoston Szél who said that military medicine had gained ground in the past few decades despite not having been an individual discipline before.
Dr. László Hunyady, Dean of the Faculty of Medicine said that individuals who could greatly contribute to the research activities of the given department were awarded the title of senior adviser. Dr. Stefan Kowitz is an expert not only in the field of military medicine but public healthcare as well. Since 1979 he has worked as a commander, head of division and head of a medical centre in several countries including Germany, the Netherlands, Croatia, Afghanistan and Hungary. He has also been awarded with several decorations and honours, such as the ISAF Medal NATO and the United Nations Medal.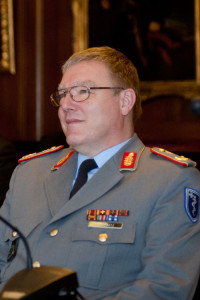 Dr. János Gál, Vice Rector for Clinical Affairs and acting Head of the Department of Military, Disaster and Law Enforcement Medicine emphasized the importance of Dr. Kowitz's appointment as Senior Adviser in the endeavour to achieve close collaboration between the two institutions. Three years ago, Semmelweis University and NATO's MILMED COE signed a Memorandum of Understanding according to which the two parties agree on aiding each other via exchange of knowledge and experience, as well as co-operating in the field of medical simulation. Since then numerous symposiums and simulation exercises have been held in close collaboration. The project started as a pilot programme, being the first European example of co-operation between a medical university and a military organisation.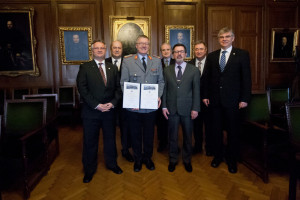 Dr. Stefan Kowitz said that he was honoured to bear the title of Senior Adviser and to strengthen the two institutions' mutual efforts and research activities. He pointed out that military medicine and public healthcare are inexorably linked and one cannot exist without the other. Therefore, the collaboration of the two areas and the exchange of experiences and knowledge are of paramount importance. It is NATO's principle to provide soldiers on missions with quality healthcare, just as in a civilian environment.
In connection with Semmelweis University, Dr. Stefan Kowitz remarked its traditions, modern setup, the high number of foreign students which provide excellent ground for high quality medical solutions and a mutually beneficial co-operation.
Pálma Dobozi
Photo: Attila Kovács, Semmelweis University
Translated by: Ágnes Raubinek