UNESCO's General Conference has accepted the recommendation of the Hungarian National Commission for UNESCO to include the 150th anniversary of Ignaz Semmelweis' death in the list of notable anniversaries celebrated in 2015.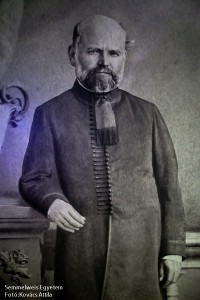 UNESCO expects recommendations every two years from its member states regarding anniversaries of notable people, works or events which positively influenced humanity's development, intercultural tolerance or the promotion of peace. UNESCO celebrates internationally the anniversaries recommended by the member states since 1956. The 37th General Conference of the UNESCO in November 2013 accepted unanimously the four anniversaries recommended by the Hungarian initiative based on the UNESCO's mandate on international anniversaries. Accordingly, in 2014 the organization celebrates the 200th anniversary of architect Miklós Ybl's birth (1814-1891), the 100th anniversary of architect Ödön Lechner's death (1845-1914); in 2015 it celebrates the 150th anniversary of physician Ignaz Semmelweis' death (1818-1865) and the 200th anniversary of archaeologist Flóris Rómer's birth (1915-1889). For more information please visit UNESCO's homepage.
Ignaz Semmelweis' collection of printed materials on the discovery of the causes of childbed fever (1847-1861) was inscribed in UNESCO's Memory of the World Register last year.
Ignaz Semmelweis and the aseptic practice of childbirth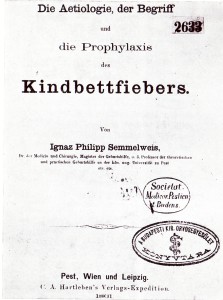 Aseptic prevention was not known and established as causality in the medical practice until the mid-19th century. This phenomenon was first explained by the Hungarian physician Ignaz Semmelweis who was also the first to introduce a rigorous method into the medical practice which was based on his findings. Semmelweis proved at an obstetric department that the childbed fever – which caused a high rate of mortality – may be almost completely prevented. He explored the pathological characteristics of childbed fever and thus discovered that the infection can be prevented by the thorough washing of hands for the personnel who get into contact with women giving birth. He was the first to prove that childbed fever is the same thing as blood poisoning. The solution he offered was unique and it was accepted only very slowly around the world even though many analysed the same phenomenon. The uniqueness of Semmelweis' explanation was that he understood the causes of puerperal fever appr. 30 years before the establishment of modern bacteriology and he offered a reliable method to prevent the disease. His views were underscored by the adequate knowledge in microbiology that was gradually established from 1870 (Pasteur, Koch) and also by the surgical practice (Lister) based on this knowledge.
Dr. Miklós Réthelyi, rector emeritus, president of the Hungarian UNESCO Committee
Translated by: Bonifac Makkai