Her Excellency Siri Ellen Sletner, Ambassador of the Kingdom of Norway, visited the Department of Dermatology, Dermatooncology and Venarology this Thursday, which had recently been modernised and renovated through the support of the Norwegian Fund. The ceremonial event held in honour of this fact was attended by, among others, Dr. Miklós Réthelyi, minister of National Resources and Dr. Tivadar Tulassay, rector of Semmelweis University.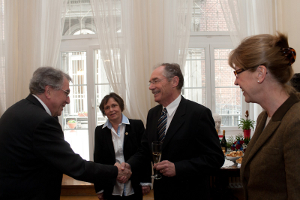 Dr. Sarolta Kárpáti, director of the Department of Dermatology, Dermatooncology and Venarology brought attention to the fact that the project brought significant changes to the Department in the areas of education, research and health care, as new spaces supporting these activities were created, while the functions of the existing ones were expanded. Since the renovation, there have been more residents, specialists-in-training and TDK (Students' Scientific Association) students at the Department, more dissertations are being prepared, there is no shortage of specialist doctors and, what is more, the Department is even attracting a growing number of volunteers. Perhaps this may be explained by the fact that the level of comfort among the staff members, patients and students has increased, Dr. Kárpáti surmised.
Rector Tivadar Tulassay spoke about Semmelweis University's special relationship with Norway, emphasising that numerous outstanding Norwegian students study at the University.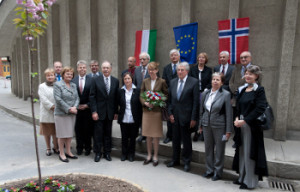 Norwegian Ambassador Siri Ellen Sletner referred to the completed project as significant, calling attention to the next round of the programme.
Minister of National Resources Miklós Réthelyi pointed out that, since 2005, one of the most significant chapters in the bilateral relations between Hungary and Norway has been Norwegian Fund's Hungarian projects, of which the current renovation is part.
Director of International Relations Júlia Ferkis drew attention to the fact that the diverse Norwegian-Hungarian collaborations have a prominent role in graduate and post-graduate education.
At the end of the ceremonial event, the participants signed the Department's guest book and placed a memorial plaque under the tree of Norwegian-Hungarian friendship.
Zsuzsa Szuchy
Translated by Gina Gönczi