Dear Future Student,
I would like to cordially welcome you to our website.
Those who apply to study in our programmes will develop their leadership skills with respect to healthcare systems and the management of healthcare organisations. We provide open, dialogue rich and case study-based training programmes. Symbolically, our classrooms do not even have a lecturer's table, as such there is no defensive structure to hide behind. Only the value of our ideas determine which professional arguments will prevail. Additionally, through their own classmates, all of our students have 50 free advisors with whom to discuss solutions to a problem, or for advice in their own professional lives.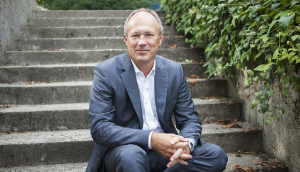 Anyone who chooses one of our training programmes will receive a quality education and care during the weeks of coursework. They can only reach our degree after having performed meaningful work. We pay close attention to our instructors, who have received their professional and methodological training at leading international institutions, which provides them with the ability to offer the highest level of knowledge and, on the other hand, to be able to teach in a manner suited to modern adult education.
In addition to our Healthcare Manager Master's Program, basic healthcare courses, and specialised training programmes, we now also provide social leadership training, which provides the knowledge for innovative personal development to institutional leaders in the social sphere.
We are recognised as a leading institution in Europe. We also belong to a number of research and professional development programmes, where based on our professional knowledge we are the first choice for foreign partners who focus on the development of healthcare systems, health policy issues, healthcare data mining or the digital transformation of healthcare.
We await those students to our programmes who would like to see better health and better healthcare, and more liveable healthcare and social organisations. These students are those who want to develop their leadership skills and would like to further their knowledge by participating in a community that will help them in this endeavour.
Dr. Miklós Szócska, Director