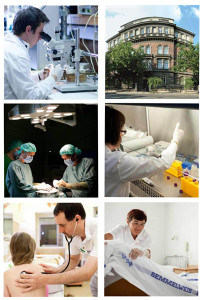 Semmelweis University's Quality Improvement Activities
The University's leadership is committed to the efficient operation and full extension of a modern quality improvement system. The central management units and educational and research departments are certified according to the ISO 9001:2008 standard.
The quality management system of the certified clinical departments and diagnostic institutes complies with the requirements of ISO 9001:2008 and the Hungarian Health Care Standards 1.0v (MEES).
Since 2008, the quality of the service provided has been verified through a certificate of conformity, issued by SGS Hungária Ltd.
The quality management system of the medical laboratories were developed in accordance with ISO 15189:2007.
The environmental management system, developed according to ISO 14001:2004, has also been developed, but will not be certified for the time being. The extension of the system will be implemented in stages. Each year, the adequately prepared curative and preventative, educational, and research units will have the opportunity to join the University's quality management system.
The University has an expert team – operating under the management of the Directorate of Medical Financing and Quality Assurance – which is equipped to handle all tasks related to the development and operation of the system. Its work is assisted by quality management leaders and documentation managers in the University departments, by quality management officers in the central administrative units, and by internal auditors at all levels.

Staff and Contact Information:
Directorate General of Medical Affairs
Dr. Sándor Valent – Medical Director General
1085 Budapest, Üllői út 26. 1st floor, room 104
Tel.: 459-1500/55460
Email: ofmi@semmelweis-univ.hu
Department of Quality Assurance
1085 Budapest, Üllői út 22. 2nd floor
Email: minoseg@semmelweis-univ.hu
Dr. Péter Tóth – Quality Improvement Manager
Tel.: 06-20-825-0346
Email: toth.peter@semmelweis-univ.hu
Ágnes Ágh – Project Coordinator-Quality Assurance Engineer
Tel.: 06-20-825-8419
E-mail: agh.agnes@semmelweis-univ.hu
Éva Kovácsné Szűcs – Documentation Manager
Email: minoseg@semmelweis-univ.hu