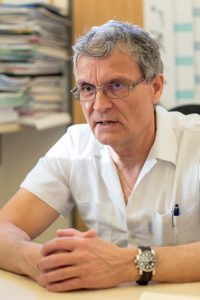 Dr. László Hangody, director of Semmelweis University's Department of Traumatology and chief physician of the Department of Orthopaedics and Traumatology at the Uzsoki Hospital has recently received the Széchenyi award for his invention associated with mosaicplasty, which has been the most used cartilage surface restoration procedure worldwide.
Dr. László Hangody, has always wanted to be a doctor. His father, a charismatic and hardworking surgeon was a role model to follow, thus Dr László Hangody got an early inspiration and insight into this area. He chose bone surgery for his specialisation because it attracted him the most.
"I have always preferred specific things, where the whole procedure can be tracked from the beginning to the end, revealing an actual goal. Bone surgery is such a thing. Over the 17 years I have been heading the Department of Orthopaedics and Traumatology at the Uzsoki Hospital, every single day starts by the revision of the previous day's x-ray scans. This shows us how successfully broken bones have been operated.", he said.
Dr. László Hangody was consciously preparing for his career while at the university. He did on-call duty as an operating room assistant, thus gained an insight into the various departments of orthopaedic surgery and traumatology in Budapest. He passed his first state examination in 1986 and two years later he passed the second one. In a few years he already patented his invention, the cartilage surface restoration procedure, which made him internationally renowned.
"Between the two state exams Dr. László Sükösd, a new chief physician was appointed to lead the department, who also introduced arthroscopy. Since then we have been able to detect cartilage damages that did not cause symptoms and could not be seen in x-ray scans. On the other hand, we did not even have a procedure to reverse and repair such damages. This problem lead me to the idea of cartilage transplant.", he said.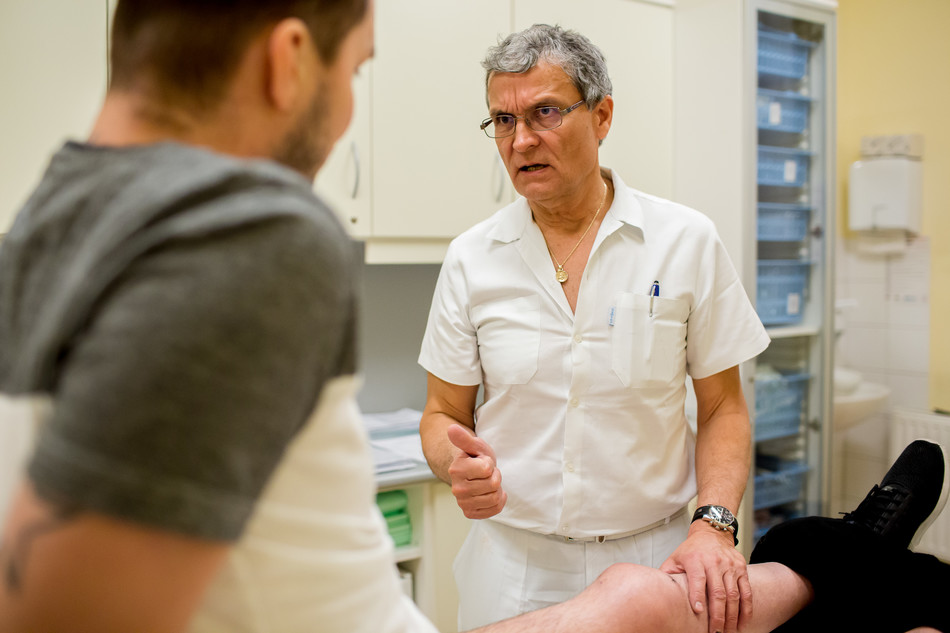 Mosaicplasty is a procedure where small, mosaic-like pieces are taken from the non load bearing joint cartilage and are transplanted onto the damaged, load bearing surface. The first operations on humans were carried out in 1992 and soon after the procedure invented by Dr. László Hangody received international acclaim. It was awarded at two international congresses and the largest American medical devices manufacturer joined the patent enabling further developments. This methodology has become the most widely used cartilage surface restoration procedure worldwide, their number amounting to 40 000 per year worldwide.
Since then Dr. László Hangody and his team have continuously been working on the developments and have already tried different cartilage surface restoration procedures, such as the biodegradable cartilage repair and cartilage and bone transplants from cadavers. Besides cartilage research and ligament surgery he has committed himself to the development of endoprosthetics. A year and a half ago, in collaboration with a Hungarian company he created a new knee prosthesis that can be implanted without the use of glue.
"I was lucky to have started my career at an outstanding and busy department which enabled me to gain experience and to become confident in my job. This confidence is reflected in the communication with patients, making it easier to create a credible impression in the short time frame that is available during an examination.", he said.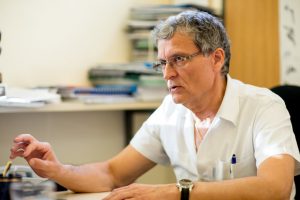 Dr. László Hangody has been the director of Semmelweis University's Department of Traumatology and the medical director of the Casualty Centre since 2010, while he has also been the chief physician at the Uzsoki Hospital. The university's six-year-long orthopaedics and traumatology specialisation is also lead by him together with Dr. Miklós Szendrői.
"Successful and diverse activities can only result from the work of a good team. Making progress and bringing about innovation are impossible without partners. Moreover, our everyday job requires excellent cooperation in order to be able to hand over our patients to colleagues in case of our absence. Last but not least, love of the trade is necessary in the quest for success.", he said.
Pálma Dobozi
Photo: Attila Kovács, Semmelweis University
Translation: Ágnes Raubinek