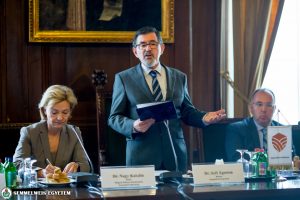 The plenary session of the Committee on International Affairs of the Hungarian Rector's Conference was held on March 9, 2017 at the Senate Room of Semmelweis University. Dr. Ágoston Szél, Rector emphasized in his opening speech that out of the committees of the Hungarian Rector's Conference the international specialization is outstandingly important, since nowadays every higher-education institution must come up to the expectations of international rankings as well. Rector Szél also added that the number of international students is increasing year by year.
Afterwards Dr. Katalin Nagy, President of the Committee, as well as Dr. Judit Kádár, Vice-President held a welcoming speech, which was followed by the presentation of Gábor Dobos, Director of the Tempus Public Foundation Study in Hungary regarding the current application statistics of the Stipendium Hungaricum programme. The participants of the plenary session also discussed questions related to the strategy of the Committee on International Affairs for the next two years.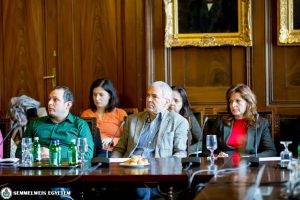 It is the responsibility of the Hungarian Rector's Conference to ensure an efficient national and international representative body for the Hungarian higher-education institutions. Its most effective instrument as a representative body is that the Hungarian Rector's Conference serves as a consultative committee in the area of the most important higher-education regulations. Besides, the Hungarian Rector's Conference is in contact with the European national rector's conferences and ministries of education. Currently there are 18 committees within the Hungarian Rector's Conference, out of which 13 are specialized in a specific area such as the Committee on International Affairs. The most important tasks of the Committee are to reinforce the already existing relations with foreign partners, as well as to establish new international collaborations in terms of governmental programmes and higher-education objectives. The programmes run by the Committee represent and promote Hungary's higher-education system abroad. One of the goals of the programmes is to provide help for the students studying at Hungarian higher-education institutions as well as academic staff members/teachers in their participation related to mobility so that they can get acquainted with the science and culture of foreign countries.
Marica Wild, Directorate of International Relations
Photo: Attila Kovács, Semmelweis University
Translated by: Katalin Romhányi