Nearly 70 tons of medical devices and personal protective equipment arrived in Budapest on 24th March 2020 early in the morning. As part of the joint procurement of the Ministry of Innovation and Technology and Semmelweis University, another shipment containing over 3 million face masks and 86 ventilators was delivered to Hungary.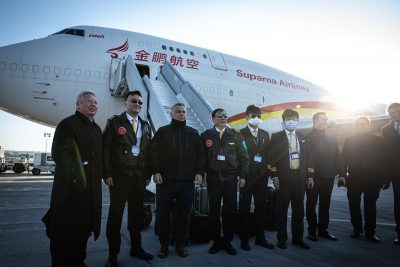 The charter flight of Suparna took off from Shenzhen on Monday afternoon after three days of preparation. The Boeing 747 jet was received by Viktor Orbán Prime Minister, Dr. László Palkovics Minister for Innovation and Technology, Dr. Béla Merkely, Rector of Semmelweis University and Duan Jielong, Ambassador of the People's Republic of China at the Budapest Liszt Ferenc International Airport. The cargo of the aircraft included 86 ventilators, 100 000 protective suits, 100 000 pairs of gloves, 100 000 tests and over 3 million medical masks.
The equipment was procured by Semmelweis University on behalf of the Ministry of Innovation and Technology and the rapid delivery was made possible by the close cooperation of the Hungarian and Chinese organizations, authorities and companies. The recently delivered essential products are to be used to protect doctors and nurses working in healthcare institutions while treating patients who need medical care.
The government is making efforts to increase the amount of medical supplies to make preventive measures more efficient. Another shipment of medical equipment is arriving in Hungary in the near future.
Source: Ministry of Innovation and Technology
Photo: Official Facebook page of Viktor Orbán; featured image: MTI/Tamás Kovács
Translation: Ágnes Raubinek