Semmelweis University presented its international programmes during a two-day event with the participation of former and future students of medicine in Norway. The university and the Hungarian Embassy in Oslo held a joint event for Norwegian doctors, who had previously studied in Hungary. The programme, intended to become a regular event, aims to strengthen the relationship between the university and its Norwegian graduates and to support the preservation and development of its international recognition.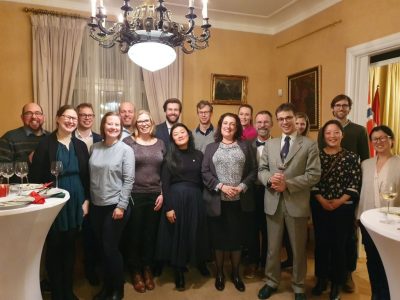 Based on the official statistical data, there are more than a hundred Norwegian physicians in Norway, who graduated from Semmelweis University, most of them in the past 15 years. Similarly to the statistical data of the naturalization exams in Israel, Japan and North America, Norwegian students performed above average in these exams after returning home. The former students have become esteemed members of the local medical community and they not only strengthen the university's reputation, but might positively influence future students in their choice of Semmelweis University.
Dr. Béla Merkely, Rector and Anna Mária Sikó, Ambassador of Hungary to Oslo invited the local physicians, who had graduated from Semmelweis University, to attend an alumni reception on 13th February at the Hungarian Embassy in Oslo.
Semmelweis University was represented by Dr. Alán Alpár, Vice-Rector for International Studies at the reception. In his opening speech, he gave an overview of the university's 250th anniversary year, the ongoing curriculum reform and strategic plans. A video was also presented in which current Norwegian students tell future students why they chose Semmelweis University. In addition to the video, Thomas Tysland fifth year Norwegian student at the Faculty of Medicine was present at the event and spoke about his experiences.
The representatives of the Hungarian mission also showed a short film promoting Hungary and offered Hungarian wine to the participants.
Along with Anna Mária Sikó, Ambassador the realisation of the event was in great part thanks to Dr. István Gera, professor emeritus, who has been managing Semmelweis University's international student recruitment company since 1st November 2019.
Source: Gáspár Czakó (Semmelweis Medical Studies Kft.)
Translation: Ágnes Raubinek