Dr. Kálmán Hüttl, a professor of the Városmajor Heart and Vascular Center, passed away at age 64 on March 5, 2019. Semmelweis University considers Dr. Kálmán Hüttl to be one of its own, and will provide the funeral honors.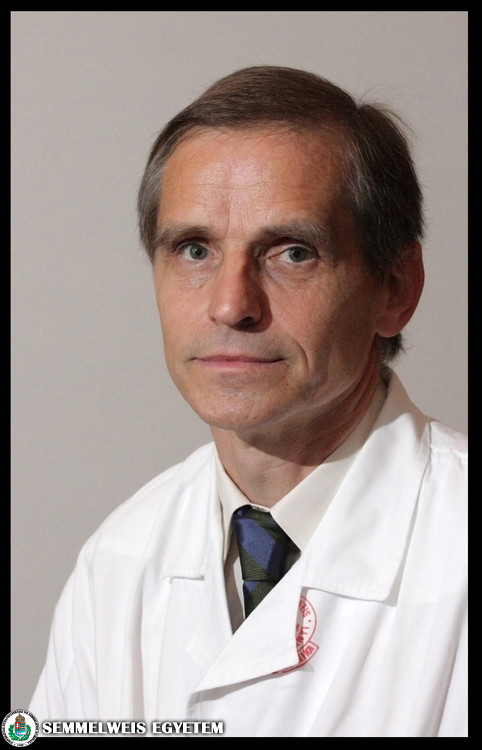 The death of Dr. Kálmán Hüttl is an irreplaceable loss to the Városmajor Heart and Vascular Center. Although they say that no one is irreplaceable, this is true only for official duties, and not for the person. Due to his lengthy, serious illness, someone had to fill in regularly for Kálmán in his various positions. This could be managed, but his kind, direct personality, which was coupled with modesty and comprised of unquestionable professional expertise, the dexterity required for catheter techniques, his love of patients, impeccable sense of humor, helpfulness and immense work ethic, can never be replaced. He no doubt inherited these honorable characteristics from his famous ancestors, since he was a direct descendant of Ignác Semmelweis, his grandfather Dr. Tivadar Hüttl was a pioneer professor of surgery and a member of the upper house of Parliament, and his father was also a notable surgeon.
It is difficult even to list the numerous areas where he was active as an initiator, participant, formulator, or where he achieved success. After graduating university, he started his career as a physician at the Department of Radiology, at the time led by professor Zoltán Zsebők. He soon became interested in angiographies and thus, at the invitation of professor László Szlávy, he started work at the radiology ward of the Institute of Vascular Surgery, where his professional career reached its full potential. His arrival at Városmajor coincided with the endovascular therapy tied to Charles Dotter and Andreas Grünzig becoming widespread, thus he became one of the procedure's pioneers and main developers in Hungary, first under the leadership of professor László Szlávy, and later on his own, as the head of the department's radiology ward.
Establishing the invasive and non-invasive diagnostics of vascular catastrophes, the better understanding of how deformities develop, the perfecting of diagnostics, and the generous transfer of this knowledge in the interest of better patient care are all tied to his name as well. Professor Hüttl's name became a benchmark in the area of endovascular interventions, not only domestically but on the international stage as well, which is underscored by his extensive activity in publications and holding lectures, organizing conferences, and leading roles in organizations both in Hungary and abroad. The quality of his academic activity is indicated by the high number of his publications (166), as well as his domestic and international citations, which number more than 900. He also had a strong sense of initiative, for example, he was one of the founders and a member of the board of trustees of the Hungarian Marfan Foundation.
He also played a defining role in establishing the Radiology Diagnostics Center on Határőr út. He had significant roles in the societies of related fields (e.g. Hungarian Society for Angiology and Vascular Surgery, Hungarian Society of Cardiology), where his professional advice and considerations often led to solving the problems in question. He was able to look at matters from above, from a distance, and this was led to his always wise and considered, and never ostentatious, comments. In his disputes, he was always led by the search for truth, and not the destroying of the opponent, and this was the same when he dealt with problems in other areas of life as well, not just in his profession. He was able to remain modestly in the background, but if necessary, also to stand firmly on the side of truth, not hiding his calling, faith and national commitment. He made no secret of his knowledge, and was glad to pass it on to medics and colleagues wishing to learn from him. In recognition of this, he was awarded the medal for Excellent Semmelweis University Educator. The Hungarian State honored him by granting him the Order of Merit Officer's Cross.
Prior to his illness, he had a joyful, optimistic view of life, going out in company or organizing events. He always had very good relations with his co-workers, which they reciprocated with love, thus establishing a warm, friendly atmosphere, which was nevertheless strictly and consistently professional; a workplace that retained its workers and where people liked to go to work and returned to even long after they had retired.
He liked sports (skiing, tennis, sailing), but he played Tarot cards and bridge as well, which he was quite excellent at and placed highly at various competitions he attended.
Unfortunately, his unrelenting illness prevented him from pursuing his athletic lifestyle many years ago, but his spirit always remained pure, and he used this for the benefit of patients as well. When his illness prevented him from going to work, he gave advice from home by telephone, using the opportunities provided by the internet to analyze images. He bore the advancing and growing illness without complaint, with placidity, and he came into the Center to visit as long as it was physically possible.
His kind, helpful personality will be forever missed here on Earth.
With his death, he has now been elevated among the list of mythic figures of the Városmajor Center (Dr. Imre Littmann, Dr. József Kudász, Dr. Lajos Soltész, Dr. Sándor Papp, Dr. Zoltán Szabó, Dr. Imre Szabó).
May the Lord grant Him eternal rest!
Dr. Béla Merkely, Dr. László Entz, Dr. Zoltán Szabolcs