Dr. Alán Alpár has been the Deputy Head for Scientific Affairs of the Department of Anatomy, Histology and Embryology since 2016. On 1 January, 2021, he took over the leadership of the institution as the successor of Dr. Ágoston Szél. As a Department Head, he considers it extremely important for the institution to be able to move forward in the field of education and research, to cultivate its culture and traditions, to strengthen the relationship between lecturers and students, and to further update the subjects taught here. One of his most important goals is to make the organizational unit a dynamic place that would also be attractive to young people.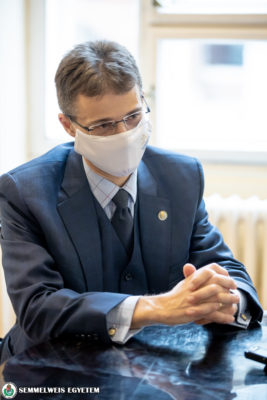 Anatomy, histology, and embryology appear in all medical and health science trainings at Semmelweis University, right from the beginning of studies. This is the first complex subject that first year students encounter, simply because they need to learn where the human organs are located, what their structure is like, what their functions are, how they relate to each other.
"The amount of the study material and the fact that human organs have Latin names, may be frightening for many students in the beginning, but most of them not only pass the exams but begin to like it. The study material is very logical, and it is much more tangible than other theoretical subjects: students can get hands-on knowledge in the autopsy room and by using microscopes. Those who fail their exams on the first attempt, usually admit to themselves that they had not prepared for the exam properly. If someone takes the time and energy, they can meet the requirements.", said Dr. Alán Alpár, Head of the Department of Anatomy, Histology and Embryology, as well as Vice-Rector for International Studies.
According to Dr. Alán Alpár, the fears of the students are caused by the old patterns, when the education at the department used to be more reserved and restrained, but in the recent years there has been a change. There are excellent educators, who work together with the students and they transfer knowledge in a colorful, interesting way, with the most modern tools. Training at the department is not only about teaching anatomy, histology and embryology. Students also need to be educated and their views on the science of medicine need to be shaped in order to provide them with a solid theoretical basis to successfully continue their studies in the preclinical and clinical subjects. Part of this practice is high-quality assessment.

Dr. Alán Alpár began his studies at Semmelweis University in 1991. Originally, his goal was to return to his hometown of Szombathely as a GP after graduating.
"I came here to study, and it is no exaggeration to say that I was immediately fascinated. The training at this department was captivating with its beauty, the magic of the Latin language, the music of medicine right from the beginning. Anatomy, histology and embryology have an atmosphere. I like evident, transparent, crystal clear things, and this subject is exactly like that: black is black and white is white. In addition, I had excellent, professionally impeccable teachers and all these experiences helped me decide on my choice of profession", said Dr. Alán Alpár.
In 2012, he habilitated at Karolinska Institute in Stockholm, after which he was also offered a job in Sweden, Vienna and at other Hungarian medical universities, but he chose the alma mater, Semmelweis University.
"I received a great deal here, and I felt like I had to turn it all back here", recalled Dr. Alán Alpár.
Since 2016, he has been Deputy Head for Scientific Affairs of the Department of Anatomy, Histology and Embryology, and since 1 January, 2021, he has been the Head of the Department. Regarding his appointment, he said that he feels the weight of responsibility and also that he needs to change pace. The institute was one of the five founding institutes of the university, which was started as a medical faculty at that time, and the marble plaque in the building listing former directors is full of internationally significant professors such as Mihály Lenhossék, Tivadar Huzella or János Szentágothai.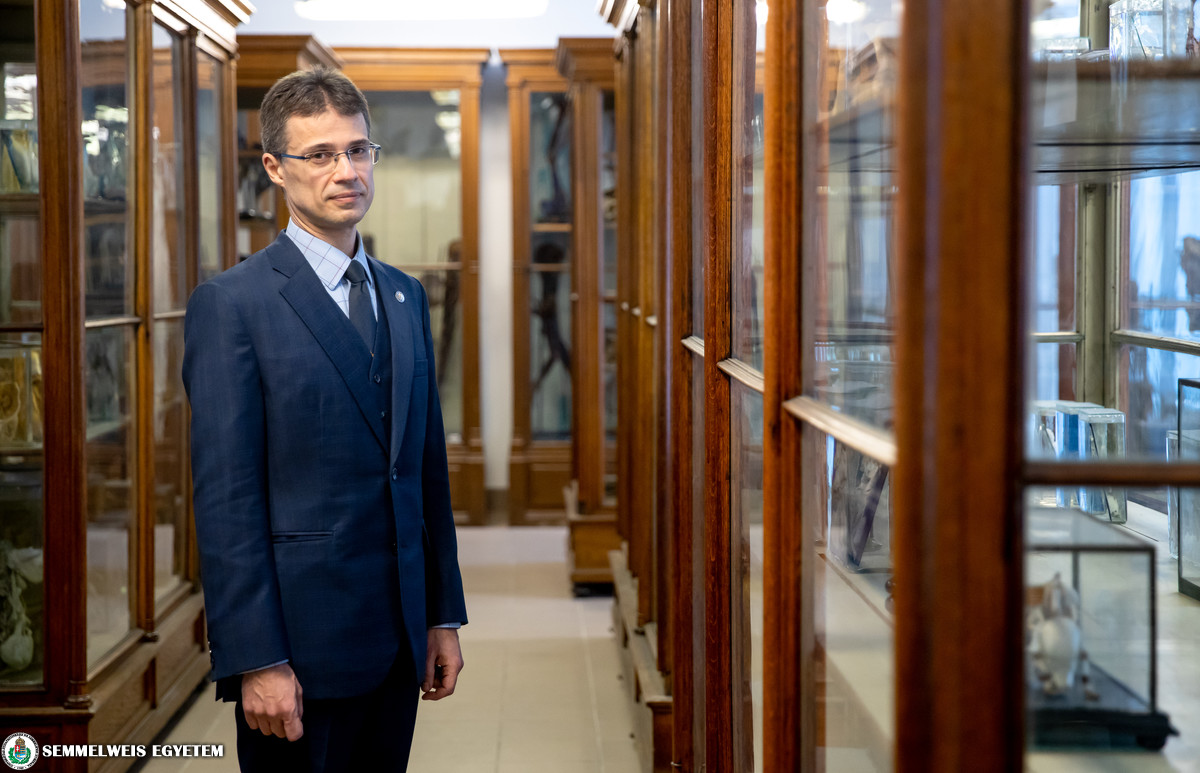 "It is normal to feel admiration when reading such names, but at the same time I also feel that I have be able to head the department. I started my career from here, I was educated here and I have been known and supported by the people working here. That is why I am embarking on this new challenge with a calm heart", Dr. Alán Alpár said.
As a department head, one of his main goals is for the institute to move forward dynamically by understanding and nurturing the culture and values of anatomy, histology and embryology and to make  its usefulness in medical education as widely recognize as possible. To this end, he will try to establish an even more direct relationship with students: based on their feedback, the curricula are constantly being revised and shaped so that it gets even closer to the students. Dr. Alán Alpár is currently working on a new anatomical atlas, which will not only reinterpret the subject by incorporating the approach of imaging diagnostics and clinical application, but they will try to create diagrams and illustrations with the help of the institute's preparator and artist that will make learning easier. The main emphasis was also on the interests of the students when education was organized during the first wave of the coronavirus epidemic.
"Practical education was not obligatory for theoretical subjects, but at the request of our students we opened our autopsy rooms in compliance with epidemiological regulations. It was an incredible task to organize for nearly 2,000 students to make up for the missed practical training at the end of the summer, and then to organize their practical courses in this form from September. With the help of the professional and exemplary attitude of the colleagues working here, we succeeded.", Dr. Alán Alpár highlighted.
He also added that Dr. Béla Merkely also provided continuous support, as the Rector also considers the relationship between lecturers and students, as well as training requiring personal attendance of utmost importance.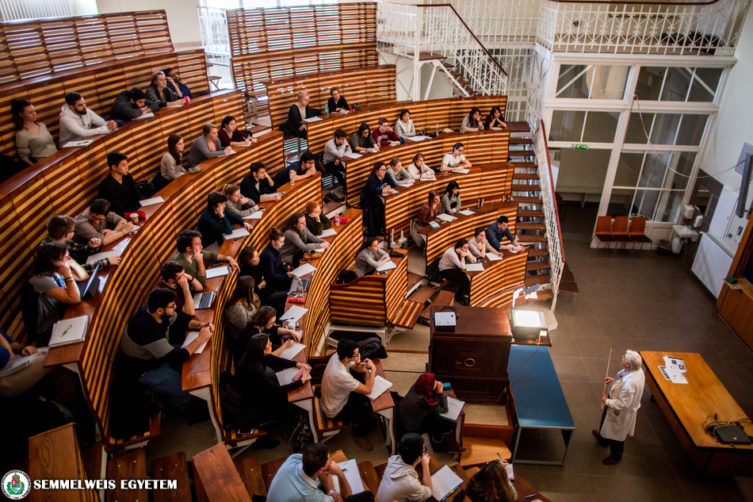 According to Dr. Alán Alpár, reinforcing the scientific work of the institute is also an important task for him as department head. He specifically highlighted helping young researchers in advancing. As a Deputy Head for Scientific Affairs, while working together with his predecessor, Dr. Ágoston Szél, an in-house competition was announced, which award the two winners with support for their scientific work for three years. He considers it equally important to develop the tools and technical infrastructure of the institute, to attract talented teachers and researchers, and to retain those currently working here.
"There is a huge struggle for human resources, and here at the Department of Anatomy, Histology and Embryology, we have to see who we can educate as an anatomist starting from their first academic year as students. Then we must constantly strive to provide new opportunities for our employees, to give them the necessary support, but also to give them independence", Dr. Alán Alpár said.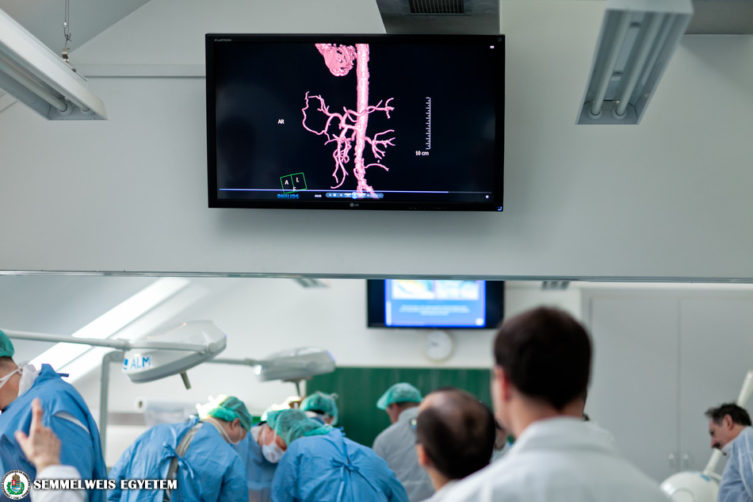 Dr. Alán Alpár has had an outstanding relationship with his predecessor, Dr. Ágoston Szél. They have worked together since 2016, when the Department of Anatomy, Histology and Embriology was set up with the merger of two anatomy institutes.

"Dr. Ágoston Szél has always been supportive and honored me with his trust, which enabled a seamless transfer of leadership.", he added.
As department head, he will strive to achieve similar empathy, while aiming to preserve the values of the institute and become a fresh and youthful place that is also attractive to young people by providing them with support here, trust, predictability and transparency.
Ádám Szabó
Photo: Attila Kovács – Semmelweis University
Translation: Katalin Illés-Romhányi