Semmelweis University is a leading institution of higher education in Hungary and the Central European region within the area of medicine, health sciences. As a specialist university, it holds a unique place within the country; its prominent role is demonstrated by the fact that approximately 42 percent of Hungary's doctors, 70 percent of its dentists, 50 percent of its pharmacists and 27 percent of its health care professionals are Semmelweis graduates.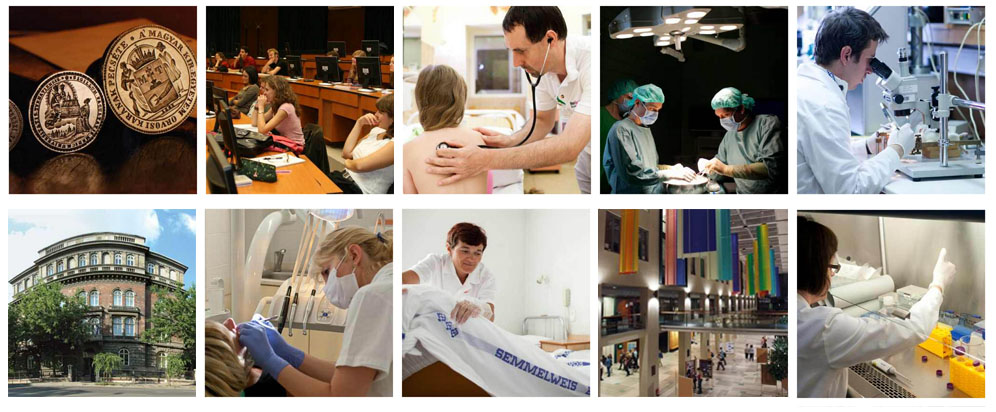 A truly international community, programmes are offered in three languages (Hungarian, English, German), and foreign students account for nearly third of the around 10,000 students studying at the University's five faculties.
In addition to teaching, Semmelweis University provides a wide range of health care services. With almost forty patient care units organised into four clinical blocks, it is one of the largest health care institutions in Hungary.
Research, development, and innovation comprise an important part of the University's three-fold mission. Many of its professors are members of the Hungarian Academy of Sciences, with close collaboration between the two institutions in numerous areas.
Semmelweis University received the prestigious Research University title for the second time in 2013.
The qualifying criteria for the Research University title are:
High quality training;
Recognition by the scientific community;
Significant domestic and international research, development, and innovation (R&D&I) activities;
Transfer of R&D&I results into education;
Outstanding talent support programmes and School of Ph.D. Studies;
Extensive international collaborations;
National and regional leadership role;
Semmelweis University is involved in higher education vocational training, specialist postgraduate training, higher education vocational training, the cultivation of the next generation of scientists, and nurturing talent. The University organises international conferences and is represented on numerous international scientific boards. Its academic reputation is well-regarded around the world.