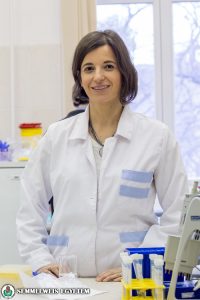 Dr. Andrea Fekete has been working at the 1st Department of Paediatrics for 20 years and has been leading the SE-MTA "Lendület" Diabetics Research Group where, among others, diabetes and its complications – kidney damage, depression – are being examined. Besides her research work, she took part in patient care earlier as a clinical doctor. She holds paediatrics practice in several languages, she also takes part in postgraduate training: she works as a mentor at Ödön Kerpel-Fronius Talent Management Program. She has been given several scientific awards and scholarships and is a mother of three children.
Dr. Andrea Fekete is from a medical family, so it is not surprising that she also chose this profession. However, during her secondary school studies she was interested in becoming a teacher, finally she applied to Semmelweis University where she oriented to basic research and laboratory work – evoked Dr. Fekete. First she was attracted to psychiatry, later to internal medicine, she was interested mainly in kidney. She started to do TDK work and kidney research at the Institute of Pathophysiology.
As a mother of three children, she knows a lot about the coordination difficulties of work and family life. The advantage of research work are the flexible working hours – says Dr. Fekete, however, it needs very good organization to arrive at the kindergarten or school to pick up the children in time. The researcher thinks that the social net could be developed: a nursery would be a great help for the employees of the university because they could leave their children there for a few hours. She also added that the university kindergarten is available but it could be open one hour longer, therefore it would be easier to manage logistics. At the birth of her third child she decided to spend more time at home to enjoy the maternity leave but she returned to work the soonest – remembers Dr. Fekete. While the baby was sleeping, she was in connection with the laboratory through skype. When Áron became 6 months old, she spent a few hours at the laboratory – evokes Dr. Fekete. Earlier she worked as a paediatrician but today she has no time to do this besides research management and three children.  Her husband works in a similar area, he is a nephrologist, associate professor at the Department of Transplantation and Surgery, so they professionally complement each other. The researcher emphasised that "me time" is very important for her, which must be wished and actively done. Skiing is a great love for her and she also plays tennis in her free time. With her husband they pay attention to spend some time together at least once a week, in these cases a babysitter or her research group helps them – says Dr. Fekete. For example, for her birthday she received messages like: "we will look after the children in the evening, go out somewhere; we will do the weekly shopping; we will take the children to a sport event chosen by them".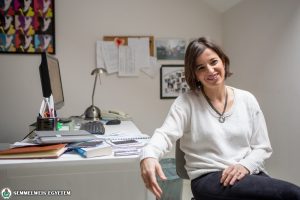 Dr. Fekete thinks that women have more empathy and keep in mind more that there is life beyond science. As a female leader she knows that difficulties women must face and she tries to prepare her students for this. Quoting the researcher's older friend, she says "a child never comes in the right time", she suggests everybody that they should have a baby, and life will bring its solutions. However, it is very significant to be responsible for our decisions: "be brave to say that I am happy with one child or I work 6 hours a day because the family is the first; do not let yourself to the social pressure" – she emphasised. Dr. Andrea Fekete believes that a good team is essential to the successful research work. As she said she is the proudest of her colleagues, it makes her feel good that such a work team stands next to her, who are able to carry on projects on their own, even more they have better and better ideas. She sees herself as a translational researcher, she likes those topics the most where she can see that the basic research question may lead to a clinical answer soon.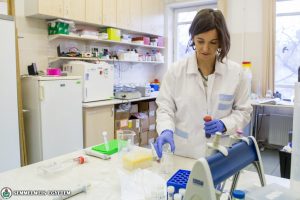 After staying one year in the USA and two years in Germany, she was given the support for five years of "Lendület" program in Hungary in 2011 as the first woman. She founded the "Lendület" Diabetics Research Group team of 10 people, which examines the emergence of diabetes and the unknown possibilities of its early recognition and treatment. One of their major research areas is the renal damage caused by diabetes, and recently the examination of the connection between diabetes and depression has been highlighted. She is dealing with acute and chronic nephropathy, with her colleagues she is developing a new transplant storage fluid, with which the implantation time can be extended and a better conditioned organ can be transplanted because of this liquid – presented the results Dr. Andrea Fekete.
Bernadett Kiss-Bódi 
Photo: Attila Kovács  – Semmelweis University
Translation: Edina Szendreiné Nagy