We are aware of about 8,000 different rare diseases and their number has been growing yearly by the appearance of new technology, altogether about 800,000 people live with rare disease in Hungary – stated Dr. Ferenc Bánhidy Vice-Rector for General Affairs in his opening speech at the central event of Rare Disease Day. One of the main messages of the event was that the prospects for healing have improved because of the development of diagnostics and medical attendance.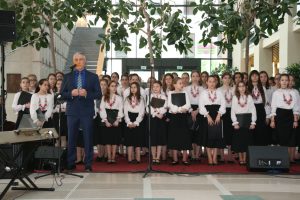 Semmelweis University have a voluntary role in the medical attendance of rare diseases. At the Institute of Genomic Medicine and Rare Disorders led by Dr. Mária Judit Molnár creating the whole gene map became possible. The Institute have purchased several modern imager diagnostic tools in the last few years, the University became the Rare Disorders Expert Centre, joined the European Reference Networks on Rare Diseases. The Rare Disease Centre opened in 2017 which makes the inpatient care possible.
The Rare Disease Day was organised for the 11th time, this year Semmelweis University and the Hungarian Federation of People with Rare and Congenital Diseases organized the event together at the Basic Medical Science Center. The organizers arranged several programs for the participants: professional conference, booths introducing patient's associations, photo exhibition, handicrafts and amusement programs.
Tímea Kele
Photo: Gábor Varga
Translation: Edina Szendreiné Nagy