The Directorate of Language and Communication, whose main task is the instruction and interdisciplinary research of languages for specific purposes in the fields of general medicine, dentistry, pharmacy and healthcare IT, celebrates its 70th anniversary this year. At a celebratory event held in the Semmelweis Salon, workers of the directorate presented the department's activities and history, and held a performance presented in several languages.
In his greeting remarks, Dr. Péter Hermann, vice-rector for educational affairs, recalled his personal memories from when he was a student, emphasizing that he had good teachers in both Russian and English who taught using the latest methods. He noted that he still has close professional ties to the directorate, who recently recommended in connection with the ongoing curriculum reform the introduction of a class on medical terminology, whose objective would be modernizing the teaching of Latin.
Dr. Katalin Fogarasi-Nuber, the department's director, thanked her predecessors for continuously developing the directorate. She pointed out that language and communication are inseparable from the activities of the medical profession.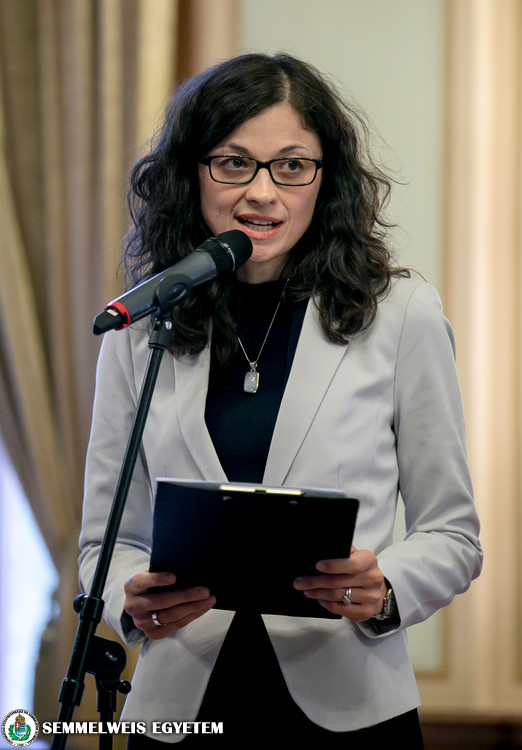 The objective of their activity is for students to have a systemic view of medical terminology and be able to use it precisely and clearly both in the medical community and during the course of patient care, said Dr. Katalin Fogarasi-Nuber. For Semmelweis University, it is also indispensable that students be able to present their expertise at international scientific forums and to cooperate with foreign universities, she added, therefore it also their job to provide education on medical terminology already during graduate training. Uniquely in Hungary, they offer this program in six different languages. She emphasized that it is always important to carry out the medical terminology education of students in line with the professional and training needs of the university.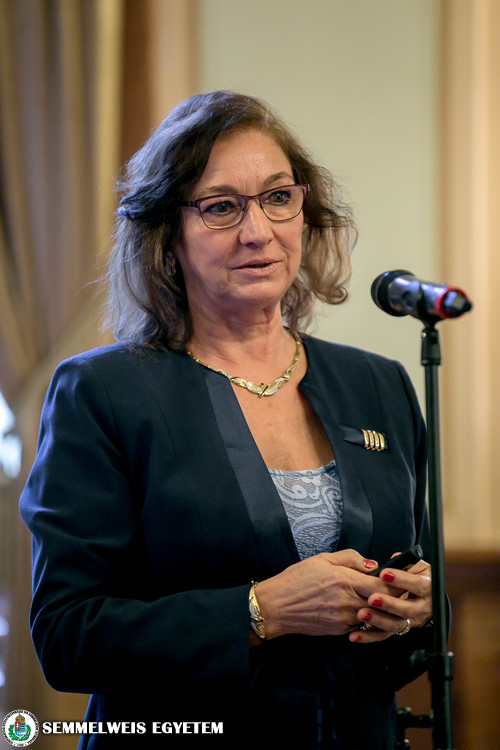 Dr. Éva Kovács, the directorate's recently resigned director, held a presentation on the history of the Directorate of Language and Communication, noting several interesting facts, for example that they have been in the building on Ferenc tér for 21 years, while earlier they also had offices in the Hőgyes Block and the NET building. The teaching of so-called Western languages in addition to Russian started in the 1974/75 academic year, with students required to pass a comprehensive exam in the class. Starting from the early 1990s, English, German, French, Italian and Spanish have enjoyed priority. Dr. Éva Kovács stressed that many of the workers of the directorate have been there for decades, in her case for 40 years, for example. A recently published commemorative book also included interviews with the directorate's workers, she added. She also thanked every leader of the past 70 years that helped the directorate function, and also expressed her thanks to her colleagues and family members.
The workers of the directorate prepared a language performance for the event, which included the reading of the Hippocratic Oath in eight languages, followed by a concert with songs presented in multiple languages.
Eszter Keresztes
Translation: Tamás Deme
Photo: Attila Kovács – Semmelweis University