Dr. Eszter Végh, who is currently working as a resident, has been a member of the Kerpel-Fronius Talent Support Program since the foundation of the program, and Dr. Péter Sótonyi, Associate Professor at the Heart and Vascular Centre has been her mentor for five years. Dr. Sótonyi said that since Dr. Eszter Végh has chosen invasive radiology, they have professional discussions on a daily basis, and many times Dr. Sótonyi asks for her professional opinion in questions related to radiology.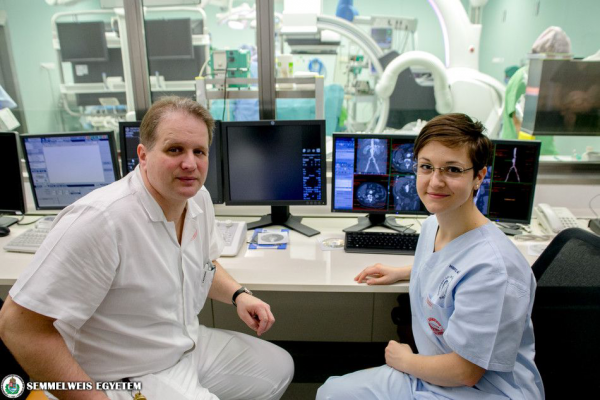 According to Dr. Sótonyi, one of the most important responsibilities of a mentor is to provide support and guidance for the students in finding the best professional area that suits them. Dr. Sótonyi has been a mentor at the Kerpel-Fronius Talent Support Program since its foundation. Based on his experiences, in a mentor-student relationship the emphasis is rather on human related questions instead of professional or scientific questions, to which students do not necessarily receive an answer elsewhere.
For instance, it is a frequent dilemma for students to decide whether they would like to become a clinician or a researcher. Students are many times afraid that in case they choose one of these two options, the other door will close. According to Dr. Sótonyi there is no such a thing as wrong choice, there is always an opportunity for changing and for making new decisions, this is what he tries to transfer to students. Dr. Sótonyi recalled Professor Rudolf Pichlmayr's guidelines, who used to be his first German mentor.
"When you make a decision to choose a professional area, you have to choose four different things at the same time: a dedication, a job, a profession and a game, which makes you happy every day. You have to go to work every day so that there is a sense of playfulness in it. I should feel that I would like to solve a problem but if I do not have this playful attitude, it becomes a daily routine and this is not good.", points out Dr. Sótonyi.
Dr. Sótonyi currently is the mentor of five students: István Tamás Huszár (6th year student) studies biophysics, Tamás Szabó deals with immunology, Eszter Balogh's main topic is pediatric nephrology and Eszter Lévai's main topic is genetics. He has been working with Dr. Eszter Végh, who is right before starting her PhD studies, for five years and they have professional discussions on a daily basis.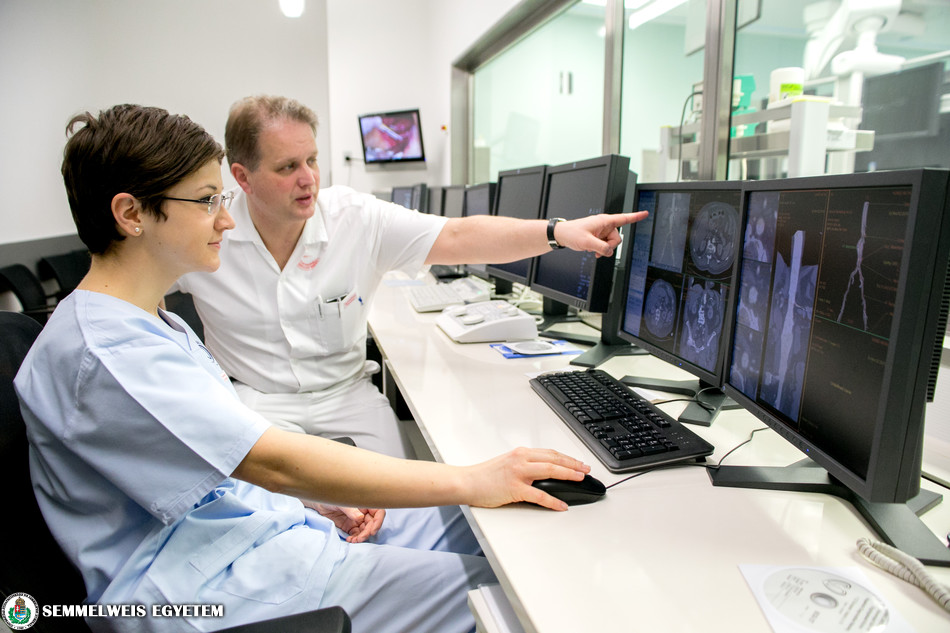 "It has rapidly turned out about Eszter that, as we surgeons say among each other, she has a clear eyesight in this field, she immediately recognizes the essence in radiologic diagnostic images. It was evident that her choice should be as working as a clinician, she is excellent in analysing diagnostic images and she has good manual skills for catheter techniques. This is how she has found her field, interventional radiology.", explained Dr. Sótonyi, the mentor.
Dr. Eszter Végh has been a member of the Kerpel Talent Support Program since the beginning. During her secondary school years her mentor at Hungarian Research Student Association used to be Dr. Péter Csermely. Due to his influence Eszter started to be interested in medical research. She performed her TDK research at the Heart and Vascular Centre in cardiology. As Eszter explained, since this is an interdisciplinary field, she had the opportunity to look into many different professions at the centre. After a while she switched from cardiac research to interventional radiology.
According to Dr. Eszter Végh, in the mentor program the inspirational discussions and professional guidance provide most of the support. She said that those students whose family members are not physicians many times are less guided in the academic environments or have more difficulties in choosing the appropriate professional area for themselves. She added that it is a huge advantage if someone orientates you in the process of grabbing a worthy opportunity or deciding what you should not care about. She is proud and feels lucky to learn the principles of interventional radiology from people such as Professor Kálmán Hüttl, one of the Hungarian pioneers of interventional radiology, as well as Dr. Balázs Nemes, Associate Professor and Dr. Edit Dósa, Senior Lecturer.
"As a radiology resident of the clinic I have the opportunity to continuously pay attention and learn, and I can already carry out the less complicated medical interventions on my own. I am pleased that I have found interventional radiology as my field. The diagnostic part of my work can be flexible, but in the meantime there are many clever solutions and the catheter techniques are continuously developing. The focus of my research is the interventions of the jugular vein, I am analysing the conditions of the implementation of initiating a new technique. I feel that the participation in the talent support program was successful for me, since I have managed to find my own way both in science and in patient care.", emphasized Dr. Eszter Végh.
In 2007 the Senate of Semmelweis University established a talent support program named after its former professor, Ödön Kerpel-Fronius. Those Hungarian and international students can participate in this program, whose name is indicated in the List of Excellence based on the decision of the university's Talent Support Committee.
Pálma Dobozi
Photo: Attila Kovács – Semmelweis University
Translation: Illés-Romhányi Katalin