The Minister of Health of Sverdlovsk County of the Russian Federation visited Semmelweis University on 10 October 2018. The delegation was received by Dr. Péter Hermann, Vice-Rector for Educational Affairs, András Balogh, Head of the Directorate of Innovation, as well as Dr. Judit Vadlövő and Diána Módos, Project Coordinators at the Directorate of International Relations.
The six-member Russian delegation visited Hungary with the aim of negotiating with the representatives of government bodies and ministries, as well as with the heads of healthcare institutions and medical equipment manufacturers, and participating in the Hungaromedica Health and Medical Technology Exhibition.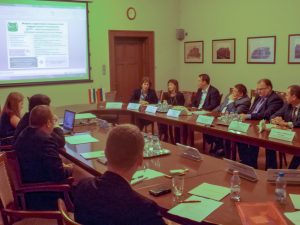 After Dr. Judit Vadlövő presented the university, paying special regard to its international and Russian relations, Minister Andrey Tsvetkov said: Semmelweis University deserves to be recognized on an international level. He added: there is a possibility of cooperation in the fields of student exchange, specialist training and the acquisition of academic degrees. Minister Tsvetkov specially acknowledged the level of rehabilitation in Hungarian healthcare, including conductive pedagogy, and informed that they are willing to send specialists for vocational trainings in the field of rehabilitation.
The Minister acknowledged that Semmelweis University has already reached a cooperation agreement with the Ural State Medical University and proposed the deepening of the existing relationship between the two institutions by initiating a student exchange programme. He also mentioned the forum on health tourism, which will be held in Budapest in April 2019, at which Semmelweis University could also be represented. Andrey Tsvetkov said that the Russian delegation coming to the forum would like to visit Semmelweis University, primarily the simulation centres, laboratories and educational institutions. The Minister and Dr. Péter Hermann agreed that the concrete cooperation could start with the exchange of researchers, because in that case the knowledge of the English language is sufficient.
During the meeting, Aleksandr Vladimirovich Ziryanov, Vice-Rector for Academic Affairs, presented the Ural Federal University, while Vitaliy Borisovich Aretinskiy presented the University of Ekaterinburg, where the rehabilitation of cancer patients, bypass surgery patients and people with neurological problems takes place.
Photo and source: Directorate of International Relations
Translation: Diána Módos