Semmelweis University's Faculty of Medicine welcomes Erasmus+ students for study mobility from Year 3 to Year 5.
1. Getting in touch
After your successful Erasmus+ application at your university, your institutional coordinator will nominate you at Semmelweis University. When we receive your nomination, we will contact you directly.
2. Application form
We will send you an email that will contain a link to the Mobility Online platform (Semmelweis University's online application platform) and the steps you need to take when filling out the form. During the application procedure you will have to indicate the subjects you would like to study and you will also have to upload your application documents.
After you have completed your registration, you will have to send the copy of the following original documents to erasmusincoming@semmelweis.hu:
Application form signed by you and your institutional coordinator (printed from the online platform)

Learning Agreement signed by you and your institutional coordinator (printed from the online platform)

Transcript of Records (of all the semesters completed so far)

English Language Certificate (min. level B2)
APPLICATION DEADLINES
30 May
for the fall semester or a full academic year
30 October
for the spring semester
Please note that Semmelweis University's faculties will evaluate your application and check the availability of your chosen subjects and your eligibility. This might take some time, so we ask for your patience until we get back to you.
CURRICULUM
Take a look at the curriculum of the year, when you want to do your study mobility and see what subjects you would like to do. Please note, that you can choose subjects exclusively from one year, as combining subjects from different years would cause a timetable conflict. Download the Academic Calendar to see what subjects you can choose from.
Year 3 
Year 3 is the pre-clinical module, where lectures and practical courses run throughout the semester, recurring every week at the same time. The semester ends with an exam period.
Year 4 and Year 5
In Year 4 and Year 5 the lectures and practical lessons of the subjects are taught in blocks. Depending on the subject, the blocks are 1, 2, 3 or 4 weeks long. The blocks are organized into several groups as the number of students who can attend is limited. There are no separate exam periods dedicated only to exams as they are held at the end of each block. As an example see the block schedules from the academic year 2021/2022 below.
Please note that these schedules are examples only, they are subject to change every academic year!
Year 4 Block Schedule 2021/22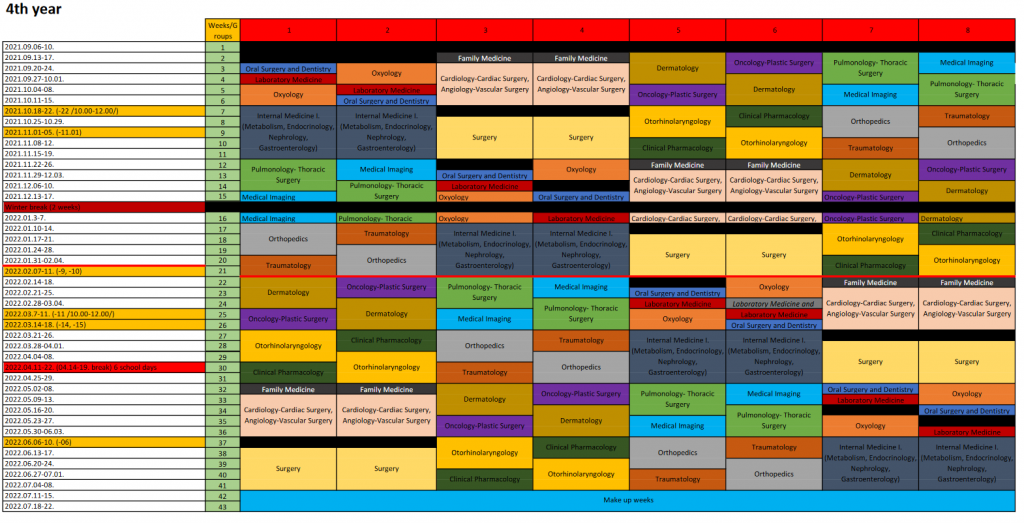 Year 5 Block Schedule 2021/22