The new administration of the Students' Union held it first meeting since the elections.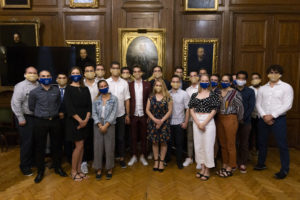 On the first point of discussion, president Bálint Tripolszky held his briefing about the major changes and events that are due in the next few week, also he described his plans for developing better transparency for the organisation.
After that Máté Tolvaj, VP talked about the importance of cohesion and the upcoming activities to improve our teamwork.
The third point was for Zsombor Papp, educational VP who described his plans for the upcoming year, as well as the integration of digitalisation that. went through recently in our university.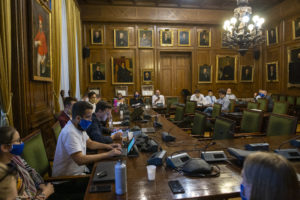 Following him, Ádám Kapai, event planning VP talked about the new student's guide that is being prepared for the newcomers, he also told us about organising the Freshmen's camp, the Freshman's meeting. After that Dorottya Németh, project manager, and János Stubnya Head of healthcare services gave us a detail description of the programs they are preparing. Later on we agreed to vote in favour recieving credit point for the upcoming Summer University in the next Senate meeting.
Anna Artner, Head of foreign student affairs told us about her vision for her work, following her Balázs Boros, editor of Szinapszis drew his plans for resurrecting the magazine.
As the last point, we voted for the Employee of the month title, which was won by Anni Papp, 4th year medstudent, for representing her years educational affairs in an excellent manner. Congratulations for the title!