Semmelweis University's Cardiovascular Center, besides preventing and treating diseases, takes a significant part in both education and research, which three areas classically constitute a university's "triple" role (medical services, education and research).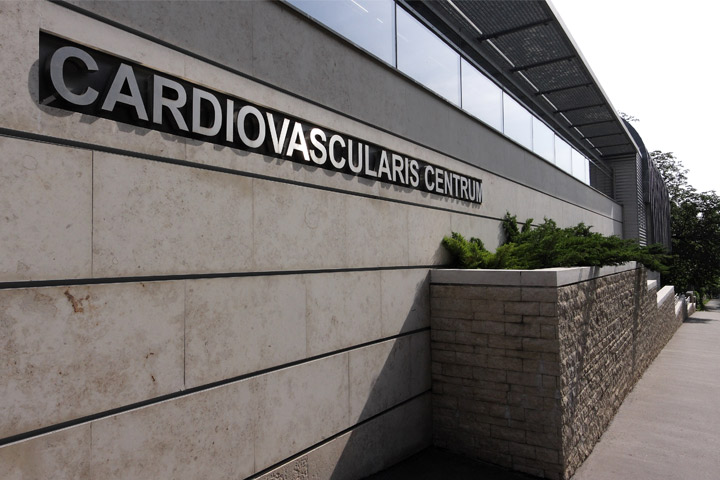 Besides a full cardiology profile (transthoracic and transesophageal echocardiography, Holter ECG, exercise stress test, cardio-CT, cardio-MR) the principal role of our clinic is to perform invasive cardiology procedures of all types. We have an active role in the treatment of acute myocardial infarction cases with urgent coronary angioplasty (primarily PCI) covering Budapest, and the Central Hungarian Region, since 2003.  On working days, from 8.00am till 6.00pm we admit urgent cases from our region (most of the Buda and the surrounding Pest county region). Every Wednesday from 6:00pm till Thursday 8.00am, and every Sunday from 8.00am till Monday 8.00am, we treat, with urgent percutaneous intervention, acute myocardial infarction cases (with symptoms happening less than 12 hours ago) from the whole Budapest and Central Hungarian Region.
Electrophysiology is an essential area, including non-pharmacological treatment of arrhythmias and heart failure, the implantation of high numbers of traditional and special (ICD, biventricular) pacemakers, as well as, catheterablation of severe arrhythmias. Other significant areas are percutaneous coronary intervention in acute coronary syndrome (ACS), traditional coronary angioplasty, stent implantation, along with special coronary procedures (such as rotablation).
We are proud to say that the Cardiovascular Center is the national center for adult heart transplantations. Our mechanical heart program helps patients in a life-threatening condition to step into the long road of healing, eversince 2011.
The vascular center of the Clinic is the cutting-edge institution of Hungary. Besides the classic vascular procedures, the vascular department participates in several interventional radiological treatments, and hybrid interventions. Our Clinic operates a remarkable number of samples in a homograph-bank.  
Patient management is supported by the ever-developing imaging diagnostic profile. We operate an imaging lab, focusing on cardiac and vascular imaging with high-resolution and fast CT, and MRI devices.  
Gradual medical education takes place in three languages (Hungarian, English and German) at our Clinic. We also take part in post gradual specialty trainings, in preparing applicants for basic and higher-level specialty Board Exams, and we are also integrated into the School of PhD Studies.  
Clinical work is accompanied by experimental and clinical research areas, where internationally acknowledged experts provide opportunities for young doctors and medical students to carry out scientific projects.
The management of the Cardiovascular Center, and all its employees, are committed to operate this institution with constant, high level. Introducing the MSZ EN ISO 9001:2015 quality management system enabled the enhancement of professional pretentiousness, the implementation of safe and financially sustainable services and the escalation of organization.