As a university clinic, besides preventing and treating diseases, we take a substantial part in all of the universíty's classical "triple" role.  There is gradual medical education at our clinic in three languages (Hungarian, English and German). We also take part in postgradual specialty training, preparing the applicants for basic and higher level specialty Board Exams, and we are also integrated into the School of PhD Studies.
The clinical work is accompanied by experimental and clinical research, where well-known international experts provide opportunities for young doctors and medical students for scientific projects.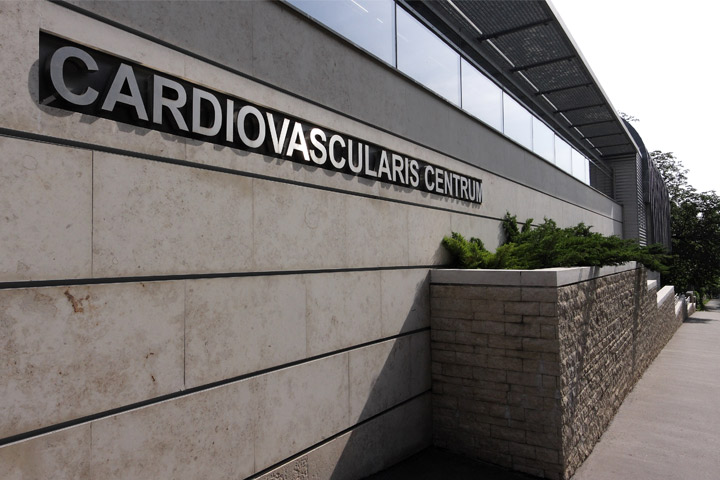 Besides a full cardiology profile (transthoracic and transesophageal echocardiography, Holter ECG, exercise stress test, cardio-CT, cardio-MR) a principal role of our clinic is to perform invasive cardiology procedures of all types.
A significant area is percutaneous coronary intervention in acute coronary syndrome (ACS), as well as traditional coronary angioplasty and stent implantation along with special coronary procedures (e.g. rotablation). We have an active role in the treatment of acute myocardial infarction cases with urgent coronary angioplasty (primary PCI) covering Budapest (and the Central Hungarian Region) since January 1st, 2003.  On working days from 8.00h-18.00h we are admitting urgent cases from our region (most of the Buda and the surrounding Pest county region). Every Wednesday 18.00h-08.00h and every Sunday 8.00h-Monday 8.00h we are treating with urgent percutaneous intervention acute myocardial infarction cases with symptoms less than 12 hours from the whole Budapest and Central Hungarian Region.
Another essential area is electrophysiology; non-pharmacological treatment of arrhythmias and heart failure, implantation of high numbers of traditional and special (ICD, biventricular) pacemakers as well as catheter-ablation of severe arrhythmias.