History
Cardiovascular Center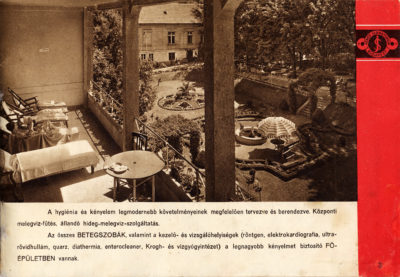 As a separate unit, the Cardiovascular Center of the Department of Cardiovascular Surgery, Semmelweis University opened its gates on January 1st 2003 in a state-of-the-art equipped building. This modern part of the clinic was designed by Dr. József Finta who received an "Építőipari Nívódíj" Award in 2004 for the construction. In the beginning, 15 intensive care beds and 10 simple medical beds were available. According to the change in the structure of the university, the Department of Cardiology, Semmelweis University merged with the Cardiovascular Center on July 1st, 2007, and then it became the Heart Center – it involves the former Department of Diagnostic Radiology, the Central Laboratory and the Research Laboratory. After this change, the number of available beds almost doubled. 
Department of Cardiology
Former directors of the Department of Cardiology were well-known persons such as professors György Gottsegen (1959-65), György Gábor (1966-79), Tibor Romoda (1979-81), Attila Árvay (1981-94), Károly Lozsádi (1994-2000), Mátyás Keltai (2000-2007).
The combined Heart Center-Department of Cardiology is a cardiology center led by Béla Merkely which provides new, modern treatment for a high number of patients with a short hospital stay.
János Sanatorium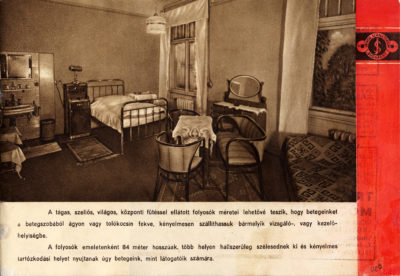 The building at Városmajor street was built in 1912; the first director of János Szanatórium was Gedeon Simaházi Totth, MD. This "elegant sanatorium opened  on the side of Sváb-hill" was provided with modern equipment (40 beds). Among those treated here were Mihály Babits, Endre Ady, later Pál Jávor and Tivadar Urai. The World War II had its terrible impact on this distinguished institution. After the secularization, it was the Fővárosi Tanács Budai Public Hospital as part of János Hospital with 160 beds. In 1951 it became the Postgradual Teaching Clinic of Surgery of the Medical University of Budapest with 140 beds to accomplish the increased need for surgeons. Since March 15th, 1957 its name has been changed to IV. Surgical Clinic. Education has been ongoing in the clinic since 1957. Since 1981, the institution has been known as the Clinic of Cardiovascular Surgery (120 beds). The Cardiovascular Center with a cardiology profile was established in a new part of the building in 2003.
The first 100 years of the "Városmajor"
[dflip id="1738" ][/dflip]