During this procedure we bring a coronary catheter (thin, flexible, special plastic tube) to the heart through the radial, femoral or brachial artery and we inject contrast dye into the coronary arteries to check for abnormalities.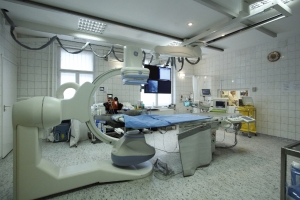 The injected material is a special liquid which prevents X-ray beams to pass through. During the procedure we take X-ray pictures continuously and the film is stored by a computer using digital technology. We are able to check the contours of the coronary arteries and to find possible stenoses or occlusions. If needed the larger arterial vessels can be analysed as well as the chambers of the heart. In these cases more contrast dye is needed which might cause feeling of warmness transiently.
If we need to dilate the stenosed coronary artery we perform it at the same time. During this procedure we usually implant a short metal tube called a stent.
After the procedure we usually remove the introducer sheath. If we need to keep this sheath in the vessel, we remove it later. In all cases we place a compression dressing over the puncture site after sheath removal (generally 6 hours for radial and 12-24 hours for femoral approach – in the later case the patient must stay in bed for this period).
This procedure generally causes little discomfort. There is some pain when we initially give anaesthetic injection before puncture of the artery.
Patients must stay generally one, or in some cases two nights in the hospital. Patients receive a detailed information package about the procedure and they must give informed consent on admission.
Some medications must be discontinued prior to the examination!
Important information for patients scheduled for coronarography or coronary angioplasty/stenting.
Blood thinners (Syncumar, Marfarin): These medications can be substituted by subcutaneous injections, You should discuss the details with your physician, especially if You take any of these medications.
Medications containing Metformin: Metformin containing medications used for the treatment of diabetes must be discontinued 48 hours prior to the examination. Some of these types of medications are: Merckformin, Adimet, Meforal, Avandamet, Gluformin, Meglucon, Metfogamma, Metrivin. Please discuss with Your physician if You need to substitute these medications.
Insulin: If You are treated with insulin, You should receive no or reduced dose of insulin. Please discuss the details with Your physician.
If You are scheduled for coronary angioplasty/stenting, You must take certain medications at least one day prior to the procedure. Two types of medications must be taken  together . These are the following:
Aspirin containing: Aspirin protect or Astrix or Colfarit
"Thienopyridine" containing: Plavix or Ticlid or Aplatic.
It is allowed to eat the night before and on the morning of the procedure (light breakfast). Please consume liberal amounts of fluid, even on the day of the procedure! Considering the above mentioned, please also take Your medications.