A 34-year-old mother has been discharged from the departments of Semmelweis University after around 70 days, and will now start her rehabilitation. She was diagnosed with COVID-19 on November 11 last year, and due to complications brought on by the disease, an emergency C-section had to be performed in her 34th week of pregnancy. Both the mother, who went through several surgeries as well as ECMO, or "artificial lung" treatment, and her newborn daughter are healthy.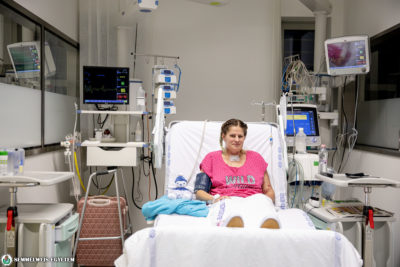 Three departments of Semmelweis University took part in the treatment of Szilvia: the Department of Anesthesiology and Intensive Therapy, the Department of Obstetrics and Gynecology, and the Városmajor Heart and Vascular Center. The patient was transferred to the university from the hospital in Hatvan on 15 November, 2020, due to severe COVID-19 pneumonia and oxygen deprivation endangering the life of the unborn child as well. She underwent an immediate emergency Cesarean section at the university, saving the life of the child.
The patient's general condition stabilized following the operation and she was taken off the ventilator 5 days after the C-section, although 24 hours later ventilation had to be started again due to deteriorating lung function. Despite mechanical ventilation applied in a special, prone position (lying face down) the patient's global dysfunctional breathing – brought on due to complications of coronavirus – could not be stabilized, and there was a risk that her oxygen deprivation might reach critical levels within a short time.
That was when the medical team decided to start ECMO treatment on Szilvia on 21 November, which uses an "artificial lung" placed by her bedside taking over a significant amount of her lung capacity.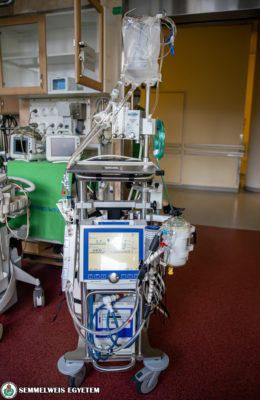 Semmelweis University's Városmajor Heart and Vascular Center has been using an extracorporeal membrane oxygenation (ECMO) device and operating an ECMO program since 2012. Over the past 8 years, the method has been used in 300 cases, on patients where traditional mechanical ventilation was unable to provide help against the combination of circulatory and breathing dysfunction.
Szilvia's condition was successfully stabilized thanks to the ECMO program and the complex intensive care therapy. The patient was gradually "weaned off" the ECMO support used to replace her lung function by the doctors, and the device was eventually successfully removed on 18 December. Since January 8, 2021, the patient has been able to breathe on her own, also thanks to the complex and gradual therapy. Szilvia's muscle strength, general condition and overall well-being improved continuously. She has recovered from COVID-19, and as she no longer requires intensive care, she can continue her rehabilitation in the National Medical Rehabilitation Center, after a total of 69 days in intensive care. As far as we know, this was the first successful "artificial lung" treatment in a case of COVID-19 pneumonia in Central Europe. International data indicate that it is rare for COVID-19 to cause such severe complications in pregnant mothers; only a few cases have been registered since the onset of the epidemic in Europe and the United States.
Eszter Kovács 
Translation: Tamás Deme
Photo: Attila Kovács – Semmelweis University