A new article published in The Wall Street Journal on how professional sports are trying out different models for "bubble" events cites the International Swimming League (ISL) being held in Budapest, where Semmelweis University is providing medical support, as a positive example.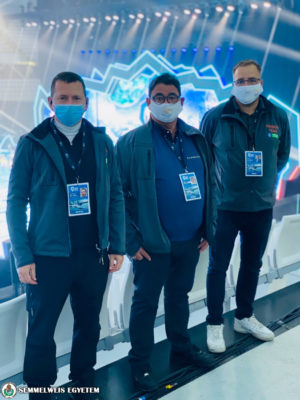 The Wall Street Journal article notes that several sports, such as gymnastics, swimming and skating, are experimenting with modified forms of the "bubble" sequestration model to try to preserve their seasons as the coronavirus surges again around the world. Comparing the ISL event to a gymnastics event being held in Japan, the paper writes that "things are going more smoothly in Budapest," where hundreds of swimmers are gathering for six weeks. It notes that the 437 athletes and coaches are staying in a hotel on Margaret Island, a short walk away from the event's site at the Duna Arena, and swimmers are also allotted 90 minutes of fresh air time on the island. "This is not a prison," the paper quotes Dr. Béla Merkely, the rector of Semmelweis University and Chief Medical Officer of the event as saying. "Margaret Island is very beautiful and everybody is happy because there was a chance at doing competition," he said.
The WSJ writes that the ISL required all bubble occupants to receive two negative test results within 72 hours of flying to Hungary and, once there, quarantine in their hotel room until receipt of a third negative PCR result. Thereafter, swimmers and staffers are screened daily for symptoms and take PCR tests every five days. Two athletes registered positive results en route to Hungary and were immediately quarantined, but no athletes have contracted Covid-19 since racing got under way on October 7. The virus did infiltrate the ISL bubble, however, as 23 Hungarian support staff tested positive at the halfway mark. The article also points out that each of the 12 ISL teams have a designated "Covid Marshall."
The paper notes that these and similar events may point to how the Olympic Games could be organized in Tokyo next summer and then in Beijing in the following winter.
Tamás Deme
Photos: Dóra Szepesi – Semmelweis University