"George Berci" Surgical Training and Research Laboratory is located in Herceghalom (30 km from Budapest). It was opened in 2012 by Professor George Berci, and is dedicated to multispecialty research, education and training focused on minimally invasive techniques.
Our aim is to provide a structured training program in video-endoscopic surgery and related topics for the practicing clinicians and assisting personnel as well as the surgeons in the training and other medical professionals from around the world. The main emphasis of these courses is on practical hands-on training and skill acquisitions. Courses are held for small groups – maximum of 12 to 14 people, – which guarantees ample of practice and thorough guidance. The training facilities are set up with five operating stations, where trainees can learn and practice endoscopic skills on a variety of models, prepared animal organs and live anaesthetized animals.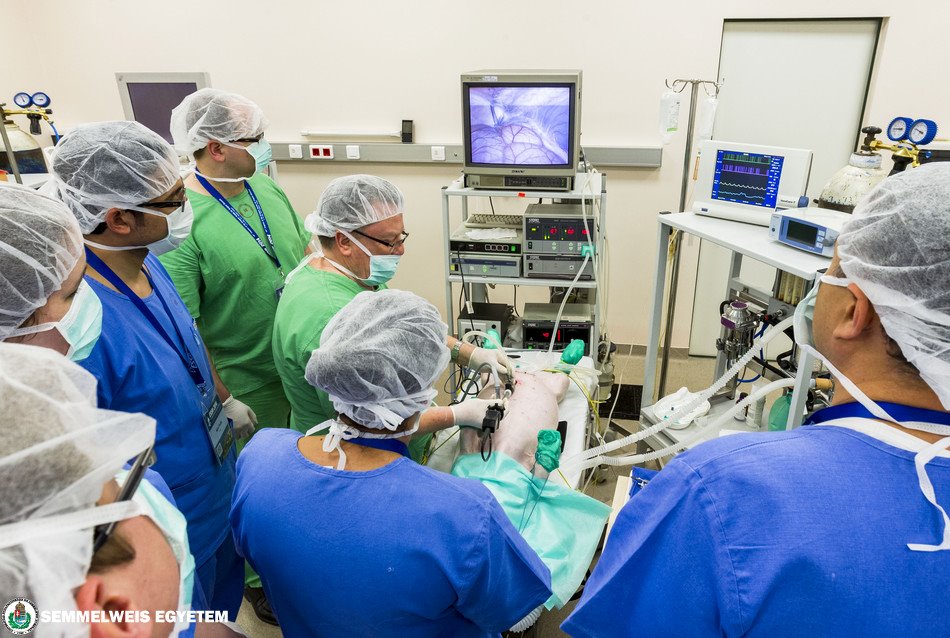 "George Berci" Lab plan to organize a large scale of skills training courses in laparoscopic general surgery and training courses will gradually expand in a variety of other surgical specialties (e.g. flexible endoscopy, urology, gynecology, vascular surgery etc.) at basic, and advanced levels from the next year. Practical skills training sessions are preceded by group discussions. The classroom has room for 30 persons and modern videoconference facilities are being built up now making easy to connect with other speakers in Hungary or abroad and to make possible to transfer live operations from all over the world directly to the Lab.
Scientific theory and practical applications of these coursesare based on ample clinical experience and high professional standards following the guidelines established by the EAES (European Association for Endoscopic Surgery), SAGES (Society of American Gastrointestinal Endoscopic Surgeons) and Section of Endoscopic Surgeons of Hungarian Society for Surgery. Faculty members are acknowledged international and Hungarian experts, who have experience both in teaching and experts in basic as well as advanced laparoscopic techniques. All experts are members of EAES or SAGES or both.
Animals used for training are treated in accordance with the regulations of FELASA (Federation of European Laboratory Animal Science Association).
Should you require more information, on the courses or other activities, please do not hesitate to contact us.